The U.S. military appears to be planning for armed confrontation on the southern border with groups it considers terrorist and criminal as a caravan of asylum seekers makes it way through Mexico from Central America, according to a document obtained by Newsweek.
A Department of Homeland Security memorandum sent to Newsweek by a Pentagon official and dated October 25 detailed a department request for extra assistance from the Department of Defense in assisting Customs and Border Protection personnel to handle "the arrival and the detention of the migrant caravan currently traveling to the U.S. southern border no later than October 30, 2018, for approximately 45 days to December 15, 2018."
"DHS requests that DoD provide federal, state and local law enforcement agencies with assistance that is necessary to protect CBP officials as they perform their federal functions. DoD personnel may perform missions that require direct contact with migrants and/or the public and, at DoD's discretion, may require them to be armed," the document reads.
"Decisions regarding arming of DoD personnel for self-defense purposes and related rules for the use of force will be informed by the circumstances of their missions and made by the DoD, or the respective State Governors in the case title 32 National Guard forces are authorized, and in consultation with CBP," it added.
On Monday, Defense Secretary James Mattis and subordinate combatant commanders authorized troops heading to the border to carry live ammunition, according to the documents obtained by Newsweek. It is unknown at this time what the specific rules of engagement will be on the southern border for active-duty service members.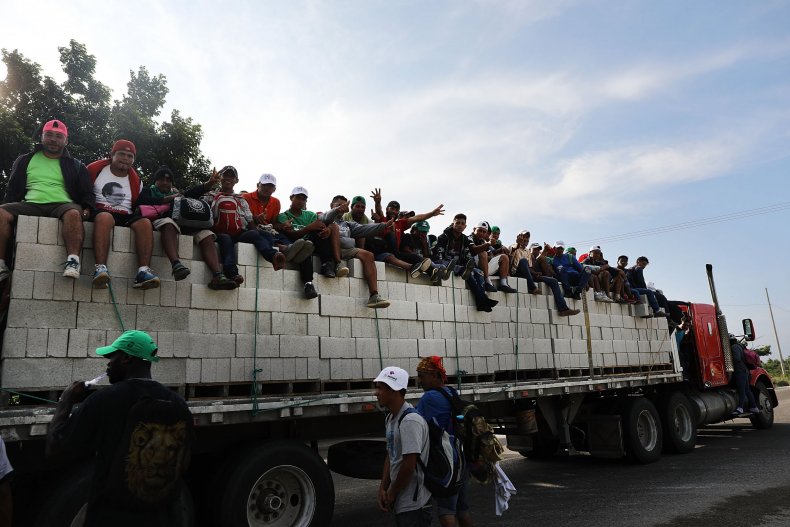 The document goes on to say that "strategic communications posture highlight DoD's temporary assistance role in supporting CBP" and "emphasize collaborative efforts between DHS and DoD in the border security mission." The Department of Homeland Security will reportedly lead public relations, while the Department of Defense "will provide support when requested or as required."
The Department of Homeland Security's listed goals in the document are: "Prevent Terrorism and Enhance Security" as well as "Secure and Manage U.S. Borders."
In another document marked "UNCLASSIFIED//FOR OFFICIAL USE ONLY//LAW ENFORCEMENT SENSITIVE," U.S. Army North maps out potential paths the caravan could take and potential flashpoints at five border crossings in Texas at Brownsville and McAllen, in Arizona's Nogales and in San Ysidro, near San Diego, California.
"Four large migrant caravans, originating from Honduras and consisting of approximately 7,000 people, are transiting through Mexico in an effort to enter the US. Based on historic trends, it is assessed that only a small percentage of the migrants will likely reach the border," the document reads above a map detailing two potential courses of action.
In the scenario marked "MLCOA" (most likely course of action), the "Caravan dwindles as it nears US; limited TCO [Transnational Criminal Organization] exploitation and no terrorist infiltration; balloon effect on smuggling," while in the MDCOA (most dangerous course of action), the "Caravan grows markedly; terrorists or FISS [Foreign Intelligence and Security Services] exploit; TCOs upset by DoD efforts."
The closest caravan—which originated in Honduras and was last estimated to contain up to 3,500 migrants—remains more than 900 miles away from the closest U.S. border at McAllen. President Donald Trump has warned that "many gang members" and "unknown Middle Easterners" were among those traveling with it, though neither he nor any of his officials have provided evidence for these claims.
As Newsweek previously reported, the Pentagon's announced deployment of 5,200 troops to the southern border with Mexico could in actuality be as high as 7,000—including up to 2,000 National Guards already stationed in the region. Meanwhile, a Defense Department official told Newsweek on Monday that an additional 7,000 in reserves would be placed on "24-hour standby," creating a combined force of up to 14,000 prepared to respond to what Trump has designated a "national emergency."
Many have fled the so-called "Northern Triangle" of El Salvador, Guatemala and Honduras because of high homicide rates and deteriorating socioeconomic conditions, which have helped drug cartels thrive. The countries were directly involved in U.S. military-backed efforts in the 1980s to eradicate socialist and communist movements across Central America, resulting in bloody civil wars that ravaged the region. Honduras—which served as a base for U.S.-sponsored actions against left-wing forces in neighboring El Salvador, Guatemala and Nicaragua—underwent a 2009 military coup that went unrecognized by Washington.
Trump has said he would revoke foreign assistance to El Salvador, Guatemala and Honduras over their failure to prevent citizens leaving en masse. The president has also urged Mexico to take harsher measures to stop the asylum seekers from traveling through the country.
On Sunday, a 26-year-old Honduran man was killed amid clashes as fellow asylum seekers broke through Guatemala's border with Mexico.