Migrant Children Are Being Moved At Midnight To Texas Tent City So They Won't Flee Say Shelter Workers
Migrant children are being moved to a tent city in Texas during the night in an effort to stop them fleeing a spokeswoman for the government department overseeing their care has said.
The New York Times reported that hundreds of migrant children who are not in foster homes or shelters are moved, often during the night, to Tornillo in the south of the state where they are housed in tents while they are being processed.
As the number of migrant children detained has increased more than five-fold to 13,000 under the Trump administration's far-right immigration policy, authorities have been left struggling to cope with children spending an average of 59 days in custody, up from 34 days over the same period, according to the Department of Health and Human Services (DHSS).
To deal with increasing shelter populations, hundreds of children are being shipped from shelters in other parts of the country to the one in South Texas about 35 miles southeast of El Paso on the Mexico border.
"The number of families and unaccompanied alien children apprehended are a symptom of the larger problem, namely a broken immigration system," DHHS spokeswoman Evelyn Stauffer said.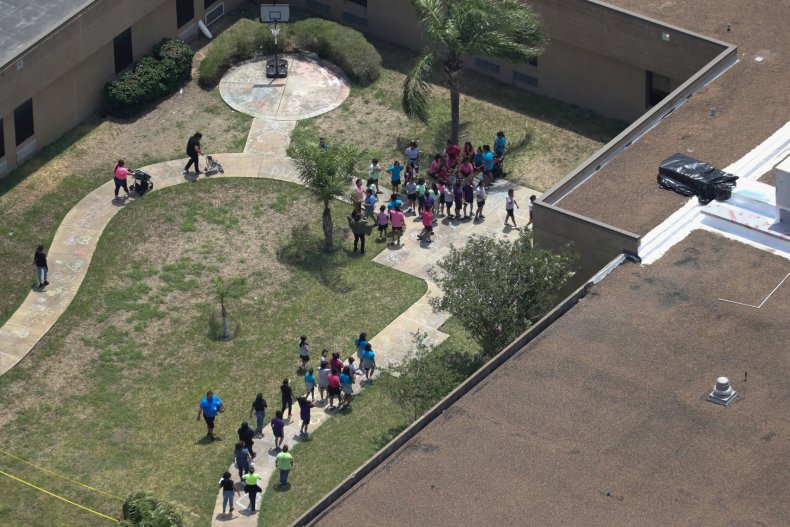 "Their ages and the hazardous journey they take make unaccompanied alien children vulnerable to human trafficking, exploitation and abuse. That is why H.H.S. joins the president in calling on Congress to reform this broken system," she told the Times.
The administration has often sought to deflect blame for its decision to imprison the children, in draconian conditions, on to the migrants themselves or the system more broadly.
Most of the children have crossed the border alone, without their parents. Some crossed illegally; others are seeking asylum. Children considered "unaccompanied minors," either because they were separated from their parents or crossed the border alone, are held in federal custody until they can be matched with sponsors.
But a shelter worker in the Midwest said that two dozen children recently transferred to Tornillo were given just a few hours' notice because if they were given any longer, they may have panicked and fled. There are concerns that the Tornillo site is unregulated and offers no schooling like there is in other shelters.
Earlier in September, protesters and migrant advocacy groups,marched to the Tornillo Port of Entry to demand all the children inside the "tent city" be released, along with their parents.
"These kids will suffer from PTSD probably the rest of their lives," protester Roger Arnold said, who drove from Dallas for the rally, local station KTSM reported.
Bob Carey, who ran the HHS office overseeing child detention from 2015 to early 2017 told CNN: "These are kids who fled some of the most violent countries in the world, many have experienced trauma ... rape, robbery, all kinds of exploitation. The question I would ask is, are measures legitimately enhancing the security situation?"
Migrant Children Are Being Moved At Midnight To Texas Tent City So They Won't Flee Say Shelter Workers | U.S.