Migrant Children at Texas Border Station Unable to Contact Their Families, Which Could End in Parents' Extortion, Guatemalan Diplomat Warns
A Guatemalan diplomat has warned that some of the children at a Texas facility found to have "appalling" conditions during a visit from a group of lawyers last week, have not been able to contact their families.
In a statement sent to Newsweek, Tekandi Paniagua, the Guatemalan consul general in Del Rio, said that while it appeared that children's health and safety needs were now being met after reports detailed children being forced to take care of one another with inadequate access to food, water and sanitation, his office was concerned that children appeared to have not been allowed to contact their families.
During a recent visit to the Texas facility, Paniagua said there were as many as 125 children of several nationalities being held under federal custody, with 54 from Guatemala.
"We were able to speak with them in private and establish their mood, their emotional state and their health," he said. "Fortunately, they did not show any complicated health problems."
While Paniagua said he had "never had issues regarding hygiene" at the facility and called it "one of the most modern Border Patrol buildings" he had seen, he understood that "due to the influx [of migrants arriving at the U.S. border] there is not enough capacity and that immediately causes a logistical challenge for the agencies."
"This causes health, hygiene, coordination, communication, and general quality of care challenges," he said. "Everything has to do with capacity. This is what I think has set the pace in this immigration issue."
Paniagua said one "important thing" he and his colleagues "detected [was] that many [children] had not been able to contact their families."
The Guatemalan consul general said he had asked Border Patrol to "give priority" to ensuring that children can make contact with their families "either directly, or through the Consulate."
Paniagua warned that not only would contacting parents "reduce the uncertainty" they would have on the whereabouts of their children, but, he said, it could also "prevent crime."
"Many of the parents are being extorted in relation to the children's process," Paniagua explained.
"Not communicating with their parents increases the uncertainty of where they are," he expanded. "Many families have received calls from strangers who offer information and supposedly resolve the cases for money. That's why immediate communication with their parents is important."
In a statement sent to Newsweek, U.S. Customs and Border Protection agency spokesperson Roger Maier maintained that "all children in our care are able to speak to a family member or designated [point of contact]."
"During initial processing, Border Patrol agents verify and make contact with the family member/POC and allow the child to speak to that individual," Maier said. "The contact is also advised of the child's location and wellbeing."
Maier said that if a family member or other contact cannot be reached, the appropriate consulate is notified. If requested, he said, children can also "make additional calls while under CBP care."
Asked to respond to CBP's assertion that children are able to contact their families, Paniagua said: "What I related was what I observed and obtained from the children's interviews."
"Some children had communicated, but many others had not," he added. "For that reason I asked that this communication be for all and that it be a priority."
In addition to seeking to ensure that CBP meets its own requirements of allowing children to speak with their families or other points of contact, Paniagua said he also wanted to "reiterate" to families in Central America that embarking on the journey to the U.S. "in the conditions that these children are doing it is putting their lives at risk."
"We have seen in recent days many deaths of children and adults due to heat stroke or drowning," he said. "This is regrettable for us. We continue insisting on the message that bringing a child is not a guarantee to legally enter the U.S."
"Many of the children who are at the Clint Station are children who came with uncles, grandparents, family friends or people who they don't know," he continued. "This misinformation in Guatemala provokes this separation, and children are processed separately as unaccompanied children."
Paniagua also stressed that gaining asylum in the U.S. is "not a guarantee for parents with children, much less for nephews, grandchildren or family friends."
"We asked Border Patrol to give priority to this communication either directly, or through the Consulate," he said. "This has to be clear."
"This is something we have said in Immigration Detentions Centers and Border Patrol Stations, that this is no guarantee and does not mean anything positive for the situation of the cases when they bring a child to the border," he said.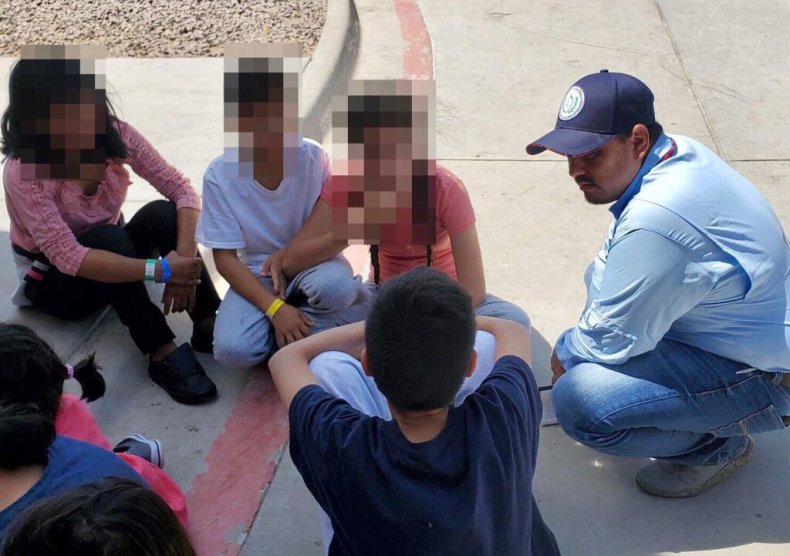 This article has been updated with a statement from the U.S. Customs and Border Protection agency.