Migrant Children Share Heartbreaking Stories of What It's Like to Be Locked in U.S. Detention Centers: 'There Are No Activities, Only Crying'
"We are in a metal cage..."
That is how the first of a series of harrowing accounts from migrant children and teenagers detained in U.S. border facilities begins.
The children's statements, which were collected during attorneys' visits to Customs and Border Protection facilities last week, paint a distressing picture of what life is like under the U.S. government's care: being forced to sleep in cold metal cages, sometimes in wet clothing and with little more than a Mylar blanket; being deprived of food, water and the most basic sanitary items; being forced to take care of one another after being separated from their parents; and being laughed at when they cry.
Some teenagers also described what it's like to try to care for children of their own in detention centers, with mothers telling of how they struggle to keep their babies warm and in good health, with no access to diapers or clean clothes.
The children's accounts make up the basis for a new legal battle asking a federal court for "emergency intervention" in addressing the "deplorable conditions immigrant children face in detention camps."
In their filing, which was submitted on Wednesday, a coalition of attorneys with the Center for Human Rights & Constitutional Law (CHRCL) and a number of other organizations ask that the court order the immediate inspections of migrant detention facilities by public health professionals.
If the court does not act, attorneys warn, vulnerable children could fall ill–or worse, end up dead, on the Trump administration's watch.
CHRCL sent Newsweek excerpts of the harrowing accounts children at U.S. detention facilities relayed to them. Here are those excerpts in full:
'We are in a metal cage' — on unsafe and unsanitary conditions
"We are in a metal cage with 20 other teenagers with babies and young children. We have one mat we need to share with each other. It is very cold. We each got a mylar blanket, but it is not enough to warm up. There are benches but we cannot sleep there. Sometimes it is so crowded we cannot find a place to sleep, so they allow a few of us to sleep outside the fenced area. The lights are all of the time." -From a 16-year-old girl
"I'm hungry here at Clint all the time. I'm so hungry that I have woken up in the
middle of the night with hunger. Sometimes I wake up from hunger at 4 a.m.,
sometimes at other hours. I'm too scared to ask the officials here for any more food, even though there is not enough food here for me." -From a 12-year-old boy
"At Ursula, we have not been able to shower. The toilet is out in the open in the cage, there is no door for any privacy. There is water but no soap to wash our hands. There are no paper towels to dry our hands. We have not been given a toothbrush or toothpaste to brush our teeth." -From a 17-year-old boy
"They told us that we could only have one layer of clothing, and they threw away the rest of our clothes in the garbage. -From a 16-year-old boy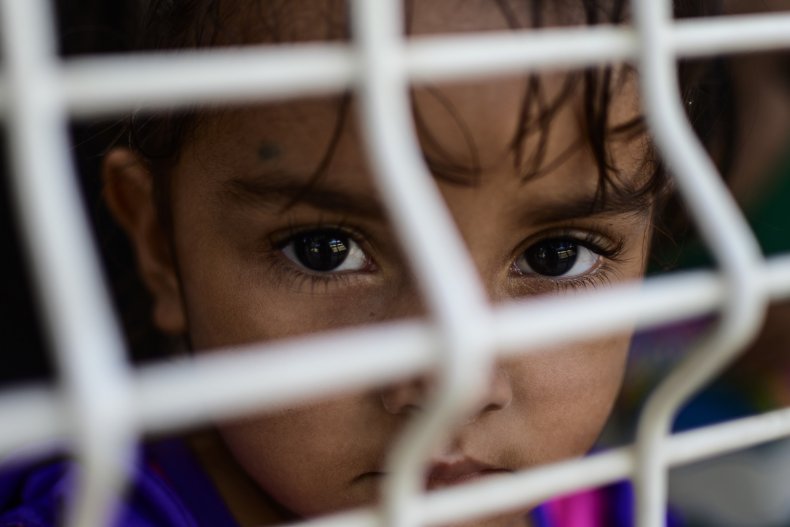 'They leave babies...sleeping on the cold floor' — Raising a child behind bars
"I was given a blanket and a mattress, but then, at 3:00 a.m., the guards took the blanket and mattress. My baby was left sleeping on the floor. In fact, almost every night, the guards wake us at 3 a.m. and take away our sleeping mattresses and blankets. They leave babies, even little babies of two or three months, sleeping on the cold floor. For me, because I am so pregnant, sleeping on the floor is very painful for my back and hips. I think the guards act this way to punish us." -17-year-old girl

"We slept on mats on the floor and gave us aluminum blankets. They took our baby's diapers, baby formula, and all of our belongings. Our clothes were still wet and we were very cold, so we got sick... I've been in the US for six days and I have never been offered a shower or been able to brush my teeth. There is no soap and our clothes are dirty. They have never been washed." -From a 16-year-old girl
"Three days ago my baby soiled his clothes. I had no place to wash the clothes so I
could not put them back on my baby because when he went to the bathroom his poop came out of his diaper and all over his clothing. Since then, my baby of only three months has only been wearing a small little jacket made of t-shirt material. I
have nothing else for my son to wear... I have been told they do not have any clothes here at this place. I just want my baby to be warm enough. I am having to make sure I carry my baby super close to me to keep his little body warm. -From a 17-year-old girl
"My baby got wet and I had to take his pants off two days ago and I have not been
able to get any pants for him." -From an 18-year-old girl
"The day we arrived, my baby became sick. She could not open her eyes and had a fever which got much worse during the day. I asked the guard for help and he told me to 'just deal with it'. I asked for help again, and was ignored. The third time I
asked, I was crying because she was so much worse I was very worried for her. After two days, they took her to the doctor." -From a girl whose age is unknown
"We have only bathed once since being detained. On June 4th, we were taken to an area with about 28 showers. We bathed and brushed our teeth. Since then, however, we have been able to bathe. I have not been able to wash and clean my baby since June 4th. We do not have toothbrushes or toothpaste or towels in the cages. My daughter's onesie is very dirty. I have not been able to wash it since June 4th." -From a 17-year-old girl
"The day after we arrived here, my baby began vomiting and having diarrhea. I asked to see a doctor and they did not take us. I asked again the next day and the guard said: 'She doesn't have the face of a sick baby. She doesn't need to see a doctor.' My baby daughter has not had medicine since we first arrived. She has a very bad cough, fever and continues to vomit and have diarrhea. -From a 16-year-old girl
"Once, I needed clean clothes for my baby because she threw up but when I asked for them I was told they didn't have any available. She is still in the same dirty clothes." -From a 17-year-old girl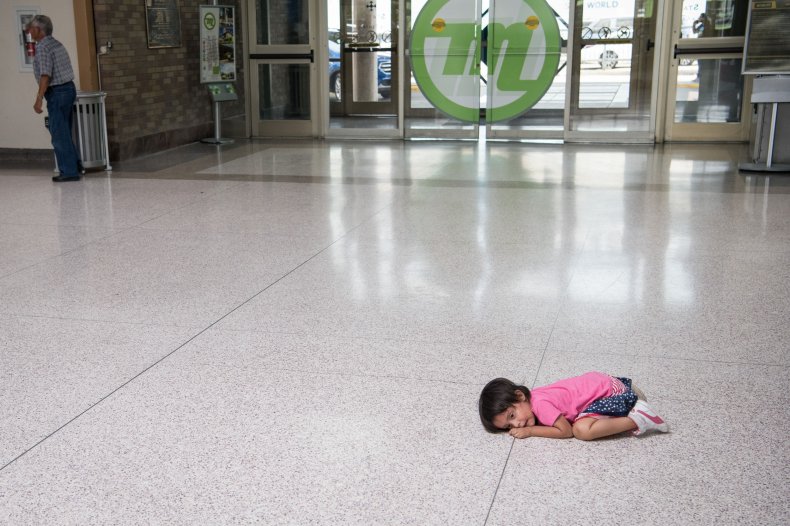 'Some kids are only two or three years old and they have no one to take care of them' — The children raising children
"I started taking care of [a five-year-old whose name has been withheld] in the Ice Box after they separated her from her father. I did not know either of them before that. She was very upset. The workers did nothing to try to comfort her. I tried to comfort her and she has been with me ever since. [She] sleeps on a mat with me on the concrete floor. We spend all day every day in that room. There are no activities, only crying." -From a 15-year-old girl

"There are little kids here who have no one to take care of them, not even a big brother or sister. Some kids are only two or three years old and they have no one to take care of them."-From an 11-year-old boy

"I am in a room with dozens of other boys. Some have been as young as 3 or 4 years old. Some cry. Right now, there is a 12-year-old who cries a lot. Others try to comfort him. One of the officers makes fun of those who cry." From a 17-year-old boy
'I was very frightened and scared. I cried' — Separated from their families
"I was apprehended with my father. The immigration agents separated me from my father right away. I was very frightened and scared. I cried. I have not seen my father again... I have had a cold and cough for several days. I have not seen a doctor and I have not been given any medicine." -From a 5-year-old boy
"They took us away from our grandmother and now we are all alone. They have not given us to our mother. We have been here for a long time. I have to take care of my little sister. She is very sad because she misses our mother and grandmother very much... We sleep on a cement bench. There are two mats in the room, but the big kids sleep on the mats so we have to sleep on the cement bench." From an 8-year-old boy
"At 3 a.m. the next day the officers told us that our grandmother would be taken away. My grandmother tried to show the officers a paper signed by my parents saying that my grandmother had been entrusted to take care of us. The officers rejected the paperwork saying that it had to signed by a judge. Then the officers took my dear grandmother away. We have not seen her since that moment." -From a 12-year-old girl
Will the court intervene?
In an interview with Newsweek, Human Rights Watch U.S. Program Executive Director Nicole Austin-Hillery, who was among the lawyers who visited U.S. detention facilities, described what she saw as "heart-wrenching," with "all of the children" that she encountered at the Clint detention facility in Texas "clearly frightened" to be there. "They were often in tears," she said.
The Human Rights Watch official said that as soon as she entered the facility she was also struck by a "stench" in the air "that was obviously related to their body odor," with most of the children looking as though they had not been able to bathe regularly.
"When I asked 'when was the last time you bathed?' most of them said it had been days. When I asked if they had been given clean clothes, some said they were wearing the clothes that they arrived in. I asked if they had been brushing their teeth regularly and I was told, no, that they were brushing their teeth but not on a daily basis."
In addition to appearing to have limited access to basic sanitation, children also described feeling hungry and tired. "Many said they were hungry," she said. "There were several who looked like they hadn't been getting enough sleep. Their eyes were closing."
In some cases, Austin-Hillery and her colleagues had to call for immediate action to be taken to address detainees' needs, including one "young mother who was breastfeeding" who said she had been forced to sleep on the floor because, unlike other mothers, she had not been given a cot. "I immediately asked that a cot be given to her," Austin-Hillery said.
In another case, a young boy was "coughing profusely and wheezing. He really appeared as though he was having trouble breathing," she said. "So, I asked if we could get medical care for the child."
The HRW U.S. program chief said lawyers were also barred from visiting some of the most vulnerable children at the facility, who were being held in a "sick ward."
"We asked if we could visit with children who were sick and who had been ill for a few days because our understanding was that there was an area of the facility called the 'sick area' or the 'sick ward' and so, we said we wanted to see those children," Austin-Hillery said. "We wanted to see how those children, who are most vulnerable right now, how they are being treated and being cared for."
However, she said CBP officials refused to grant lawyers access, claiming it was for their own health and safety, despite the group insisting that they were not "concerned about catching a cold."
In their statement of facts in Wednesday's filing, attorneys summed up how children are "being denied access to basic hygiene, including soap, showers toothbrushes and clean clothing," while being forced to take care of one another. Some have even fallen sick in what have been described as "cold" and "appalling" conditions.
Citing the Flores Settlement Agreement, which requires the U.S. government to ensure "safe and sanitary" conditions for migrant children in federal custody, attorneys argued that the Trump administration is currently failing to meet that requirement.
This was a point Justice Department lawyer Sarah Fabian tried to argue against last week, asserting that it was not technically a requirement for the government to provide migrant children with sanitary items like soap and toothbrushes or even access to showers and blankets under the Flores agreement.
However, in their Wednesday filing, attorneys argued that the Trump administration is in fact required to provide children with "soap, towels, showers, dry clothing [and] toothbrushes." Yet, children being held in CBP facilities are not being provided with access to those items.
"The bathroom facilities are filthy and there is no soap to wash hands after using the toilet," the filing states. "Some children are showering and brushing their teeth once every 4-5 days, while others are going weeks without a shower or the opportunity to brush their teeth."
Meanwhile, "children and infants are forced to wear soiled and inadequate clothing."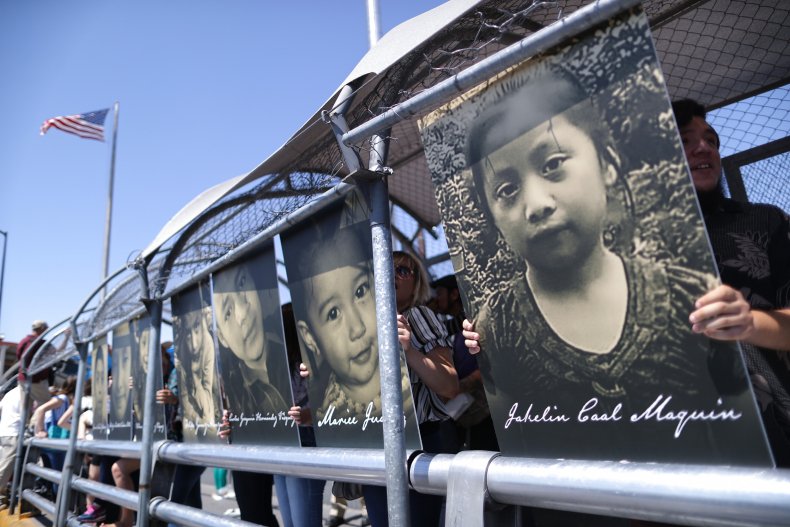 "Everyone is wearing the same thing they crossed the border in, and their clothing is dirty because there is no place to wash clothing," the filing continues. "Some of the children are wearing clothing stained with vomit or breastmilk...There is no clean clothing available for the children."
While children might be wearing whatever they crossed the border in, the extra items that they had with them have been taken away, according to multiple accounts from children.
"Many detainees testified that the officers threw away any extra clothing, medicine, and baby supplies that they brought with them," the filing says.
"Some of the children were wet when they arrived, but they were not permitted to change clothing before being put into freezing cold holding cells," it states. "Babies are being kept in these freezing cold conditions, and some of them have only a diaper and a t-shirt to wear."
The children held at CBP facilities, the attorneys state, are also facing hunger and malnourishment, with children's declarations attesting that "the food is inadequate and often inedible."
"They are often given food that is not fully cooked or still frozen," attorneys state. "There is an insufficient quantity of food provided, and many children
reported that they are hungry all the time."
Meanwhile, "the teen mothers who are nursing their babies do not have enough to eat or drink, and as a result, they are not producing enough breast milk to feed their babies."
Babies, they said, are not always given "age-appropriate food" that they can or will eat. The age-appropriate food they are given is "not provided in sufficient quantity."
"Many babies are not being provided with baby food, and they are unable to stomach the adult food they are provided," attorneys said. "The food they are provided is of inferior quality and not appropriate for babies or toddlers...Some babies are not provided with formula at all, and others are provided with less formula than they need."
"Many infants and children are losing weight because of the quality and quantity of food being provided," they said.
When children do fall ill, the lawyers said, CBP denies them emergency medical care.
Conditions at one facility, a Border Patrol processing center known as Ursula, "have led to rampant sickness," attorneys said, with a number of children and infants appearing to be "profoundly ill." These included a pregnant teenager whose toddler tested positive for flu, which can be deadly to pregnant women and their fetuses.
Finally, in violation of its obligation to provide a "safe" environment for children, attorneys state, the CBP has not only helped facilitate the separation of children from their families, but also "has young children taking care of toddlers and other very young children in conditions that constitute child endangerment."
In short, attorneys said, "the children need immediate access to emergency care and improved living conditions to prevent more illness and even death."
Already, at least six migrant children have died after being apprehended by Border Patrol agents, while others have been found dead after trying to cross the border from Mexico into the U.S. with their families, including Valeria, the 23-month old girl found drowned in the Rio Grande River with her father, Óscar Alberto Martínez Ramírez, just days ago.
'We have never seen an administration act quite as callously and cruelly towards children as this one'
The complaint is part of a decades-long legal battle over the Flores agreement and whether the government is meeting its requirement of "safe and sanitary" conditions in detention.
In an interview with The Washington Post, Peter Schey, who has been litigating the ongoing case since its initial filing in 1985, said Wednesday's filing represented the first time attorneys have felt the need to seek emergency relief from a judge.
"In 33 years of representing unaccompanied detained children, through several administrations, both Republican and Democrat, we have never seen an administration act quite as callously and cruelly toward children as this one," Schey, president of the Center for Human Rights and Constitutional Law, told The Post.
"We have never seen the kind of widespread illness, malnutrition and deaths as under this administration," he said. "We've never seen anything like this before."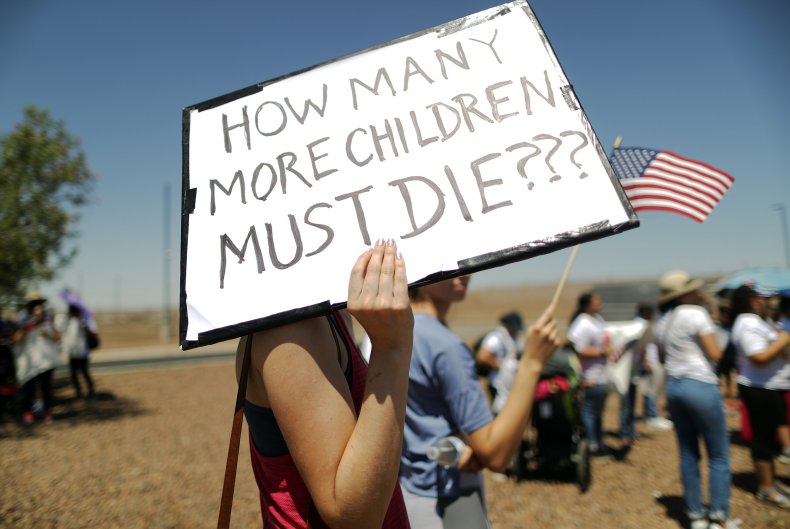 This article has been updated with statements from Human Rights Watch U.S. Program Executive Director Nicole Austin-Hillery.