Former Prisoners of Iran, Taliban and Pirates Say They Were Treated Better Than Migrant Children in U.S. Custody
As the Trump administration continues to receive blowback for arguing in court that detained migrant children do not need basic hygiene products, former prisoners of Iran, terrorists and pirates say they received more favorable treatment from their captors than is being afforded by the U.S. government.
The Department of Justice argued last week in the 9th Circuit Court of Appeals in San Francisco that the government is not required by law to provide soap, toothbrushes, toothpaste or beds for migrant children who were detained for illegally crossing the U.S.-Mexico border in order to be in "safe and sanitary" conditions.
Several former captives of adversarial entities have suggested their time in captivity was spent under more favorable conditions than some migrant children currently face in U.S. government detention.
"I had a toothbrush and toothpaste—not exactly Aquafresh or Tom's—from the first night," Jason Rezaian, a former Iranian prisoner, revealed on Twitter.
As Tehran bureau chief for The Washington Post, the journalist was accused of espionage and ultimately spent 544 days in prison—including in solitary confinement—before being released.
"Actually, I had almost nothing else in my cell while I was in solitary confinement. I was allowed to shower every couple of days," Rezaian added.
Last week, Justice Department attorney Sarah Fabian told three Clinton-appointed federal appeals judges that, despite the lack of hygiene products and adequate sleeping arrangements, they were complying with 1980s guidelines established by Jenny Lisette Flores v. Edwin Meese on how detained children must be treated. Fabian also argued that forcing children to sleep on concrete floors without beds was also justified, under the law, and that the"safe and sanitary" conditions that the law required were largely left to the "the agencies to determine."
The judges vehemently disagreed.
"You're really going to stand up and tell us that being able to sleep isn't a question of 'safe and sanitary' conditions?" said U.S. Circuit Judge Marsha Berzon.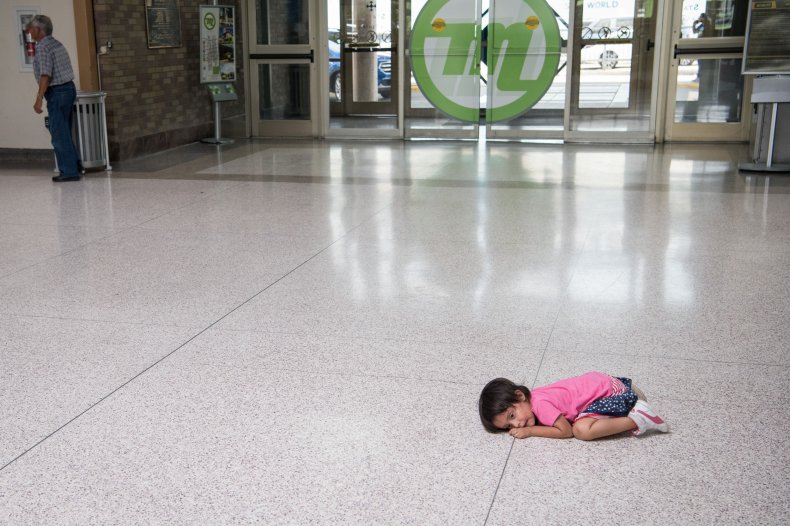 U.S. Circuit Judge William Fletcher issued a similar response, appearing perturbed by the Justice Department's classification of "safe and sanitary" conditions.
"Are you arguing seriously that you do not read the agreement as requiring you to do anything other than what I just described: cold all night long, lights on all night long, sleeping on concrete and you've got an aluminum foil blanket?" Fletcher asked. "I find that inconceivable that the government would say that that is 'safe and sanitary.'"
David Rohde, at the time a New York Times reporter, spent more than seven months in Taliban captivity in Pakistan and Afghanistan before escaping in 2009. Rohde said that he was provided basic hygiene products.
"The Taliban gave me toothpaste & soap," Rohde, now the executive editor of the New Yorker, wrote on Twitter.
Rohde was responding to a tweet from Michael Scott Moore, also a journalist, who was held captive by Somali pirates for 977 days before being freed in 2014 for a ransom of $1.6 million.
"Somali pirates gave me toothpaste & soap," Moore said in a tweet.
As the Democratic-led House and GOP-controlled Senate ready attempts to pass dueling supplemental border bills to address the humanitarian crisis at the southern border that's resulted from a record influx of apprehensions, one lawmaker vowed to oppose any funding to Immigration and Customs Enforcement (ICE) in light of the current conditions detained migrant children face.
"I will not fund another dime to allow ICE to continue its manipulative tactics," Representative Alexandria Ocasio-Cortez, a New York Democrat, told reporters Monday evening.
The vocal freshman lawmaker received Republican backlash for likening child migrant detention centers to "concentration camps" over the weekend. Pushing back, Ocasio-Cortez has said she "will never apologize for calling these camps what they are."
Following the bombing of Pearl Harbor in the leadup to WWII, tens of thousands of Japanese people in the U.S. were forcibly placed in internment camps. George Takei, an American author and actor, was placed within those camps in the 1940s and likened them to the child migrant centers.
"I know what concentration camps are. I was inside two of them, in America," Takei wrote on Twitter. "And yes, we are operating such camps again."