Migrant Crisis Worsens as 1,700 Storm Channel Tunnel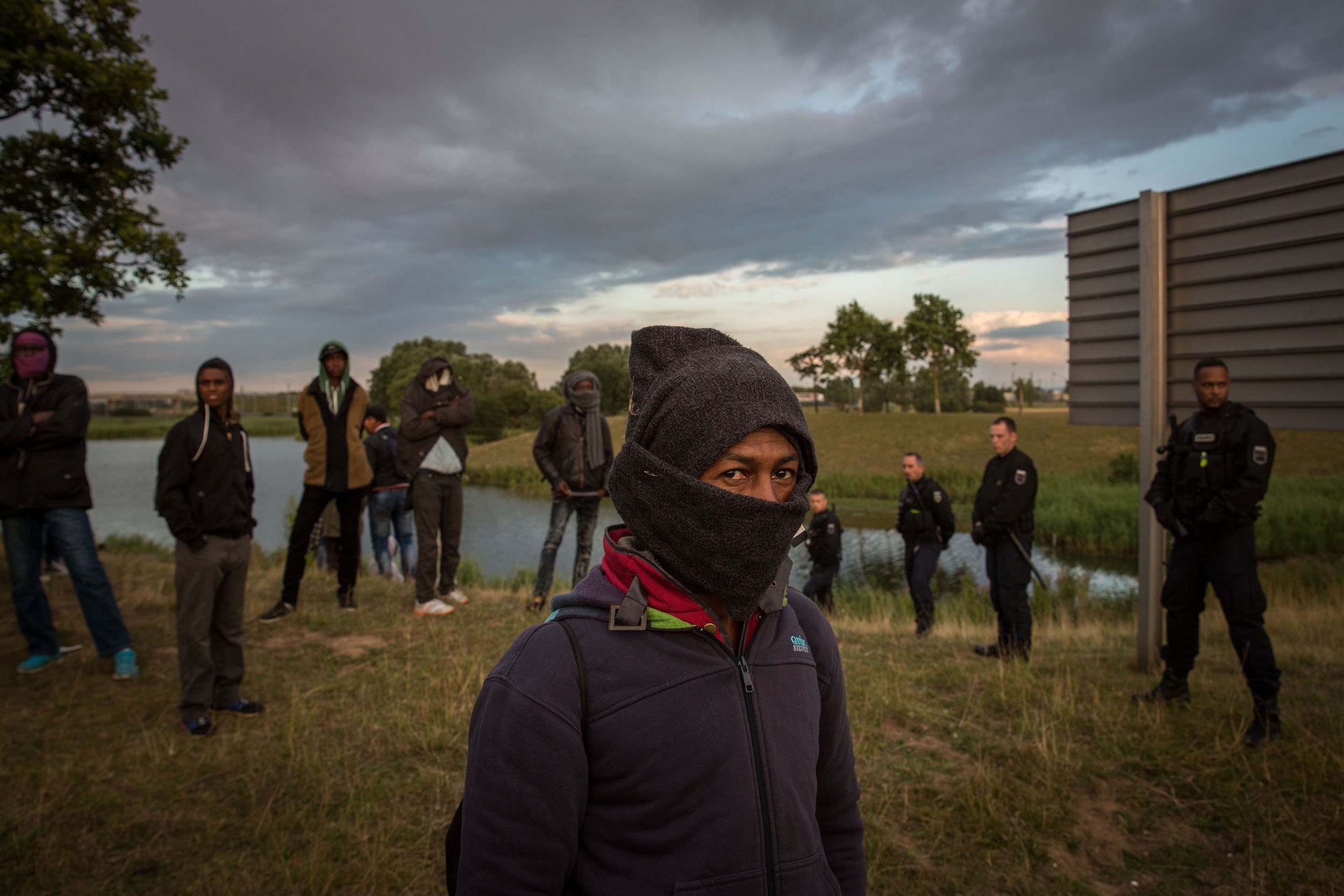 Thousands of migrants and refugees living in makeshift camps in the French port city of Calais are making nightly attempts to enter the Channel Tunnel freight terminal in a bid to reach Britain.
The French government has deployed riot police and extra security around the tunnel, but that didn't deter 1,700 people from making the attempt on Sunday night, according to a French police union.
The union did say that "intrusions" in the area were better managed that night than in previous days, the BBC reports, but there was talk that Monday evening would see "the biggest attempt so far" by the refugees to breach the tunnel, according to the BBC's Gavin Lee, who is reporting from Calais.
French police released figures earlier on Monday that showed 70 percent of migrants and refugees leave Calais within a four-month period, although the British government emphasized that it doesn't mean they are all entering Britain.
"There is no evidence to suggest that all of those who leave camps in Calais reach the U.K.," according to the prime minister's office. "Indeed, there is anecdotal evidence to suggest that some will be seeking opportunities elsewhere in France or elsewhere in Europe."
British Foreign Secretary Philip Hammond chaired an emergency meeting on the crisis on Monday evening, although British Prime Minister David Cameron is not expected to return from his summer vacation until Thursday, the U.K.'s Daily Telegraph reports. The U.K., which will fund an extra 100 guards near the terminal in France, has "got a grip" on the crisis, Hammond said following the 90-minute meeting, The Guardian reports.
There has also been a 50 percent increase in the number of unaccompanied children seeking asylum in Britain compared to this time last year, according to government statistics.
Many of those trying to reach Britain have fled war, violence and human rights abuses in countries like Sudan, Syria and Eritrea. More than 200,000 people have arrived in Europe via the Mediterranean Sea this year, the majority of them refugees, according to the United Nations refugee agency (UNHCR).
Travel on Eurotunnel Le Shuttle, the vehicle transport train that runs through the Channel Tunnel between the U.K. and continental Europe, suffered heavy disruptions on Monday, with many trains leaving later than scheduled.
Last week, Cameron came under fire for referring to migrants in Calais as " swarms of people," prompting criticism from opposition lawmakers and refugee support groups. Speaking from Vietnam, a stop on his tour of Southeast Asia, Cameron also said the U.K. would not become a "safe haven" for migrants trying to enter the country illegally.
Cameron's language prompted the hashtag #IAmTheSwarm , which sees Twitter users describing their immigrant backgrounds. The U.K. government will soon announce plans that will allow immigrants living in the U.K. illegally to be evicted from rental properties without a court order. The proposals, which will be part of the government's upcoming Immigration Bill, also targets landlords who rent to people living in the U.K. illegally, which could carry a prison sentence of up to five years, the BBC reports .
In an effort to show the U.K. is not a "land of milk and honey," the government plans to remove benefits given to asylum-seeking families if their asylum applications are rejected, the immigration minister, James Brokenshire, said on Sunday.