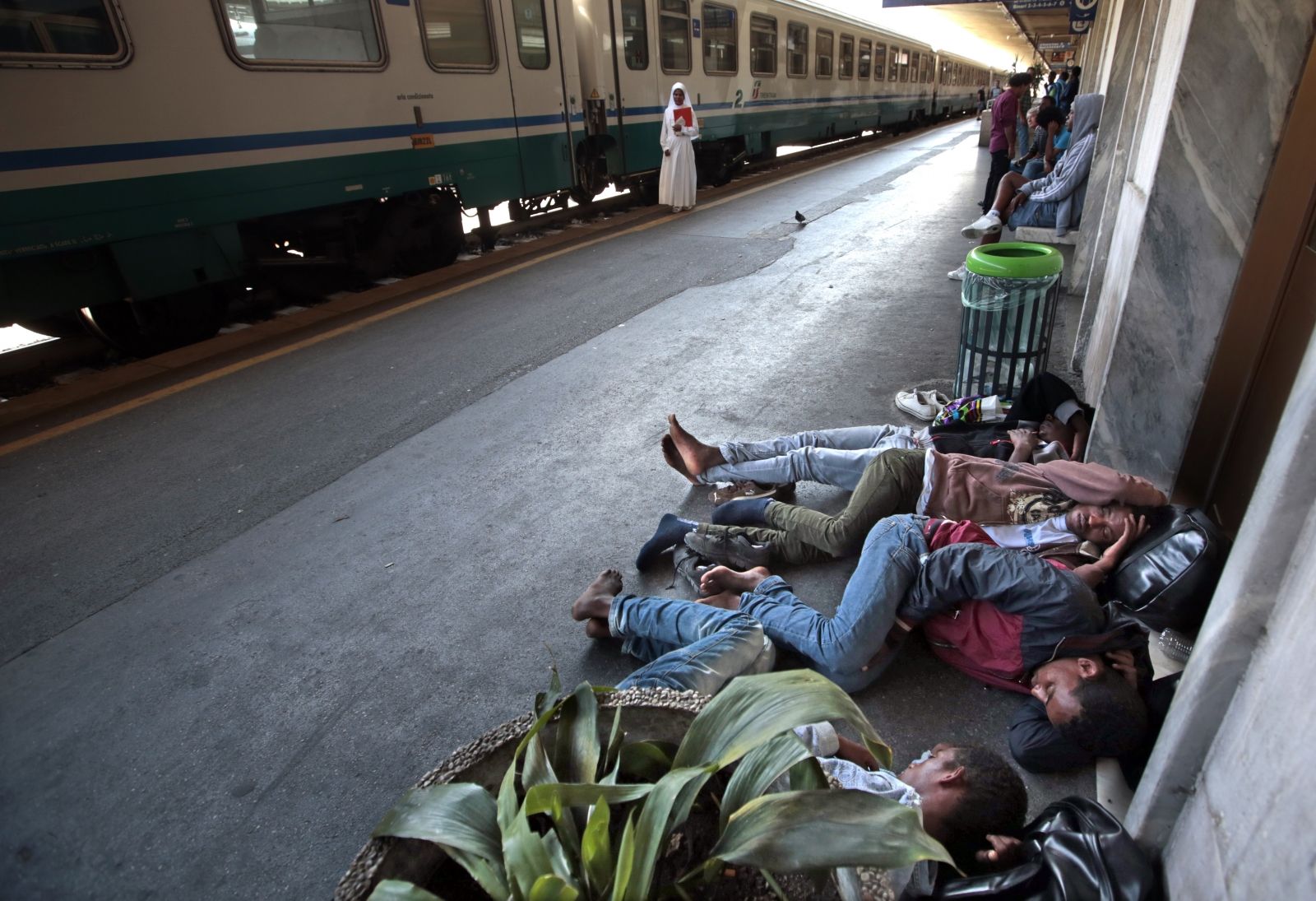 ---
It is a sunny morning in April 2015 on Sicily's east coast and Mount Etna is a postcard, rising from a green-blue sea up through olive groves, orange orchards and steep hill towns to ascend a towering snowy cone ringed by cotton-wool clouds. But in the centre of this Mediterranean tableau, at the end of a long quay in the port of Augusta, is an anomaly: a monstrous dull, grey Italian gunboat, on whose rear-deck 447 people are huddling under heavy brown blankets.
At the guardrail is a man, in his mid-thirties, with a wild beard and a baby on his hip. Beside him is a woman in an abaya, who is holding the hand of a small girl in pigtails with a grubby pink rucksack on her back.
The family's faces are smeared with dirt, grime has turned their hair to wispy fur and their clothes, once different colours, are merging under layers of white dust and brown filth. In these bright and sunny surroundings, the refugees seem so out of place that, at first, the mind tries to consign them to another place or time: a newspaper photograph, or an aid poster, or a picture of the Holocaust. But then a sea breeze carries ashore their sour-milk-and-manure stink, making the Red Cross workers standing on the quay recoil under their facemasks and hooded suits, and any illusion of distance evaporates. How is it possible to be still alive and yet smell so much of death?
The Italian navy rescued these men, women and children over the last week as they tried to cross the Mediterranean from Africa to Europe. Four days earlier, 800 other migrants drowned when their boat sank off Libya. These, then, are the lucky ones. The Red Cross seems unsure how to treat its new charges, handling them at arm's length and using rubber gloves, but keeping the refugees to itself, shooing away cameramen and photographers. The group is, however, allowing a British publicist from the UK NGO Save the Children, Gemma Parkin, to talk to the refugees, and Parkin is passing on what she hears to reporters.
Parkin is doing this because she wants European leaders debating how to stop the migrants to hear about the months and years they spent getting to Europe, and what it cost them: almost always a lifetime of savings; and, in 1,776 instances in the past four months, their lives as well.
"Thousands are dying," says Parkin. "Whatever you think of immigration, you must at least agree that children should not be allowed to drown." Parkin reads from her notes. "Some of them are Syrian refugees who have spent years in refugee camps and lost faith in the resettlement programmes," she says. "A lot of Eritreans. A lot of Somalis."
She flicks over a page. Many of the children, especially the Africans, are on their own. Often, their families have been able to afford only one transit from Africa to Europe and have duly picked their eldest son "and kind of put all their eggs on that one basket", Parkin says. "That kid will typically be exploited along the way. The children also tell us about how many children died of dehydration in the Sahara just getting to the Mediterranean. There are other kids who fall off the back of the truck and are left there to die in the desert.
"Once they get to the coast, there's massive racism among the people smugglers," Parkin continues. Syrians pay more and ride on the upper deck. Africans, who typically have less money, are locked down below without food or water. Those who cannot pay are kept under armed guard in camps on the Libyan coast until they can. "Like these four children I met," says Parkin. "They were kept for nine months. They drank their own urine and ate their own faeces. One boy couldn't even count how many friends of his had died." Parkin flicks to a final page. "Almost all the women have been raped," she says. The rapists include the smugglers and their paying customers. "This one woman was seven months pregnant," Parkin says. "She tried to kill herself."
The refugees start to disembark. The Red Cross arranges them in single file, leads them one-by-one into a small open-sided tent, notes their names and ages and conducts a brief medical examination. After that, the new arrivals are led out into the sun and given a moment to take in this new land. They are strangely uncurious, sitting in small, turned-in groups on the potholed concrete: an old woman with shaking arms helped by a young girl who might be her granddaughter; a man and his young son; two student couples with a tiny baby; a toddler in a grey Puffa jacket who seems to belong to no one.
A man in a scarlet coat, which indicates that he is from the International Organisation for Migration, addresses the crowd, trying to explain their rights and choices: they can go to a state migrant centre or find their own accommodation if they can afford it. Until they have either a visa or are granted asylum, however, they have no legal status and cannot work. They should hear if their applications are successful within 35 days.
This seems important information. But few are listening. Instead, almost as though it's an agreed plan, inside almost every group someone reaches deep inside a bag, extracts a mobile phone, switches it on and begins hurriedly texting. After a while, observing this, you think: texting who?
'Moronic and delusional'
In his second-floor office in the Palace of Justice in Palermo, anti-Mafia prosecutor Calogero Ferrara lights a cigarillo and hands over a 526-page indictment against 24 African human traffickers. It is a day after the 800 migrants drowned in waters 500km to the south and a day, too, since an Isis video surfaced showing what many, presumably, were fleeing: the execution of 30 Christian Ethiopians in Libya.
Gregarious, fashionably suited and wearing the kind of light blue spectacles more usually found in the advertising world, Ferrara has just held a press conference to announce a rare triumph in Italy's fight against illegal migration. Overnight, his men have dismantled a people-smuggling network and arrested 14 men – mostly Eritreans – in Sicily, Milan and Rome. Ferrara says he expects another eight to be detained in the next few days.
Still, Ferrara has no illusions about the bust's likely impact. "Two years ago, when I got the anti-Mafia unit, I was so happy," he says. "Normally you'd take years to investigate a case. Like this murder I got last week. Some guy shot nine times in the face here in the city. The usual, you know?" Every day as he arrives for work, Ferrara passes a limestone wall inscribed with the names of 11 Palermo prosecutors assassinated by Mafiosi. The Mafia's enduring threat forces Ferrara and his family to live behind a wall of armed security. This reality – seeing fellow prosecutors killed, a life cut off from the world by bodyguards and bulletproof windows, examining bullets dug out of gangsters' faces – is what, for Ferrara, passes for "usual". "But this?" asks Ferrara, indicating the indictment and blowing smoke towards an FBI cap sitting on his shelf. "This is a f***ing nightmare."
Ferrara's troubles have their origin in Sicily's location: in the centre of the Mediterranean, midway between Europe, Africa and the Middle East, Sicily has been one of humanity's great crossroads for thousands of years. Palermo was founded by the Phoenicians in the 8th century BC, then conquered by Greeks, Romans, Vandals and Byzantines; then Arabs (for whom it was a pivotal Islamic city for 200 years) and Normans (who remade it as the capital of the Holy Roman Empire); then the Spanish, the French, the Italians and, finally, in an invasion assisted by the Mafia, the Allied forces of the Second World War.
Sicily's ancient cosmopolitanism, recorded in churches incorporating Arab domes and street signs in Italian and Arabic, seems to have saved it from the political and racial heat that greets migrants in less mixed parts of Europe further north. The Sicilian view of migration as unchanging, unstoppable and often positive also goes some way to explaining why, as the number of migrants rocketed, the authorities were slow to intervene.
But it does not account for why that inaction continued after the migrants began dying. Since the year 2000 around 22,000 Middle Easterners, Asians and Africans have drowned in the Mediterranean. Many perished in the seas between Africa and Lampedusa, the small, southern Sicilian island which, at just 300km from Tripoli, is the closest part of Europe to Libya. In the past 18 months, the numbers of those trying to reach Europe – and dying in the attempt – have accelerated sharply. In 2014, more than 250,000 migrants tried to cross the Mediterranean, of whom 3,702 died. In 2015, the European Union predicts crossings could reach 500,000 or even a million – a spike the International Organisation of Migration predicts could mean around 10,000 deaths.
The migrant traffic is rising for various reasons: the disintegration of Libya and Yemen; repression in Eritrea; civil war in Sudan and South Sudan; and the apparent conclusion reached by millions of Syrians, spending a fourth year in foreign refugee camps, that they are never going home. Europe is not blameless in these disasters. Nato assisted in Libya's collapse in 2011; the EU supported a corrupt and ethnically-divisive government in South Sudan; and both Nato and the EU have done little to arrest Syria's destruction. Further back in history, as Africans arriving in Europe are wont to remind those who object to "economic" migrants, the wealth that now attracts them was built, in large part, by the Europeans who migrated to Africa in pursuit of its riches in the 19th century.
For all that, the news that the Mediterranean is becoming a watery mass grave has met a confused reaction from Europe. Italy, its finances still in tatters after the 2008 financial crisis, claims it can afford almost no intervention without European funding. And, while Pope Francis and various southern European political leaders have made appeals to a shared commitment to humanitarianism, further north the migrant flood has stoked a surge of anti-immigrant anger that, at its most extreme, persuaded one columnist for the British newspaper, The Sun, to call for gunboats to blow the migrants back to Africa.
Such mixed reaction is reflected in muddled action on the ground. After 366 migrants drowned when a boat sank yards off Lampedusa in October 2013, the EU paid Italy to step up its rescue patrols, in an effort called Operation Mare Nostrum (after the Roman name for the Mediterranean sea). For a while, these prevented thousands of deaths, until the EU decided that the patrols, with their promise of rescue, were encouraging more migrants to set out, and withdrew the money.
But after the death of the 800 refugees in April 2015, the EU reversed its decision again, promising to restore funds to their previous level. Simultaneously, however – and even as it criticised The Sun's language – it proposed military action to destroy traffickers' boats and kill or capture the people smugglers themselves. That plan was then quickly denounced by the EU's own internal evaluation. Jason Pack, an adviser on Libya to the British government, called it "moronic and delusional ... the equivalent of bombing pick-up trucks in Mexico to stop Mexicans from coming to California".
Such a slow and uncertain response, following equally dawdling attempts to address the 2008 economic slump, has raised questions over the EU's ability to cope with crisis, and even, its critics say, to function at all. If there is hope, much of it seems to lie with Italy's elite anti-Mafia prosecutors, who have begun to argue that, since people smuggling is a form of organised crime, and since it affects Italy, this human disaster comes under their jurisdiction. Fabio Licata, a Palermo judge who works closely with Ferrara, says in this case Italy's long experience of the Mafia works to its advantage: "We have the best organised crime investigators in Europe, even better than the US," he says. "Other countries in Europe deal with people smugglers as a police problem or a problem of public order. But this is about crimes against humanity, smuggling, money laundering, even terrorism. We know these phenomena. We know how to fight it. We achieve results."
'A business based on human goods'
Ferrara began investigating people-smugglers the morning of the Lampedusa sinking in October 2013. He directed his officers to ask the survivors for the phone numbers of the men who sent them. By tapping those lines and tracing calls to other numbers, he built a phone tree of thousands of numbers whose branches stretch from Africa to Europe, the Middle East, Asia and into the US.In 18 months, he and his team recorded more than 30,000 calls. Those transcripts, some of which Ferrara made available to Newsweek, reveal the existence of several wholly new, multinational organised crime syndicates, together worth around $7bn (€6bn) a year. They also identify the Ethiopian man who is among the busiest and most sophisticated of the new people traffickers. "He is a merciless criminal that, for money, has created a business based on 'human goods'," says Ferrara. The Ethiopian's network offers "a complete service to migrants, running from the centre of Africa to Libya to Italy to another country from there. It includes all accommodation, transport and food". It is, says Ferrara, a criminal operation like no other. No name, no fixed base, a fluid membership and, most remarkably, "totally without risk". "With drugs, if you lose the drugs, you lose your money," says Ferrara. "But in this case, you pay in advance. Even if the migrants drown, Ermias has already been paid."
Ermias Ghermay's clients describe him as about 40, short and stocky. In conversation, he seems uneducated but street-smart: dynamic, plausible and fluent in several languages, including Arabic and Tigrinya, the ancient tongue of northern Ethiopia and Eritrea. "Really smart," says one Palermo police officer. "He has the capacity to organise an international criminal enterprise that is very complicated – lots of people, lots of contacts, spread everywhere, and moving money and people between them. He's a professional."
Over the months Ferrara has been tapping Ghermay's calls, the Ethiopian has given glimpses of his operation in asides and casual boasts. Ghermay, it transpires, has been working as a people smuggler for about a decade. Like many others, he bases himself on the Libyan coast, mostly in the capital, Tripoli or, in the port of Zuwarah to the west.
Importantly for EU officials thinking of targeting traffickers' ships, Ghermay regards the wooden fishing boats or inflatable rafts he buys as disposable; they generally either sink or are confiscated on landing in Sicily. That has encouraged him to seek out the cheapest seaworthy vessels he can – inevitably, they barely float at all. To combat the chances of his clients losing their nerve or finding another boat, Ghermay came up with the idea of renting warehouses in Zuwarah in which he locks thousands for months after first removing their mobile phones.
Most people smugglers seem content to be links in a chain. But Ghermay's phone calls reveal bigger ambitions, and a sprawling network of such sophistication and flexibility as to dampen any expectations of a quick fix. To ensure a steady supply of migrants, he works with those in Sudan, Somalia, Nigeria or Eritrea who run trucks across the Sahara. Simultaneously, he continually establishes fresh relationships with people traffickers further down the line: those in Sicily, operating in migrant centres, or in Rome, Milan or even further afield in Berlin, Paris, Stockholm or London.
These contacts – whom Ghermay flatteringly addresses as his "colonels" – perform two main tasks: they send and receive both people and money. The latter Ghermay mostly funnels through international cash transfer agents in Ethiopia, Israel, Switzerland and the US.
As part of their service, the colonels also give the migrants a number for the colonel at the next stage of their journey. Communicating mainly by text, the migrants then call the next colonel for more help. The colonels give their clients the latest information on migration routes: refuse to stay in this migration centre because it's filthy and asylum takes for ever; don't take the train from Milan – it's routinely raided by police; don't try to cross from France to the UK at Calais right now as the border guards are cracking down. Some of Ghermay's colonels exhibit an entrepreneurial spirit themselves, advertising their services on Facebook and other social media.
Lately Ghermay has diversified, too. For those who can pay, he has built relationships with other contacts who can supply fake passports, fake marriage documents and even – using at least one corrupt European official in Addis Ababa, whom the people smugglers refer to as "the ambassador" – real passports and real visas. For such a premium service, Ghermay will arrange for his clients to travel by plane.
In this way, the Ethiopian has built a global people-smuggling network that is a seamless one-stop shop. His representatives around the world offer transfers from anywhere to anywhere, anyhow, for a single, all-inclusive price. This is an empire, based nowhere, run by a constantly changing personnel, tuned to adjust to new opportunity and overcome new adversities. Licata, the judge, calls it "an octopus".
'Never set out in a storm'
The particular secret of Ghermay's success seems to be his charm. He spends much of his day on the phone to families who are paying for their relatives' migration, offering them reassurances about safety, while gently reminding them of their bill. The question of money is especially delicate. Many of the Eritreans are children, often little more than toddlers, picked up from refugee camps in Ethiopia by people-smugglers, who promise free transport to Europe where, they claim, an unaccompanied child will be given automatic asylum – and so establish a base where their families can join them. This is a gross mischaracterisation of European immigration procedure but, in any case, it's a scam. Once the child is taken, the families discover they will, after all, have to pay for transport: around 1,600 for the journey to the Mediterranean and another 1,600 for the crossing. Until then, the child is held in one of Ghermay's warehouses.
Ghermay's impressive success rate in reaching a deal in such strained circumstances seems to rely largely on his skills as a negotiator. His softly-softly approach, says the police officer, is dictated by the nature of the people smuggling business. "This is not robbery," he says. "It's dealing with people, and dealing with trust. Ermias has to make himself trustworthy. The more trustworthy he is, the more people will go to him."
Ghermay's approach with his colonels is equally amenable. He flatters them by addressing them as if they were equal partners. Ferrara says he found one series of conversations between Ghermay and a colonel in Sudan especially enlightening. The boat that went down off Lampedusa, a 96-metre fishing boat called Giraffe, was one of Ghermay's. In the weeks afterwards, the Ethiopian spoke frequently with an ethnic Eritrean or Ethiopian based in Khartoum called John Mahray. Mahray had sent 68 out of the 366 dead.
The pair agreed that the publicity the sinking attracted was unfair, given the number of other boats that had also sunk. "Lots of people are fish food now," said Ghermay, "but no one ever says anything about that." The pair commiserated with each other over the number of distressing phone calls they were fielding from relatives of the dead.
Then the conversation turned more serious. Mahray said the big problem with a sinking was that it was bad for business. It scared people. They were refusing to travel or, if they did go, they were choosing other operators. Ghermay should take care not to upset any more clients, said Mahray, and offered some simple rules for him to follow – which Ferrara has christened "the 10 Commandments of People Smuggling". "Never set out in a storm," said Mahray. "You don't want to give the clients any reason to complain." He added that, in his opinion, Ghermay should never load more than 250 people into the same inflatable boat. He should never force people to embark against their will. "It's like when you have a group of people sharing the same house and someone leaves the bathroom dirty," said Mahray. "Everyone suffers, not just the one who dirtied the bathroom."
Ghermay was initially submissive. Mahray knew so much more about the business than him, he said. Everything Mahray said made sense. "If there is something I need to fix about my work, please tell me," said Ghermay. But then the Ethiopian said Mahray should understand that it was not him putting pressure on the migrants to leave but, rather, the other way around; the migrants all pushed him to let them travel on the first available boat.
With the Lampedusa crossing, he had wanted to split the people into two boats. But they had screamed at him, saying they wanted to sail together, and he had eventually relented. Even then, he had spent hours instructing the passengers on how not to overbalance the boat. He let them call home on his phone. He even phoned in regularly during the crossing to check that they were safe, right up until they were within sight of land. He couldn't believe it when the next morning he heard that hundreds of them had drowned just a few hundred metres from Europe. "These people are like family to me," Ghermay said.
The display of sentiment seemed to work. Mahray even worried Ghermay was going soft. Don't hesitate to beat people if you think you have to, Mahray replied. "You're doing it for their own good. When I organise trips, I always try to be nice to the clients by giving them good food. But that doesn't mean they're going to make it alive. You have to focus on your business. On a trip, so many things can happen. This has happened. It was destiny. You can't cry over spilt milk. You can't do anything. You did what you had to do."
Ferrara says he's sure that, in reality, Ghermay shared Mahray's view. This was a man whose business resulted in sending hundreds of people to their deaths. A few months later, Ferrara tapped a call from another of the colonels. The man revealed that Ghermay was thinking of retiring. Not because so many were dying, said the colonel. Rather, Ghermay had already made more than enough money and complaints about the number of his clients drowning were getting on his nerves. Ghermay was running 20 or 30 boats a year and making at least 70,000 a boat, said the colonel. "But the deaths mean he's getting too much attention."
'Even drugs aren't as profitable'
The hills and valleys around the village of Mineo are filled with lemon trees and grapes – and monuments to Italian corruption. Fields are filled with solar panels. Ridges and rocky spurs are stuck with giant wind turbines. In a wholesale bust of Italy's renewable energy industry in late 2012, Italian anti-Mafia prosecutors arrested a dozen Mafia bosses, Sicilian officials and businessmen and seized 1.8bn in assets, including 10 green power plants. Many of the seizures related to 46 businesses owned by Vito Nicastri, a former plumber and electrician who built the wind turbines at Mineo and hundreds of others across Sicily.
The authorities accused Nicastri of working for Sicilian mafia boss Matteo Messina Denaro, Italy's most wanted man. The indictments against him and others alleged Nicastri and others rigged state tenders to build wind and solar farms; charged hefty fees to facilitate contracts awarded to non-Mafia companies, then insisted those companies use Mafia contractors to build their installations; burned down wind farms owned by rivals who refused the Mafia's demands; and took a giant slice of the €12bn a year the state was handing out in subsidies to green power generators.
The hijacking of one of Europe's rare areas of growth and job generation – and a signature European clean energy policy – underlines how modern Italian Mafiosi are distancing themselves from violent crime and focusing instead on more mundane, legitimate-sounding business. There is, for example, a deep interest in state construction, of which the small, hillside town of Nicotera, across the Straits of Messina, is a spectacular example. Despite being half-deserted, the town boasts two new hospitals, two new train stations and two new markets, none of which have ever opened.
Another growth area for the Mafia is farming. A report in January 2015 by the Italian National Confederation of Farmers and Eurispes, a think-tank, found the Mafia was involved in businesses on a third of Italy's farmland, including the production of counterfeit olive oil and mozzarella. Eurispes concluded farming earned the Mafia 15bn a year.
In December 2014, prosecutors in Rome finally offered one answer as to why so many migrants might be heading to Italy, and why the Mafia might be so accepting of African people traffickers operating on their turf: because the Mafia was also making hundreds of millions of dollars from migrants. After arresting alleged mobster Massimo Carminati and 36 others in and around Rome, prosecutors issued a 1,200-page indictment that revealed deep penetration of the city government, from contracts for garbage collection and park maintenance to vote rigging, extortion and embezzlement. On 4 June, prosecutors arrested another 44 people, including Luca Gramazio, Lazio regional leader of Silvio Berlusconi's Forza Italia party.
Most striking were allegations that Carminati's gang – which the prosecutors called Mafia Capitale, after its Rome base – were profiting from Europe's migrant catastrophe. Mafia Capitale was not smuggling people. But once refugees arrived, it muscled in on the construction and management of reception centres. Carminati's right-hand man, a convicted murderer called Salvatore Buzzi, ran a social co-operative that provided services such as food and language classes for migrants, a business he claimed was worth €40m. The indictment even accused Buzzi of fomenting anti-immigrant riots in Rome to encourage the state to build more migrant centres, where the foreigners would be safe. The prosecutors recorded Buzzi saying to an associate, "Do you have any idea how much I make from the immigrants? Even drugs aren't as profitable!"
An even bigger earner than Buzzi's co-operative was said to be a €97m three-year contract to manage Europe's largest migrant reception centre at Mineo. There the centre managers were paid €28 per migrant per day to house and feed up to 4,000 resident migrants. According to the indictment, and a separate investigation by prosecutors in the eastern Sicilian city of Catania, an official named Luca Odevaine co-ordinated the scam.
Odevaine's various positions – deputy cabinet secretary in Rome, the designated immigration adviser at Mineo and a member of Italy's national co-ordination board on immigration – allowed him to skew Italy's entire national immigration structure to serve Mafia Capitale's business interests. Phone taps showed how Odevaine would steer contracts for building and maintaining refugee centres to his associates, and then order that refugees to be sent to those centres, especially Mineo, filling it far beyond capacity. It was, said the prosecutors, not a system for receiving migrants but "a system of corruption".
The scale and reach of the scam, and the manner in which its participants were exploiting one of Europe's gravest crises, shocked even those resigned to pervasive Italian corruption. Politicians from various parties resigned, including a former mayor of Rome. Prime Minister Matteo Renzi suspended the Rome leadership of his Democratic Party after several members were arrested. But no amount of arrests, convictions or suspensions can resolve the daunting question: if Europe's migration handlers are making money from the newcomers, and more money the more migrants there are, is Europe not just failing to tackle the crisis but actually fuelling it?
'A humanitarian time bomb'
Mineo migrant centre is a collection of 403 redbrick houses that stand in an isolated cluster in the middle of a broad valley. In a previous life, the camp was a US military base and the place retains a restrictive feel: checkpoints, 10ft razor wire fences and perimeter patrols.
There's no public transport here, and most of the migrants have no money. But during the day they are allowed out of the gates and many choose to walk the country lanes that, after their thousand-mile journeys, are now the outer limits of their world. Bernie, Bright and John are all from Nigeria and Kadir is from Ethiopia. Bernie and Bright arrived nine months ago after a crossing on which two friends drowned. John arrived 11 months ago after deciding Libya, where he had worked for three years, had become too dangerous. Three fellow passengers died on his boat. At least initially, all Kadir will say is that he arrived two years ago.
All four men were told on arrival that they would have papers identifying them as refugees and asylum seekers in 35 days. All four had plans to move on to Germany. But when weeks turned to months and months started to become years, they came to a slow realisation. "This place is a business," says John, 27. "We are the business. The commodity. They keep us here and make money from us."
John says he recognises the pattern from Nigeria. In his hometown, Benin City, crime bosses made money from rigging government contracts, overcharging and smuggling people. It was precisely the kind of state-criminal link that he travelled to Europe to escape. "We have laws for this in Nigeria," says John. "We call it human trafficking." Even the €2-a-day pocket money the migrants receive turns out to be another opportunity for migrant managers to earn money. Rather than cash, the migrants are issued credit on an electronic card that can only be used in the shop inside the centre or select markets outside. It sounds trivial. But in the hands of so many refugees, it is captive market worth close to €3m a year.
In Catania, Riccardo Campochiaro, a lawyer who works with migrant rights' group Center Astalli, agrees that the migrants' extended detention at Mineo is a kind of stationary trafficking. "It's true," he says. "There is a big economic interest for them to remain in Mineo. The money is always kept inside Mineo." Campochiaro's colleague, Elvira Iovino, adds that despite all the money the centre managers earn, conditions inside are poor. "There are too many people at Mineo to be properly cared for," she says. "They don't have any assistance. They don't have adequate access to lawyers. They're not registered for health insurance. They don't even learn Italian. They've got nothing."
Italy's parliament seems to agree. After an inspection this May, deputy Erasmo Palazzotto called Mineo "a scary sort of limbo", "a symbol of opacity", "a black hole" and "a humanitarian time bomb" and demanded it be closed. Inevitably, says Iovino, with no legal way to earn money, Mineo has spawned its own illegal businesses. There is prostitution at the centre gates and drugs for sale inside. Some migrants are driven by local gangs in the nearest town to sell marijuana on the streets. Others are persuaded to work in the fields picking oranges and tomatoes for as little as €10 a day. Also doing good business are African traffickers selling passage from Mineo further into Europe. (Six of the colonels arrested in Ferrara's bust were based inside Mineo.)
"This is a system which facilitates crime," says Iovino. "The black economy is growing. The town is making money. There are girls available for prostitution. Politicians who before said not to open the centre and allow immigrants in now say don't close it, because they're making money. The system is comfortable for everybody." Asked about Mafia involvement, Iovino replies: "Nothing – nothing – happens here without Cosa Nostra knowing about it."
Everyone benefits, it seems, except the migrants. John says the heavy irony of risking death and using every last cent to travel thousands of miles to seek a better life, only to end up in a corrupt limbo, has broken minds in Mineo. You find them walking naked around the camp, he says. At least one has committed suicide. There have been riots and mass breakouts. John nods meaningfully at Kadir, who has begun a solitary monologue, squinting at the horizon and repeating: "I go now. I do not care. I go now. I do not care."
Kadir slumps up against a car. He says he spent two years in jail in Ethiopia, accused of a petty theft he says he was forced to commit. When he got out, he crossed deserts and oceans "to find some freedom". The great trek north took over a year. He did it in rags and flip-flops, doing whatever he needed to survive and pay the next part of his passage. Along the way he watched people die in the desert, in the war in Libya and on the boat across the Mediterranean. But after he arrived, he discovered it was all just the same thing. Big men and little people. Rich and poor. The corrupt and criminal and inhuman getting fat off the honest and meek and powerless. To make matters worse, Kadir had no more places to run to. The path to a bright future had turned out to be a dead end.
"There is no home here," he says. It makes him wonder what he was thinking, and why, even, he was so determined to survive. There is "no future", he concludes, no improving his life. However hard he tries, "my life is still nothing". So why prolong it? "Some people died in the Sahara, some people died in Libya," says Kadir. "If I die here, I die. No problem."
'A carpet of people in the sea'
If Europe's migrant crisis has one benefit, it is in the way it has exposed how deep organised crime – African and Italian – runs in Europe, and how urgent it is to fight it. What haunts its opponents like Ferrara and Licata is that the battle is, at heart, an introspective one. Ferrara talks about the need for "a new national mind-set" in Italy. Licata describes "a crisis of acceptance" that has bred a "national problem of public morality". In Rome, an anti-Mafia prosecutor involved in Mafia Capitale describes his work is being a "destroyer" of criminal networks but says the lasting solution has to be "reconstruction". "Law enforcement reclaims the land but it does not have the capacity to bring it back to life," he says. "That takes teachers, not policemen."
The migrant crisis seems to have provoked some of the most profound self-examination among those exposed to its frontline. Captain Giuseppe Margiotta has been sailing from Sicily to fish for prawns off Libya for 35 years. Lately he has been dodging Libyan pirates trying to hijack his 30-metre boat. On the night in April that 800 migrants drowned, he received a call from the coastguards asking for assistance. Margiotta had narrowly avoided a pirate boat in the same area the previous night, but he agreed to go nonetheless.
Margiotta and his crew of six arrived on scene at 4am. "It was like a movie, like a war," he says. "Helicopters flying low. The coastguard, the police. They said to search and rescue if you can. We searched for 15 minutes. We spotted one body. He would have been around 15."
Then, as the sun came up, it revealed a catastrophe. "Clothes everywhere," says Margiotta. "Children's clothes, women's clothes, men's clothes, flip flops." Between them were bodies. Pulling the corpses on board, Margiotta couldn't get over their colour. "White people turn yellow when they die. These people looked alive."
Out of 800 passengers, the rescuers found 28 survivors and 24 bodies. Among the living were the migrant boat's captain and his mate. They were later indicted for people trafficking and, after it emerged the captain had locked hundreds of Africans into a lower deck, he was also charged with reckless multiple homicide.
Margiotta says the night the boat sank was a horror beyond all imagination. As he tells his story, he begins to cry. He says he cried that night, too. "My men asked why," he says. "I never cried when I sunk my boat. Or when I had a fire on another boat and my family was on-board. But when I saw this mess, children aged 10 to 15, picking them up like tuna out of the sea..."
Margiotta breaks off and catches his breath. When he resumes, he says he has a message for the leaders of Europe. People smugglers see migrants as a commodity. For politicians, they can be the same: something from which to make money or gain political advantage.
"You [who] sit around the table and make decisions," says Margiotta. "You say you're civilised. But if this happens again, come and see for yourself. Come see what it means to see a carpet of people in the sea." Margiotta wipes his eyes. "I cry," he says. "because I'm raging."
Correction: This article originally stated that John Pack was an adviser on Libya to the British government. The article has now been corrected as his name is Jason Pack.
The Trafficker, an in-depth ebook on people smugglers by Alex Perry is available now from Newsweek Insights.