Laredo, a border town in southern Texas, is being told to prepare for an influx of migrants to arrive soon, but it is still waiting on Federal Emergency Management Agency (FEMA) agents and other resources to arrive ahead of time.
Mayor Pete Saenz told Newsweek that he's met with local nongovernmental organizations (NGOs) and U.S. Customs and Border Patrol (CBP), which have warned him the surge in migrants that have flooded the southern border will soon be on their way to Laredo.
The town on the Mexican border has a population of roughly 236,000, according to the 2010 Census, making it the third most populated city on the border.
"We haven't seen the numbers that the [Rio Grande Valley] area is now seeing. We have had a significant increase in the single adults, but those [individuals] are quickly returned to Mexico or their countries of origin," Saenz said on Thursday.
"But we're told that most probably we'll be seeing something close to the numbers that RGV is seeing or whatever overflow that may bring Laredo into hyper-focus in the near future," he added.
Last week, the CBP announced that migrants were being transported from El Paso to Laredo as the Biden administration figures out how to properly house and care for immigrants and asylum seekers.
President Joe Biden has promised to reverse his predecessor's hard-line border policies and allow unaccompanied migrant children to reside in U.S. shelters while requesting asylum or other forms of relief to stay in the country.
But while Saenz has been notified of what to expect, he says the town has not received enough additional resources to help manage the coming flow of migrants.
"We're recipients of what Washington puts out, as far as policies go. Then someway, somehow, we're asked to try to help out without the necessary resources," the mayor said. "We don't mind doing our part, frankly, but we all have limits, and I've said that many times. Everybody has limits, and the federal government also has to step up and package it for us so that it's a prepared package and then reimburse whatever expenses we're incurring."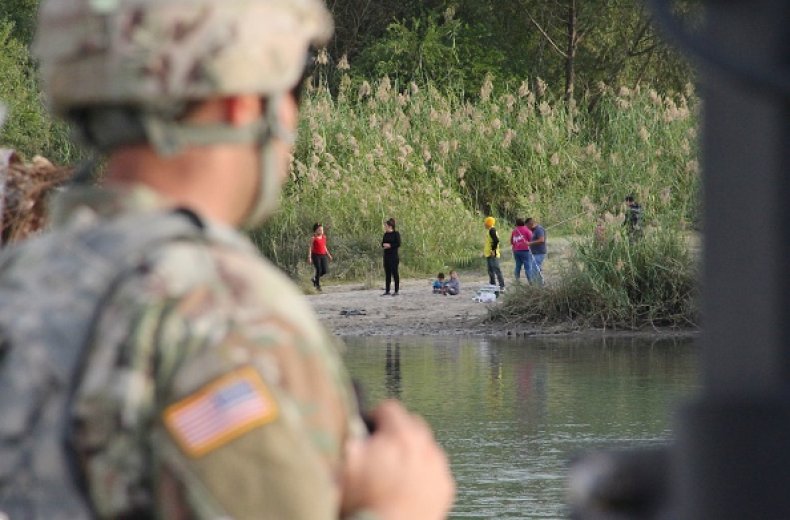 Saenz said the last time a similar situation happened was in 2019 under the Trump administration, which did not reimburse the city or local NGOs for any of the expenses either incurred.
"I realized that that's remission for us, in a way, as a city," he said. "But when everything else fails, [the migrants] look to the city as a safety net and say, 'What are you going to do?' Of course, we'll do what we can, and we have. But it's got to be better organized."
In a statement Tuesday, Homeland Security Secretary Alejandro Mayorkas said he had deployed FEMA to help house the migrant youths, but Saenz said the federal agency has not made its way to Laredo yet.
"I'm told now that apparently FEMA is now engaged, and we haven't seen much of that here, as far as FEMA approaching us," Saenz said.
The mayor worries that a lack of resources will leave local officials scrambling to help migrants who make it across the border—a repeat of what happened under the former administration two years ago.
"The last go-around, we had people at the bus stations. It was chaos. They were tired, hungry. There were children. People walking, going north on IH-35. The police had to get involved, traffic controllers. Then we had the Department of Public Health involved too, because they had to tend to the needs of those who were ill," Saenz said. "We haven't seen any of that yet, but we would hate for it to reach that level again."
Texas Representative Henry Cuellar agreed, calling the transportation of migrants from El Paso to Laredo a "crisis" for his district, which is already facing resource shortages because of the coronavirus pandemic.
"This is a crisis for our local communities," Cuellar said in a statement last week. "Nonprofits and local governments, who are already struggling from the pandemic, are scrounging for COVID-19 tests, food, and housing for these migrants. It is critical that we provide them with emergency resources so they can properly support these migrant children and families."
County officials and migrant advocates in El Paso say they expect the Department of Homeland Security to send as many as two flights daily, each carrying up to 135 migrants, to Laredo.
Saenz said that the situation at the border has changed and that there may be no way to stop the migrants who are already on their way. But, he added, immigration reform may be required to handle the onslaught of people hoping to find a new home in the U.S.
"The administration and, I guess, the messaging—something is bringing more young people in. I guess more people overall. You can't get away from that. I mean, there's still more [people] coming," he said. "Yes, we do have asylum laws, but maybe the asylum law needs to be changed for the safety of everyone."