Migrant Relocations Are a Masterpiece of Politics and Policy | Opinion
The sheriff of Bexar County, Texas, Javier Salazar, brought all the gravity he could muster to his video announcing that his San Antonio-based operation was about to devote resources to a criminal investigation of Governor Ron DeSantis' decision to deliver a planeload of migrants to Martha's Vineyard in coastal Massachusetts.
"As we understand it, 48 migrants were lured—and I will use the word lured—under false pretenses, into staying at a hotel for a couple of days."
The mind reels at such cruelty. But Sheriff Salazar had more to share.
"They were shuttled to an airplane where they were flown to Florida and then eventually flown to Martha's Vineyard, again under false pretenses is the information that we have."
Well, the information the sheriff had that day, while replete with flight patterns and passenger totals, came with a large helping of Democratic Party talking points.
"I believe that they were preyed upon," Salazar said, "exploited and hoodwinked for what I believe to be nothing more than political posturing."
The sheriff should know a thing or two about political posturing. Is it his assertion that a governor seeking to make a crucial point about immigration policy is engaged in shallow politics, while a Democrat sheriff seeking to creatively criminalize that governor is not doing the same?
We are all free to admire or criticize Republican governors offering comfortable transportation for migrants to the "sanctuary" enclaves that preach to the nation about welcoming people regardless of legal status. But it is quite another matter for an elected sheriff to use the weight of his law enforcement position to concoct a violation of law using nothing but the defensive rhetoric of his own wounded ideology.
Whether by bus on Greg Abbott's Texas dime or via DeSantis Airlines, every fresh relocation of migrants brings extensive coverage from a media culture that despises both men, and a wave of hyperventilation from Democrats who recognize the impact of the political bombshells detonated in their midst.
For those reasons, the relocations are masterstrokes of political optics, adding to the already obvious policy value of this tactic—a lesson for millions of Americans in the folly of "sanctuary" policies and the unseriousness of Democratic officials at every level to address our dysfunctional southern border.
Democrats at the city and state level have been thrown into panic amid numbers of migrants that are a tiny sliver of what border states like Texas and Arizona endure every day. Democrats in Congress, realizing that a debate on the issues on the merits is fruitless, resort to the familiar strategy of personal destruction. As such, DeSantis and Abbott have become, to them, villains guilty of "human trafficking" and "toying with people's lives."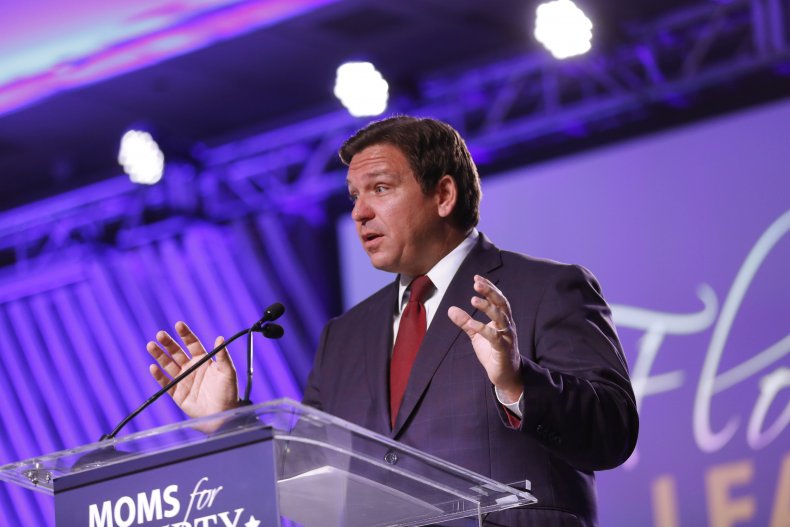 The activist sheriff has now been joined by a team of activist attorneys who have a quixotic strategy of their own: a class-action lawsuit filed on behalf of some of the migrants on the premise that breathing the ocean air of Massachusetts rather than the September steam of South Texas constitutes grotesque abuse.
Evidence to the contrary arose in the most ironic of places, a MSNBC report featuring reporter Cristina Londoño, fresh from interviewing the freshly arrived Venezuelans. She asked one man if he felt "hurt" by his journey.
"No, not really," he replied. "Instead of hurting us, they did us a favor, so I'm not complaining." The reporter shared that some of the new arrivals spoke of being "brought to paradise."
This is inconvenient to those seeking to portray the relocations as some modern atrocity hatched by racist Republican monsters.
There is a special brand of hypocrisy affixed to anyone wringing hands over these relocations while approving of the Biden administration loading up planes in the dark of night to ship migrants to various locations across the American landscape. Meanwhile, conservatives who criticized the Biden flights are asked with regularity how they can approve of transportation provided by Republican governors.
The answer is found in the underlying intent. Democrats favor migrants scattered across the land, conveniently vanishing into America's interior while the clock ticks toward court appearances many—perhaps most—have no intention of making. Meanwhile, a plan is hatched to normalize, legalize, and eventually naturalize as many immigrants as possible so that they can begin decades of appreciative Democrat voting.
Republican relocations, by contrast, are intended for the short-term purpose of opening up millions of eyes to the absurdity of "sanctuary" states and cities, and the sanctimonious duplicity of leaders found there. By that metric, the relocations are an unbridled success. Opponents know how profoundly they have been outplayed, so their only option is to portray the tactic as an exercise in callous brutality.
Those characterizations will fail, as will every investigation and lawsuit designed to sculpt a criminal offense out of a mound of mere political indignation. Voters will likely bring their respective enthusiasm or distaste for these events to the polls in November, so we will soon see which side is more energized.
Also on the list of things we may soon see: an office full of San Antonio lawyers free to find new targets for their hostilities, and a sheriff free to focus his resources on the fentanyl and genuine, not contrived, human trafficking crises found on the highways of his county.
Mark Davis is a talk show host for the Salem Media Group on 660AM The Answer in Dallas-Ft. Worth, and a columnist for The Dallas Morning News and Townhall.
The views expressed in this article are the writer's own.