At least 141 migrants boarding the Aquarius, a rescue ship that was stranded at sea since Friday after once again being refused entry by both Italy and Malta, were taken in on Tuesday and distributed between Spain, Portugal, France, Germany and Luxembourg.
"Spain has coordinated a pioneering agreement with 6 countries to distribute the reception of #Aquarius people. It has been possible thanks to the path that we undertook in June, promoting a common and supportive response to the migratory flows. Spain will welcome 60 people." Pedro Sanchez, Spain's prime minister, tweeted on Tuesday.
Portugal said it will bring in 30 migrants, and the remaining 51 would be received by France, Germany and Luxembourg.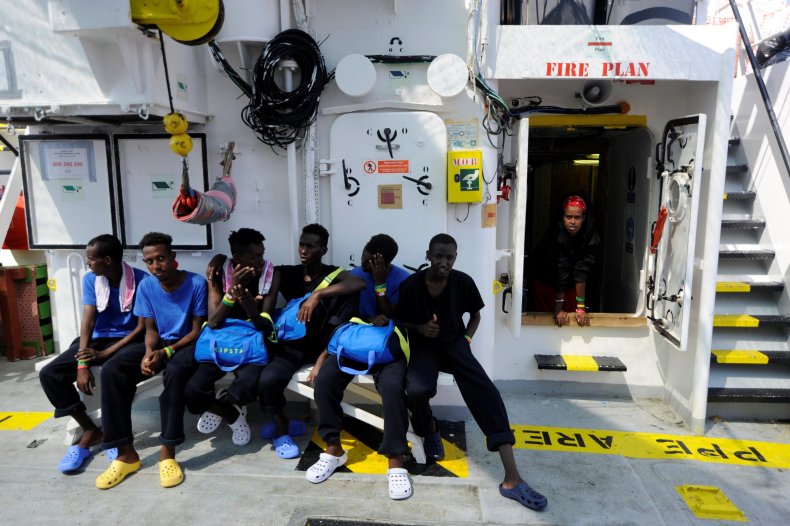 "We cannot rely on ad-hoc arrangements, we need sustainable solutions. It is not the responsibility of one or a few Member States only, but of the European Union as a whole," said Dimitris Avramopoulos, the European Migration commissioner.
Aquarius was also the center of attention in June when Spain allowed the ship with 630 migrants to dock in the city of Valencia after both Italy and Malta refused to take the vessel in. Those on board were from 26 different countries, the majority of them coming from Africa and others from Afghanistan, Pakistan and Bangladesh.
"It is our duty to help avoid a humanitarian catastrophe and offer a safe port to these people, to comply with our human rights obligations," Sanchez said at the time.
The number of migrants to arrive in Europe via the Mediterranean in 2018 has grown to 61,517 according to a press release from the International Organization for Migration. "This compares with 118,436 arrivals across the region through the same period last year, and 265,640 in 2016," the statement said.
Spain has become the main destination for migrants with 25,101 arriving since January, compared to the 19,231 who have arrived in Italy during the same time period. Greece, meanwhile, has received 16,834 as both Malta and Cyprus have taken in less than 300.
Although countries in Europe are struggling to figure out how to handle the arrival of migrants, the numbers are nowhere near the amount who set foot in 2015, when a total of 1,015,078 migrants came by sea.
Once migrants land in Europe, many continue their journey across the continent. In total, 34,694 people have traveled to 24 countries in 2018. Germany has been the top destination with 10,825 migrants relocating from Greece and Italy, according to the International Organization for Migration. France and Sweden follow with a total of 5,035 and 3,048 migrants, respectively.
European leaders reached an agreement during an EU summit in June that would allow for control centers in countries where migrants first arrive to be set up. These centers would permit asylum claims to be processed and send back individuals who do not qualify. If they are accepted, they would then be distributed among other countries in Europe.
"We have managed to reach an agreement in the European Council," said Donald Tusk, the president of the European Council. "But this is, in fact, the easiest part of the task, compared to what awaits us on the ground when we start implementing it."
This solution, however, hasn't worked yet because the whole process would have to be voluntary, the BBC reported. Last month, the European Commission even offered to pay member states $7,000 for every migrant they accepted.