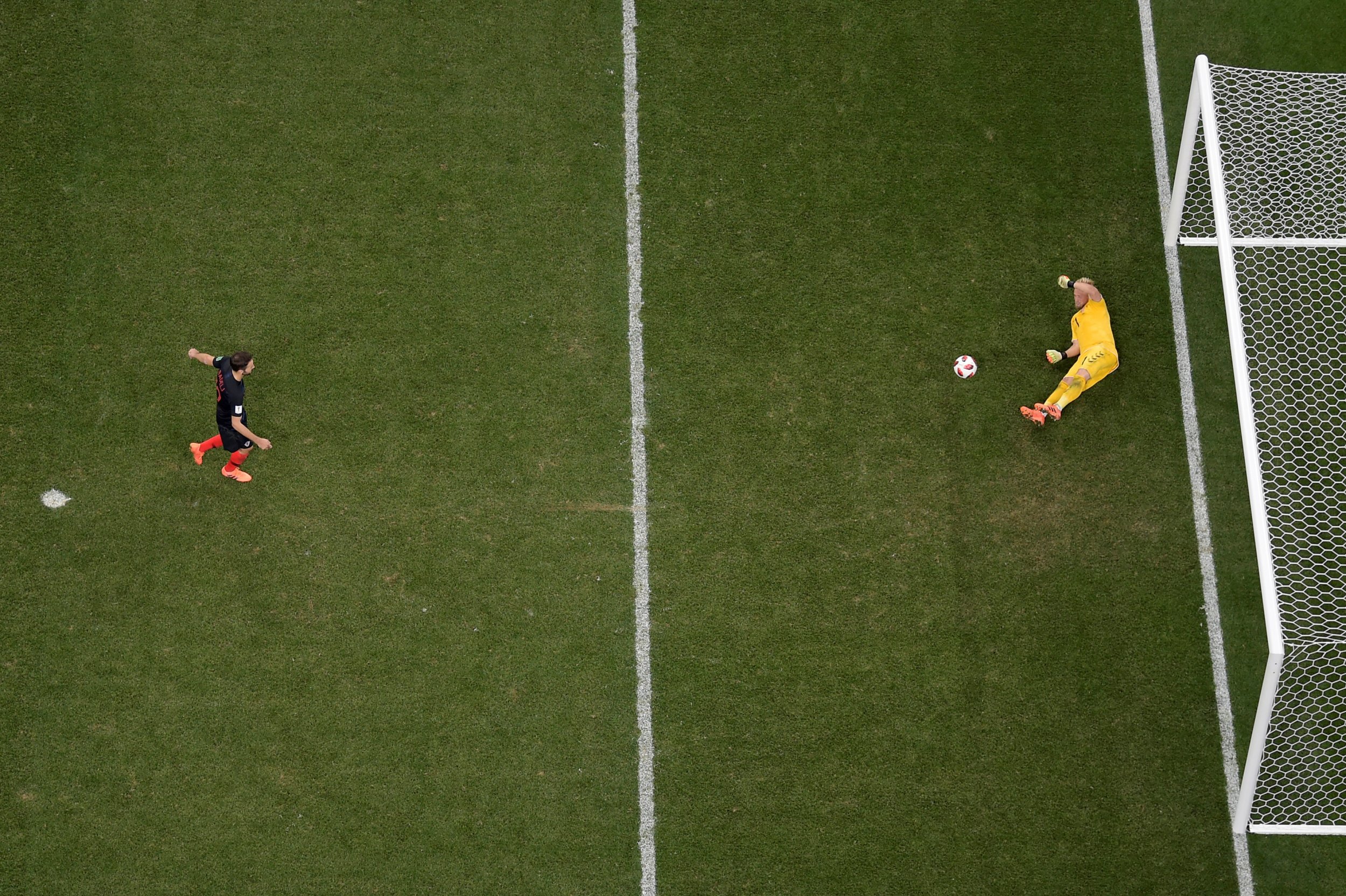 I wouldn't ever consider myself "Mr. Futbol" or some global soccer Pele or Ronaldo-level elite. But I do know that after traveling to nearly 60 countries across the world, including the World Cup 2014 in Brazil, that "The Beautiful Game" remains the closest thing to a global religion and a universal, binary-code language spoken on every continent and revered deeply in every heart.
On my yearlong #intentionaldisruption global leadership sabbatical, when I wasn't dabbling in an "eat, pray, love" sequel or trying to blend the ex-pat introspection of the great James Baldwin with the sense of adventure of the late Anthony Bourdain, I have seen firsthand the practice of the world's true and only religion, from the Buddhist schoolyards of Laos to the Spanish colonial iglesia town squares of Nicaragua.
I've heard the shared global language of a Croatian toddler's simple joy in kicking the ball in their World Cup Final fan zone in Split, as they celebrated their rallying goals against eventual champions France, all while ingesting a healthy dose of passion from an Englishman debating a Costa Rican about the merits of an African player in the English Premier League. Not one speaking the same actual language as their mother tongue or practicing the same actual religion, but all praising the same global inclusive gods of the Ballon d'Or whose only balancing scale for equality is merit.
And so it dawned on me, as I recently put on my FC Harlem consultant name badge and attended SoccerEx, a global football business convention held in Miami, that as I focus on leadership development training and motivational strategies for a group of mostly immigrant and inner city young athletes for this uptown New York City team of rising stars...that this was the world's present and the world's future all rolled into one black and white pentagon-patterned ball.
This was the proxy and nexus of the global debate of who gets to be called a citizen, who gets to immigrate, who gets to belong and pursue their dreams free from the conflict zones that many of these young aspirants had fled. This is why the far right of Europe has recoiled even after the children of many African boat immigrants delivered a World Cup 2018 victory to France and the MAGAs at the US/Mexican border stand tall, yet small, ready to repel a migrant caravan of brown faces and potential immigrants hundreds of miles away with the trusty help of what brave President "Bone Spurs" Trump seems to think of as his personal US Army.
That realization came as I attented a fancy global football conference in a well air-conditioned Florida Marlins MLB facility, far removed from the poverty, heat, and desperation of the migrant caravans.
I was standing next to Irv Smalls, the Executive Director, soul, driving force, and thought-leader behind the rise of the immigrant driven, diversity-led, inner-city soccer revolution known as FC Harlem. Irv has worked with strategic global partners and juggernauts in the sport like Nike and Chelsea Football Club in England to breathe life into America's oldest secret weapon, the power that comes from the waves of talented and purpose driven immigrants that have always found refuge, true inclusion, and an opportunity to thrive in a new land.
We were watching player after player put their utmost into that moment of achieving that almost impossible, game-changing move, the penalty kick—and it dawned upon me that this is the demand we present to immigrants: to do something extraordinary, to exhibit a secret talent, to bet their entire lives on one decisive, extraordinary performance under our watchful gaze. Sometimes this secret is unlocked in business or industry, science or the arts, but often it is unlocked through sport. The ability to ascend and transcend one's current station through merit, sweat, a swift goal kick, or a bright new product or idea—like those by that son of a Syrian immigrant, Steve Jobs.
With history not repeating itself, but often rhyming, every wave of immigrant dreamers have faced the Penalty Kick moment. That moment in time where they are singled out, frozen on the pitch, isolated, the clock counting down, and their validity and very entry and existence are on the line. Will they score and save their team from elimination or xenophobic expulsion, or will they falter and miss the mark by a mere millimeter that could win the coveted hat-trick? Acceptance! Affluence! Adulation!
Yet the question should not be will the immigrant save themselves or their team via the swiftness of their boot, or the force of their kick, or the angle of attack. The question should be why are we, as a global society, forcing them into a penalty kick moment in the first place? Why must we red-card their progress and aspirations?
Why are we continually falling back on our old ways, old tropes and misnomers to ascribe loathing and shame to a group of people who only want to join our game and help our team win? A group of hungry, young, dynamic, and creative potential teammates that could prove to score the winning goal and bring glory and prosperity to our squad and nation?
We force them into a penalty kick moment because we are small and afraid, and because our memories are often wiped clean of that digital replay moment when someone forced our grandmother or grandfather into a penalty kick moment of their own. That moment where they had to prove themselves because they had that funny sounding last name, spoke with an accent, or didn´t quite know English at all, but were eager to join our team and contribute as winners on a fair and level pitch.
When and how the world will get past enforcing these penalty kick moments on ascendant African boat people, or war-torn Syrian migrants, or brave marchers in a Honduran caravan, is an easy question to answer. All we have to do is remember how vexing and foreboding and unforgiving that moment was for us or someone we love. Our collective finest hour comes when we stand with them in that circle, face the refs and the thousands of taunting fans and either help them put the ball through or get out of the way of their ferocious shot at the goal.
There are not many monuments to those who stood in the breach of progress between the past and the future. The George Wallaces of the world are not often celebrated as champion goalies when history is written. When the match clock finally ticks down, their fair moment of migration is coming, and there is nothing you can do to stop it or stand in their way. Just remember where you were in the 90th minute when someone hungrier than you scored the winning goal for us…and often in spite of us.
Kwame Jackson is a frequent political commentator for CNN, MSNBC, FOX, and NewsOne. He is currently on a year-long, 50 country global leadership, research, and writing sabbatical; he can be found tweeting @kwameinc.
The views expressed in this article are the author's own.​​​​​