More Than 130 Migrants Injured After Crossing Morocco-Spain Border, Spanish Red Cross Says
Over 130 migrants suffered injuries Thursday as they tried to cross from Morocco to Spain's North African enclave of Ceuta, according to the Spanish Red Cross.
Police said that 16 migrants were hospitalized and 15 law enforcement officers were hurt, with five needing hospital care, after 800 migrants attempted to cross the border separating the Spanish territory from Morocco.
Over 600 African migrants successfully crossed from Morocco to Ceuta by cutting holes in barbed-wire fences. The asylum seekers also threw rocks at police vehicles and launched improvised flamethrowers at officers.
"To prevent officers from approaching the area where the entry attempt was taking place, the migrants used violence including defensive material such as homemade shields and threw tubes and bottles containing excrement and quicklime," a statement by the Civil Guard said.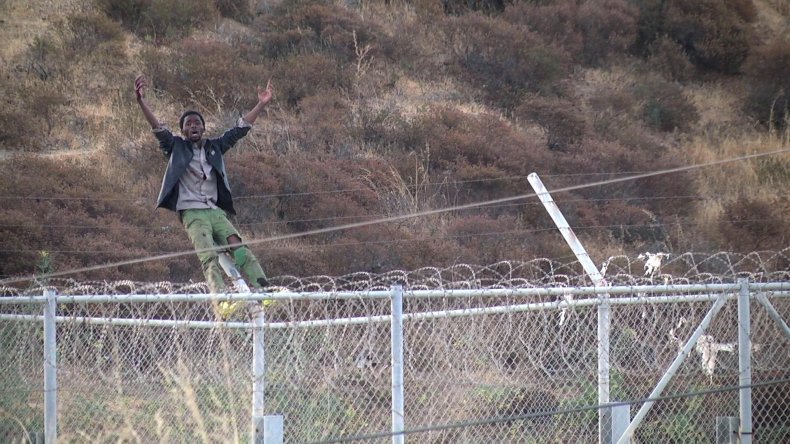 Spanish newspaper El País reported that the migrants crossed at the Finca Berrocal area, which is considered a weak point along the 5.2-mile border fence. Cameras in this location cannot spot migrants.
An additional group of migrants was held in Morocco, and the Civil Guard responded to the initial rush by deploying more personnel to stop other people from attempting to cross. After reaching Spain, the migrants kissed the soil and then traveled to an overflowing temporary immigration detention center.
Migrants from sub-Saharan Africa regularly attempt to cross into the Spanish cities of Ceuta and Melilla, at the EU's only land borders with Africa. Thursday's attempted migration was the most coordinated effort in Ceuta since February 2017, when hundreds of migrants reached the African enclave in four days. The month before, 1,100 migrants tried to reach Spain by crossing the Ceuta border.
According to the International Organization for Migration, 51,782 migrants and refugees have reached Europe by sea so far this year, compared with 110,189 at this time in 2017. Over 18,600 migrants have arrived in Spain by sea as of July 18.
But countries have recently stopped accepting asylum seekers arriving by boat. In June, Spain refused to allow a migrant boat carrying 230 migrants to unload at its docks, saying it would not "become the sea rescue organization for all of Europe." Earlier that month, Spain had accepted 630 migrants stranded in the Mediterranean after Italy and Malta rejected the disembarkment of boats carrying asylum seekers.
The unwillingness of European countries bordering the Mediterranean to accept more migrants has led asylum seekers to consider alternative travel routes.