Migrants at Tijuana Crossing Stage Protest With Signs Asking Biden to 'Say Yes' to Asylum
Migrants staying in a camp stationed along the U.S.-Mexico border in Tijuana, Mexico, continued protesting on Wednesday to seek answers regarding the fate of asylum-seekers still waiting to be processed at border entry points.
Photos taken near California's San Ysidro Port of Entry throughout March showed migrants gathering with pleas written on signs and spelled out in messages printed on T-shirts.
In some of the photos taken this week, migrants can be seen wearing white T-shirts emblazoned with President Joe Biden's 2020 presidential campaign logo at the top, with the message, "Please let us in!" printed beneath. Other recent photos show migrants carrying signs with a wide array of messages, ranging from "ayúdenos" ("help us") to "sí al asilo" ("yes to asylum").
Migrants hailing from a handful of countries—including Nicaragua, Haiti and Honduras—gathered again Wednesday to give voice to their message for Biden, according to The San Diego Union-Tribune.
"We're only asking for a clear, concrete response—what will happen to us?" one woman told the paper. She added a request for U.S. officials to send "an organization or U.S. authority" to represent migrants as they continue their campaigns for legal entry.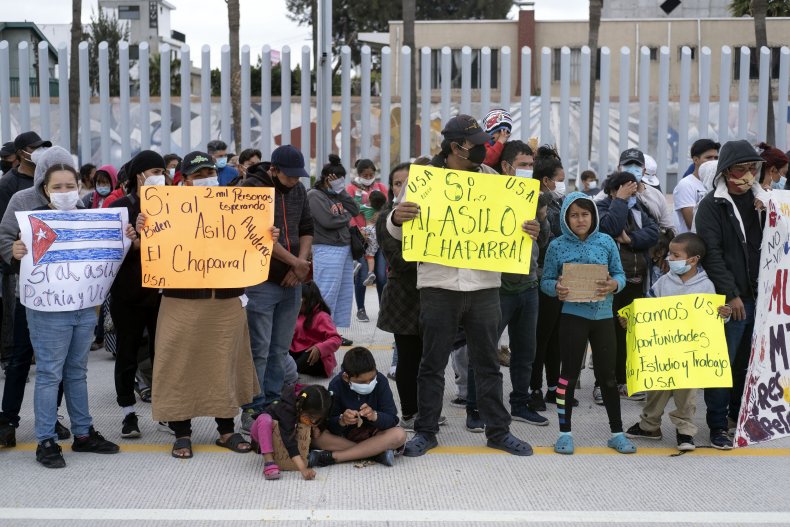 Two months after his inauguration, Biden has come under fire for his administration's handling of the surge of migrants at the U.S.-Mexico border. Thousands of migrants were prevented from entering the U.S. under former President Donald Trump's "Remain in Mexico" policy, which Biden rescinded shortly after taking office.
But many conservative politicians have argued that the friendlier messaging on immigration that came from Biden throughout his presidential campaign led migrants to believe they would be welcomed into the country swiftly after Biden was sworn in as president.
Some border city mayors have expressed frustration with the limited resources they have at their disposal for handling upticks in migrant arrivals within their communities, and one Arizona mayor, Chris Riggs of Gila Bend, recently declared a state of emergency in response to the latest surge.
In Tijuana, local officials announced their intentions this week to create a fence intended to contain the hundreds of migrants waiting at the San Ysidro Port of Entry. An estimated 1,500 migrants are waiting at that camp alone, according to The Border Report.
One migrant waiting in Tijuana for the green light to cross the border described the camp to the Associated Press last week as a "center for disinformation."
Frustrations are mounting along the border and in Washington, D.C. as migrants and politicians seek clarity on what the Biden administration's short-term and long-term immigration policies will be.
On Wednesday, Biden announced that Vice President Kamala Harris will lead the administration's immigration response moving forward.
Newsweek reached out to the San Ysidro Port of Entry and the Department of Health and Human Services for comment.