Migrating Eagles Run Up Huge Cell Phone Bill for Russian Researchers
A team of Russian scientists who were using tracking devices equipped with SMS texting to plot the locations of migratory eagles have been hit with massive roaming charges after the birds crossed over into Iran.
Phys.org reports that the Russian Raptors Research and Conservation Network (RRRCN) monitors the flight paths and habitats of a number of birds, including the endangered steppe eagle, by placing solar-powered GPS units on their backs. These lightweight machines store coordinates and—when they can connect to a mobile network—send them back to the scientists by standard text message.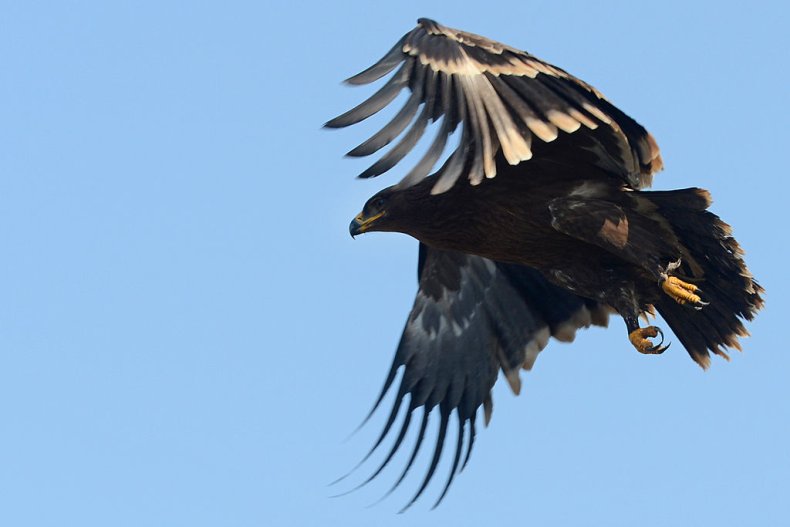 That system allows for fresh data to be analyzed without having to retrieve the test subjects. The RRRCN uses this information to consult on the placement of power lines and other hazards to reduce human impact on the eagles.
Typically, the cost to the scientists for sending a SMS coordinate message is between three and 23 cents, with four messages being sent per bird for each day of tracking. But one eagle's summer trip resulted in significantly higher costs that nearly bankrupted the study's budget.
Steppe eagle Min, named after his birthplace of Minusinsk, spent much of the year outside of cellular range in western Kazakhstan. He was somehow able to fly to Iran quickly enough that his tracker was unable to send an update until he got there.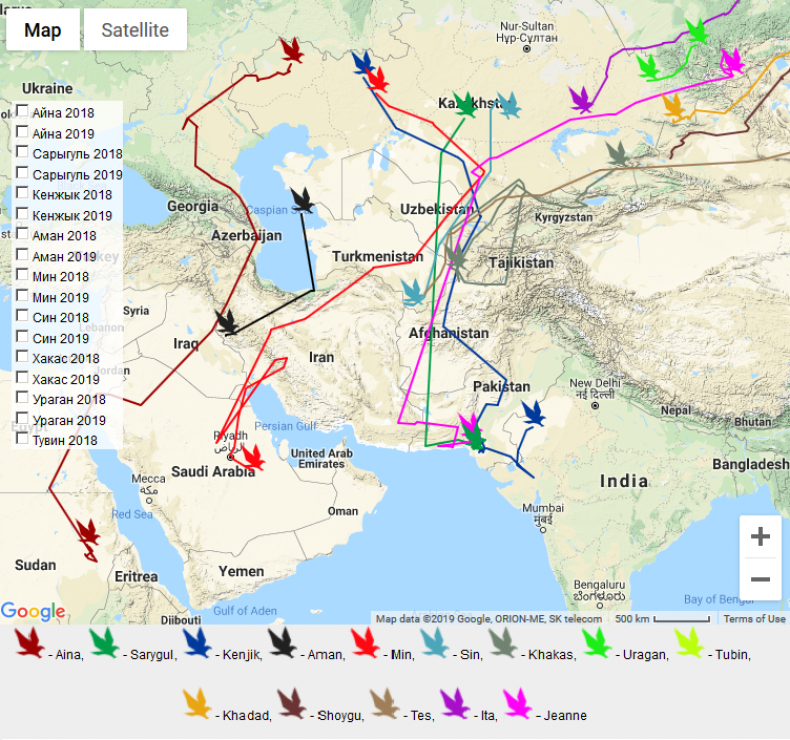 Once he settled down, Min began reporting his stored GPS data at a frantic pace. Unfortunately, being outside of his cellular network cost the researchers significantly more than they were expecting at 77 cents a text.
Coupled with three other birds who also ventured into Iraq and Pakistan, data bills for the tracking devices quickly ate up the remainder of the study's funds, forcing the scientists to take out a loan to pay their phone bills.
The research team took to social media to explain their budget shortfall, and as of Friday had raised $1,500 to pay for their out-of-network birds, reports the Telegraph. Min has also relocated to Saudi Arabia, where messaging charges are significantly lower. If the birds stay close, the campaign will pay for their texting until the end of the year.
The steppe eagle was placed on the International Union for Conservation of Nature's "Red List" with a status of endangered. Surveys report the species population is declining, with adult specimens numbering no more than 75,000 worldwide.
At its peak, the steppe eagle had a range that spread from Mongolia and the Russian steppes to as far south as Mozambique. An image of the bird appears on the flags of both Kazakhstan and Egypt.