Miguel's Split From Wife Nazanin Mandi Devastates Fans
It's a sad day for Miguel fans as the Grammy-winning singer has announced he and his wife Nazanin Mandi are splitting up.
The couple, both aged 35, have been together for 17 years and married for three of those years.
The announcement comes just weeks after their third wedding anniversary.
They made a joint announcement on Tuesday announcing their separation but provided no details on why they decided to split.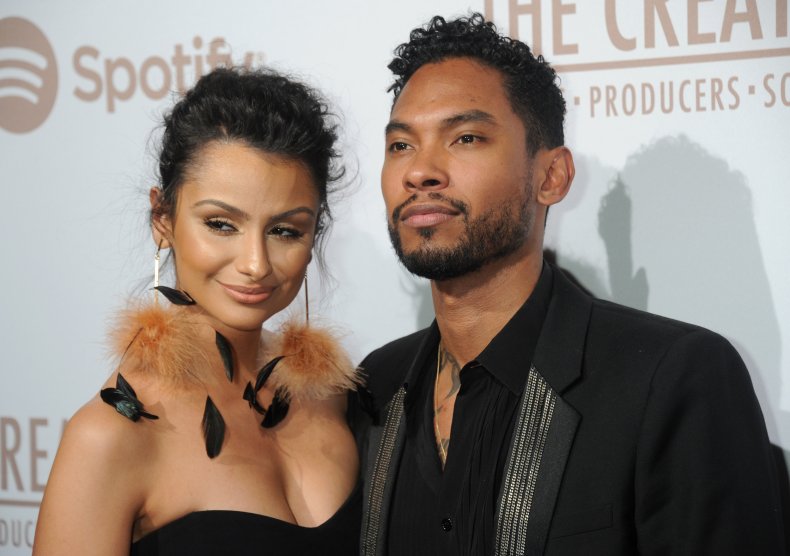 "After 17 years together, Miguel and Nazanin Mandi have decided to separate and have been for some time now," a representative for the couple told People Magazine. "The couple both wish each other well."
The sad news has hit Miguel fans particularly hard as the singer is known for his love songs and his long-term and loving relationship with Mandi who has appeared in a number of his romantic music videos, such as "Coffee" and "Girls Like You."
Mandi also inspired one of Miguel's most famous songs, "Adorn."
Speaking about Mandi inspiring the song, Miguel told People back in 2013: "I had been on a long trip and was anxious to see her. That's where the song began, with that emotion while I was on the plane. I don't remember how I got from 'These lips can't wait to taste your skin' to the end of the song, but when I listened to it, I thought, 'This is special.'"
So unsurprisingly, a love as strong as theirs ending has upset many fans and lovers of Miguel's music today.
"I'm not really into celebrity relationships because no one knows what happens behind closed doors, but damn we all were rooting for Miguel & Nazanin," reads one tweet. "They were solid before the fame & fortune & now after 17 years together they are separating. What is love?"
While another fan expressed their sadness via meme:
"Not Miguel and Nazanin," said another.
Another fan joked: "Miguel & Nazanin split which means his next album gone be fulla heartbreak hits!? Sorry to them, but this kind of feels like a win.."
Mandi opened up about the challenges of living with Miguel during the COVID-19 lockdown.
"We were used to being around each other a lot, but then we were also used to traveling a lot," she told People. "So keeping the spark alive was definitely something we had to stay on—because when you're in different cities, it's automatic to feel excitement [when you see each other again]."
"But being home [together] all the time, it's like, 'Okay, we have to find new things to watch, and to do and to read,' " she continued. "It was a lot, but overall, we did great. I have no complaints, [and] am grateful for everything."