'War & Lesiure': Top Songs on Miguel's New Album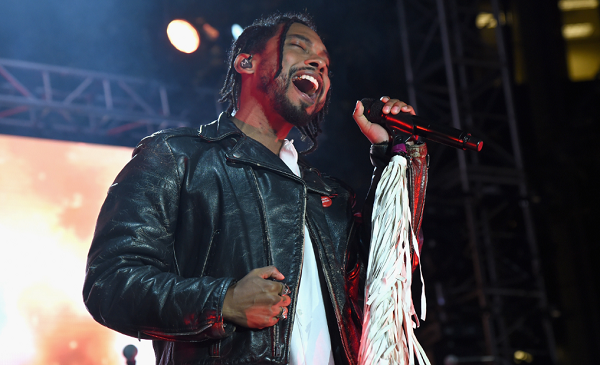 Sometimes it feels like the world is going up in flames. This year saw its fair share of tragedy, from terrorist attacks in crowded urban areas to mass murderers slaughtering hundreds of innocent people at music festivals and churches. Then there's the stress some Americans feel living under President Donald Trump.
With all that mayhem, we have to grab life's sweet moments when we find them. That's the message of Miguel's new album, War & Leisure, released on Friday. Its perfect blend of experimental, funk, psychedelia and sex captures the way life can often see-saw between complete chaos and ultimate self-enjoyment. The album is the present, right now, this very moment—laced with an electric guitar.
During the singer's recent Vevo x Miguel video shoot—which drops on the music video site December 6—Miguel said he wrote many of the songs while mulling over the atrocities people have faced recently. But he noted that the blissful moments he has experienced despite all the madness also served as inspiration for the album.
These are the seven tracks (in no specific order) that embody the war and leisure we're all living in.
1. "Told You So": With electro-poppy vibes straight out of the Prince playbook, the track serves as the perfect warning when Miguel sings, "I know you sense a pleasure in my eye/As long as you know, baby/Every pleasure you taste has its price." You'll likely want to bust a move or two while listening, but the lyrics make it hard to forget just how costly some fun can be.
2. "City of Angels": When doomsday hits, you'll want to be with your lover—lest you want to spend the rest of your days soaked in regret.
3. "Sky Walker": Yes, there's plenty for us to sulk over right now. But this feel-good song is a notable reminder that life is something that should be cherished and celebrated.
4. "Harem": The lusty and seductive melody is hypnotizing, similar to the wit and charm of a man who commands his own harem.
5. "Carmelo Duro": Miguel singing in Spanish? We want—and need—more of this.
6. "Come Through and Chill": The cold, frigid weather of December may entice you to call a lover of the past to come warm you up, and this is Miguel's way of encouraging you to do just that. And if his sultry voice isn't enough to convince you, J. Cole's verses will certainly do the trick.
7. "Now": Perhaps the most socially conscious track on the album. Miguel challenges Trump's image of freedom, questioning the direction that the "CEO of the free world" is leading the country. "Should we teach our children hatred?/Chase the inner cities, shoot them down/It's like we're still running races/I'm just sayin'."
'War & Lesiure': Top Songs on Miguel's New Album | Culture