Donald Trump Lacks Mental Stability, 'Morning Joe' Co-Host Mika Brzezinski Says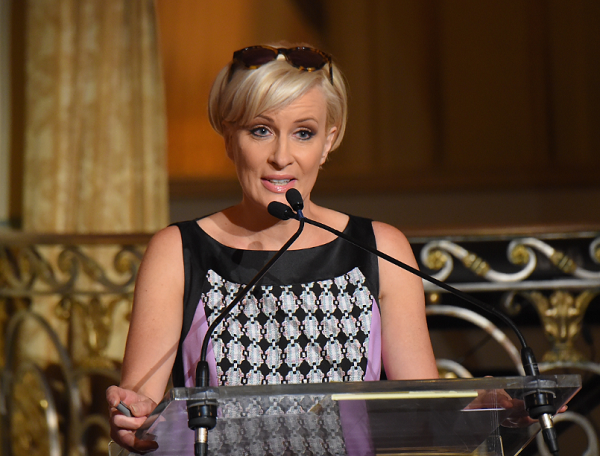 Morning Joe co-host Mika Brzezinski has never been shy about criticizing President Donald Trump on the MSNBC news show, and on Wednesday, Brzezinski questioned the commander in chief's mental stability. While reviewing Trump's comments regarding the devastation caused to Houston, Texas, following Hurricane Harvey last week, Brzezinski suggested that the president "doesn't really seem to be there."
Trump raised quite a few eyebrows after he visited Texas on August 29 and failed to meet with hurricane victims living in areas that had received record-breaking rainfalls and severe flooding, resulting in the deaths of up to 45 people. Instead, he met with state and local leaders in Austin, saying that he didn't want his security detail and entourage to get in the way of search and rescue missions taking place in the most brutally affected areas. He later went on to brag about the number of people who turned out for his Austin appearance.
While speaking with contributor Mark Halperin, Brzezinski suggested that Trump's bizarre commentary in the midst of the storm may have been caused by a deficiency in the president's mental health.
"Is this a stability issue?" she asked. "I feel like some might argue when you see him off prompter, he doesn't really seem to be there. He doesn't really seem to connect with the reality of the situation. For example, in Houston, saying 'Have a good time' to people or something. There's some disconnection."
Following mass criticism for his failure to meet with suffering Texas families, Trump and first lady Melania Trump returned to Texas on Saturday and took on more-active roles, meeting with families at the NRG Center in Houston and handing out food to residents.
This isn't the first time Trump's mental health has been questioned. Conservatives in July condemned the former real estate mogul for being "erratic" and "unreliable" for his chaotic first four-and-a-half months in office while a Democratic lawmaker in August called for the president to undergo a medical and psychiatric evaluation following Trump's flip-flopping and volatile rhetoric in the aftermath of the recent Charlottesville, Virginia, white nationalist rally, which left one woman dead.
"President Donald J. Trump has exhibited an alarming pattern of behavior and speech causing concern that a mental disorder may have rendered him unfit and unable to fulfill his Constitutional duties," San Jose Representative Zoe Lofgren wrote in a resolution letter to Congress.
Brzezinski and her Morning Joe co-host Joe Scarborough have been increasingly critical of the president, who has singled them out for attack in his tweets. Trump even received calls for his resignation in June after a tweet in which he went after Brzezinski's appearance. "I heard poorly rated Morning Joe speaks badly of me (don't watch anymore)," he wrote. "Then how come low I.Q. Crazy Mika, along with Psycho Joe, came to Mar-a-Lago 3 nights in a row around New Year's Eve, and insisted on joining me," Trump wrote. "She was bleeding badly from a face-lift. I said no!"