Mika Brzezinski Apologizes After Calling Mike Pompeo a 'Wannabe Dictator's Butt-Boy' on MSNBC's 'Morning Joe'
Mika Brzezinski—co-host of MSNBC's Morning Joe—expressed dismay and anger at Secretary of State Mike Pompeo after he persistently defended Saudi Arabia's Crown Prince Mohammed bin Salman, despite the murder of Washington Post journalist Jamal Khashoggi.
But Brzezinski expressed that point in language that struck many viewers as homophobic.
"I understand that Donald Trump doesn't care.... He doesn't care. But why doesn't Mike Pompeo care right now?" Brzezinski said on-air. "Are the pathetic deflections that we just heard—when he appeared on Fox & Friends—is that a patriot speaking? Or a wannabe dictator's butt-boy?"
Brzezinski quickly walked back the comments on Twitter, agreeing with someone who said she should have used a different phrase such as "lackey" or "stool pigeon."
"Totally agree with you -SUPER BAD choice of words .. I should have said "water boy"... like for football teams or something like that.. apologize to @SenatorDurbin too! SO SORRY!" the MSNBC host posted in response.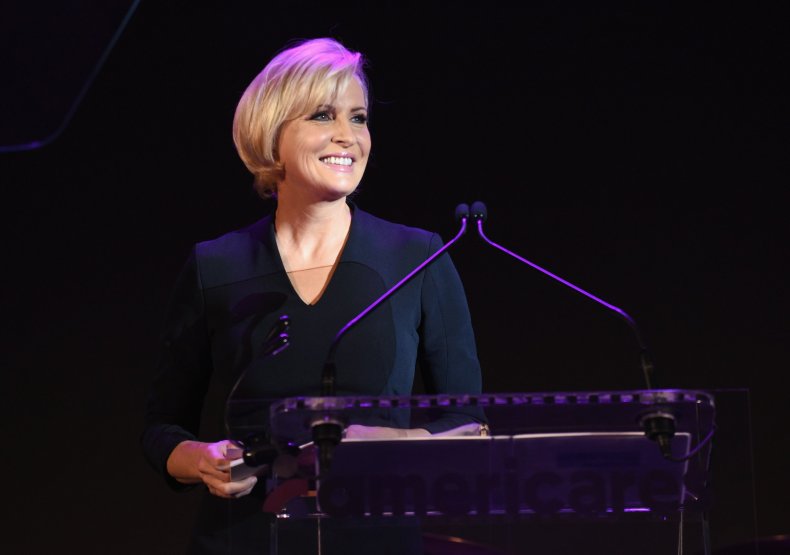 Pompeo's comments about the Khashoggi murder on Wednesday's Fox & Friends drew widespread criticism, as the secretary of state resolutely defended the crown prince despite lawmakers on both sides of the aisle calling for consequences. Pompeo said America would hold those involved accountable, but made sure to repeatedly say Saudi Arabia was a key ally.
Fox & Friends host Brian Kilmeade pressed Pompeo a bit, asking, "We know that the prince knows [about the murder], right?" The secretary of state was evasive in his answer.
"I have spoken to the king, King Salman, I have spoken to the crown prince a number of times since the murder of Jamal Khashoggi, and it is absolutely America's intent to hold everyone accountable who was responsible for this," Pompeo replied.
Asked if he believed the crown prince's denials, Pompeo evaded again.
"The kingdom of Saudi Arabia decides who is running the country," Pompeo said. "I think this is what the president said yesterday. We are working closely with the kingdom to make sure that America is protected. That's our interest there."