Will Ivanka Trump Tell Her Dad to Resign Over Sexual Misconduct? Mika Brzezinski Demands She 'Finally Stand Up'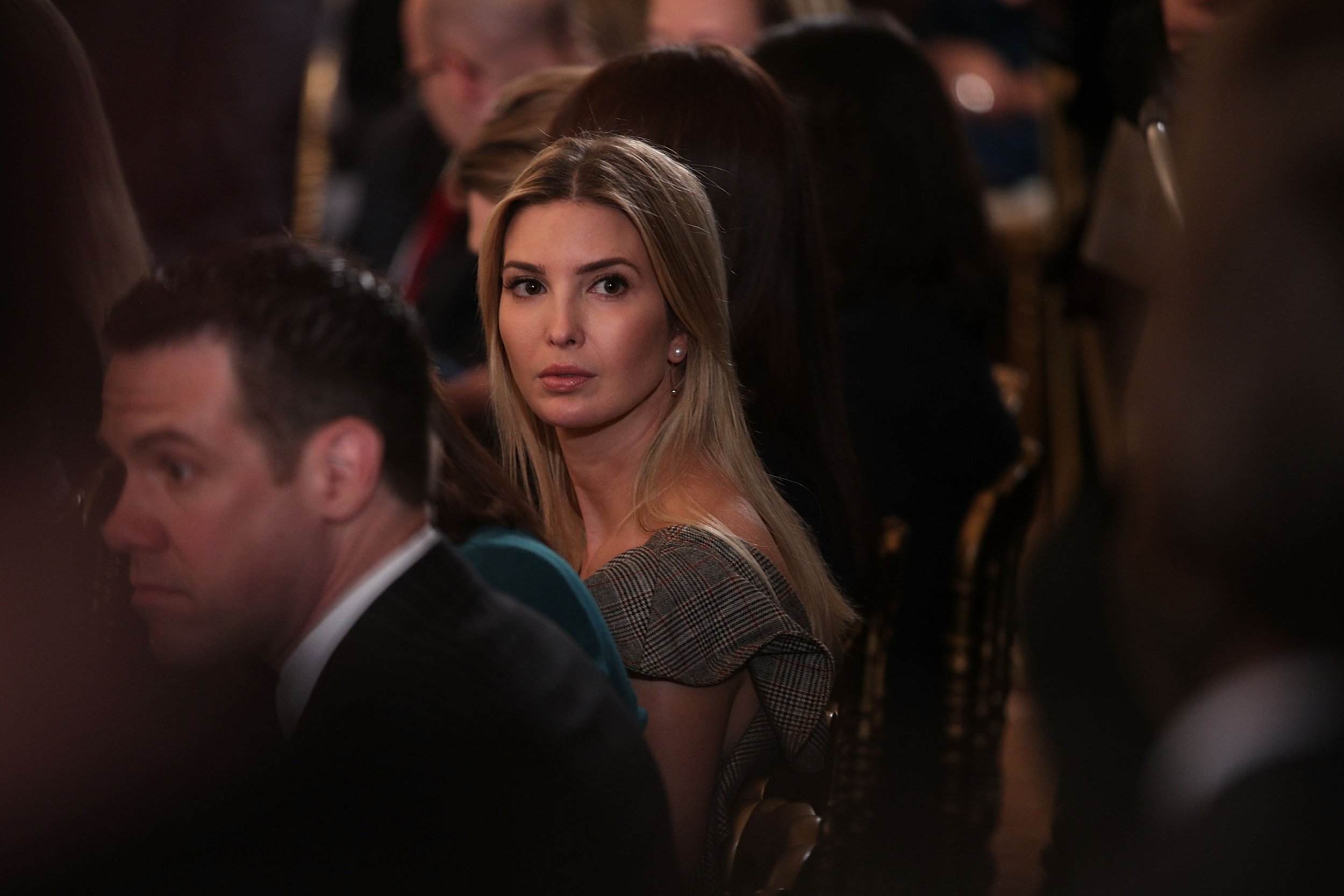 MSNBC host Mika Brzezinski demanded Ivanka Trump "finally stand up for what is right" on Tuesday after her father took to Twitter to question the integrity of New York Senator Kirsten Gillibrand, saying she "would do anything" to get campaign contributions.
Brzezinski addressed the first daughter on Morning Joe just after Donald Trump laid into Gillibrand because she joined a group of Democrats on Monday in asking the president to step down over allegations of sexual misconduct. Brzezinski said Donald Trump's tweet about "total flunky" Gillibrand was implied that she'd have sex with him to get money—a stance self-described women's rights advocate Ivanka Trump needed to condemn, Brzezinski added.
"Maybe she will finally stand up for what is right, since her father just literally sexually harassed, in a cruel way, a woman on Twitter. Ivanka: You stepped in there to talk for women, to speak for women, to have a platform for women. Where are you today?" Brzezinski asked.
White House adviser Ivanka Trump has repeatedly claimed to represent women, but she has not held the president accountable for what critics say is a pattern of disrespect toward women.
She insisted to Town & Country in 2015 the tycoon "clearly" respects women even though he said earlier that year that Megyn Kelly had "blood coming out of her wherever" while asking tough questions at a presidential debate. Ivanka Trump didn't distance herself from the campaign when a 2005 tape of her father boasting about grabbing women "by the pussy" leaked last year. And despite giving a speech last month declaring workplace harassment "can never be tolerated," she's been quiet about the president's past and current treatment of women.
Ivanka Trump may be one of her dad's most trusted advisers, but she's not the only one Brzezinski urged to act on Tuesday. The host also blasted other female White House staffers, like press secretary Sarah Huckabee Sanders, who she said should be fed up with the way the president treats women.
"Everybody else working around the president, if your day is not consumed by getting him to take down that tweet, please leave," Brzezinski said. "You are worth nothing. You don't care about this country. You don't care about women, and you will support a man who does something like that."
Sanders was asked at Monday's press briefing if she personally had ever been sexually harassed, but she didn't answer directly.
Gillibrand, for her part, acknowledged in a tweet Monday that Donald Trump probably won't resign. Instead, she suggested that Congress open an investigation into the president.
Then, on Tuesday, she fired back at his message directly.
"You cannot silence me or the millions of women who have gotten off the sidelines to speak out about the unfitness and shame you have brought to the Oval Office," she wrote.