MSNBC's Mika Brzezinski: 'History Will Show' Melania, Ivanka Trump Did Nothing For Migrant Children
MSNBC host Mika Brzezinski took aim at the Trump family women Wednesday for what she described as their absence and feigned sympathy for migrant children.
The Morning Joe co-host reacted to reports that 100 children were moved back to a Clint, Texas border station facility that several independent attorneys and health officials described as "unsanitary." Brzezinski called the First Lady's "Be Best" anti-bullying and child health campaign a farce because of her lack of care or concern regarding the lack of basic health care needs provided to migrant kids separated from their families.
Brzezinski accused both Trump's wife and adult daughter of only pretending to care about the safety of migrant children when it is helpful to their "brand."
"It is clear this is a Trump policy you can not put this back on Obama in any way, the facts are there," Brzezinski said after President Donald Trump claimed in the Oval Office this week that detention facilities are "much better than they were under President Obama."
"You also have to look at Melania and Ivanka, who both -- Melania went to the border to check on the children when the separations first came out. Ivanka went publicly because of course her brand is women and children, but she's taken that off her brand, children," Brzezinski said Wednesday.
"She said this was a low point for her, this situation with the separations, so what do you think this is? When you have children in squalor, with the flu spreading rampantly around them? With children in danger on your watch?" the Morning Joe host continued.
"This is not 'being best,'" she added, taking a swipe at what she sees as they hypocrisy of the campaign. "This is not a good look, and history will show. You will go down in history as having done nothing about this. I hope that you can live with that."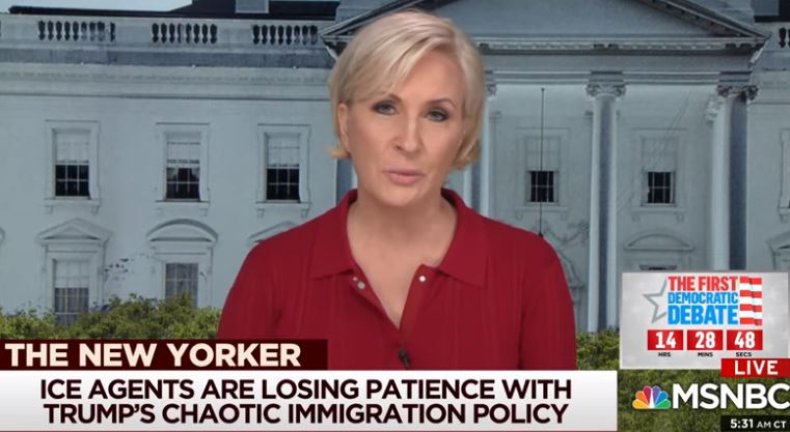 According to Clara Long, a senior researcher for Human Rights Watch, inspection of the Clint, Texas border facility revealed, "The kids had colds and were sick and said they didn't have access to soap to wash their hands. It was an alcohol-based cleanser. Some kids who were detained for two to three weeks had only one or two opportunities to shower."
Speaking with MSNBC earlier this week, Republican congressman Michael Burgess appeared to dismiss the plight of the children entirely: "There's not a lock on the door, any child is free to leave at any time, but they don't and you know why? Because they're well taken care of."
Wednesday's MSNBC segment highlighted a recent New Yorker article exploring a growing rift between on-the-ground border officers and Trump's political attempts to show strength from the comfort of the White House.
"Since the creation of ICE, in 2003, enforcement was premised on the idea that officers would primarily go after criminals for deportation; Trump, who views ICE as a political tool to showcase his toughness, has abandoned that framework entirely," read Jonathan Blitzer's New Yorker piece published Monday.
"I don't even know what we're doing now," a border patrol officer told the magazine. "A lot of us see the photos of the kids at the border, and we're wondering, 'What the hell is going on?'"