Mikaela Shiffrin Ousted From Race, Draws Mental Health Comparisons to Biles
American skier Mikaela Shiffrin was a favorite to win multiple medals at the 2022 Beijing Winter Olympics. After bad starts that have already disqualified Shiffrin from her first two events, it now has people asking if she is battling mental health issues similar to American gymnast Simone Biles at last summer's Tokyo Olympics.
On Wednesday, Shiffrin missed a gate just five seconds into her slalom race, giving her a DNF for the run—meaning she does not qualify to go beyond her first run in that discipline.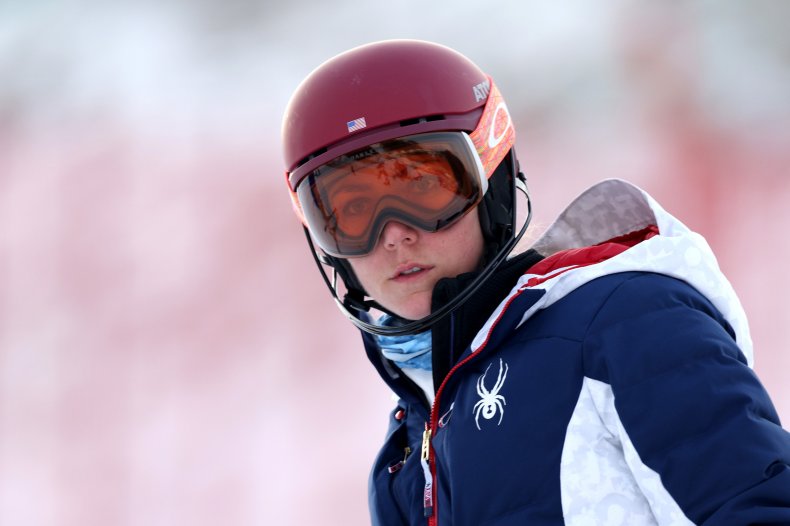 This happened two days after she crashed only 11 seconds into her giant slalom race, in which she was the defending Olympic gold medalist.
After she missed the first gate on Wednesday for her most recent disqualification, Shiffrin sat alone in dejection on the side of that hill in China.
The U.S. Ski and Snowboard team tweeted after Shiffrin's latest mishap that the skier "is ok, but disappointed."
Broadcasters on live TV in the United States focused on her failure in the race as the cameras remained steadfast on Shiffrin sitting by herself. Many on social media didn't like that.
Meanwhile, several people on the worldwide web began pointing at potential mental health issues akin to what Simone Biles brought to light at the 2020 Tokyo Olympics (that were COVID-delayed) last summer.
Here are some of the things said through social media.
"The media has hounded Mikaela Shiffrin about her anxiety, the death of her father, and about the pressure on her. And now they act shocked that she's human," one person tweeted.
"Seeing a LOT of similarities between Simone Biles this summer in Tokyo and now Mikaela Shiffrin in Beijing... perhaps the pressure we put on these female athletes (who are publicly suffering mental pain) is too much???" another wrote.
"This. We were supposed to learn this lesson last year with Simone Biles. Let's show Mikaela Shiffrin some empathy, not only for her own mental health, but also for the wellbeing of all of the girls who look up to her," yet another follower wrote.
Shiffrin is scheduled for three more events, but it's unclear as of Wednesday on whether she will compete in those.
Six months ago at the COVID-delayed 2020 Tokyo Summer Olympics, Biles withdrew from individual and team events, citing mental health problems that had taken their toll on perhaps the greatest gymnast of all time. She eventually rallied, regrouped and rejoined the Games, winning a medal in the process.
The pressure began mounting on Biles more than five years earlier. She didn't say what "mental health" issues she had faced after her Tokyo withdrawals, but the signs were there over the years.
Shortly after the USA gymnasts returned from triumphs at the 2016 Rio de Janeiro Summer Olympics, it was revealed that former team doctor Larry Nassar had sexually assaulted multiple girls and young women in the program. It was learned of the stringent training at the Texas compound of the Karolyis, who were famed coaches of Nadia Comaneci and eventually the Americans.
Biles talked about being so hungry at the Texas camp that she broke into the camp cafeteria and snuck food into her hoodie back to her room. She didn't enjoy being hungry like she was as a poor kid who had to pour water over her cereal because the family couldn't afford milk.
Biles detailed those conversations during an interview about the time with Nassar in charge of the USA team's doctor duties. Biles said at the time it was something she couldn't even tell her parents.
"It was so hard for me to even say it out loud, that I knew how hard, like, it crushed me. It would crush my parents. And I didn't want them to feel the same pain that I felt. Because it was very dark times," Biles said.
Biles said USA Gymnastics hasn't done enough to address sexual assault issues and other problems within the team program.
"One hundred percent. We bring them medals. We do our part. You can't do your part in return? It's just, like, it's sickening," Biles said.
Biles said that if she had a daughter, she would not put her in the USA Gymnastics program until lots of things get resolved.
"I don't feel comfortable enough, because they haven't taken accountability for their actions and what they've done. And they haven't ensured us that it's never going to happen again," Biles said.
The 2022 Beijing Winter Olympics began last weekend and will conclude with the Closing Ceremony on February 20.