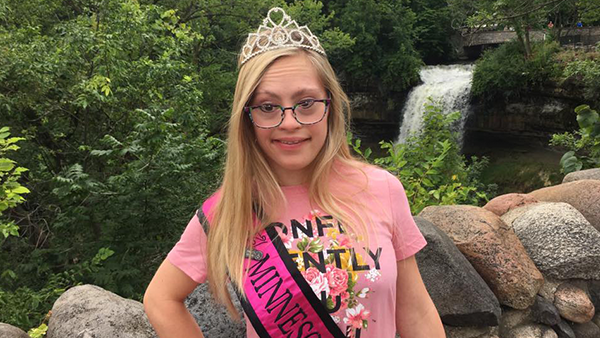 Mikayla Holmgren, a 22-year-old from Stillwater, Minnesota, made Miss Universe history on Sunday. When she took the stage at the Miss Minnesota USA competition, Holmgren became the first woman with Down syndrome to compete in a Miss USA state beauty pageant.
While she wasn't crowned Miss Minnesota—Kalie Wright took home that honor—Holmgren did win the Spirit of Miss USA award as well as the Director's Award. It was the first time a contestant with Down syndrome won those awards.
"I was super shocked, I was in tears," she told Buzzfeed News. "I went from a special needs pageant to the biggest pageant in the world. It's kind of crazy."
Holmgren had previously participated in pageants created for women and girls with disabilities, winning the Miss Minnesota Amazing competition. But this April, she received a letter encouraging her to apply to participate in the Miss Minnesota contest.
The Bethel University's Inclusive Learning and Development program student won over judges with her award-winning smile and dance performance. "Dancing is a good outlet for me. It's how I express myself," Holmgren, who has been dancing since she was six, told BuzzFeed. "It's my talent and I want to show people what I can do and how I can give more."
Denise Wallace, the executive director of the Miss Minnesota pageant, told Fox News on Sunday that having Holmgren participate in the competition was a no-brainer.
"Anybody that even spends five minutes with her knows that she is the right person to be the first to represent a community of people that need to see themselves doing something like this," Wallace said.
Holmgren's participation in the pageant is the state's latest effort toward inclusion and diversity within the competition. Last year, Somali-American constant Halima Aden became the first woman to wear a hijab and a burkini in the beauty pageant. Aden made it all the way to the semi-finals of the Miss Minnesota competition.
Following Aden's appearance at the 2016 pageant, several other contestants in the statewide competition took to the stage in their hijabs and modified gowns on Sunday.
Holmgren has already had a similar impact. According to the Pioneer Press, mothers with daughters who have Down syndrome brought their children to the pageant to watch Holmgren compete. "I was overwhelmed," Lana Beaton, who brought her 2-year-old Clara, told the paper. "I was full of so much hope and joy and excitement for her and our future."
Wallace echoed that sentiment in an interview with the Star Tribune.
"What is amazing and beautiful about this is the fact that women are finally seeing representations of themselves in this capacity," Wallace said. "It makes the next woman feel like they can do that, too."
She added, "Mikayla is a trailblazer."