Democrat Mike Bloomberg Is Taking His 2020 Campaign to the Virgin Islands. Here's Why It Could Be A Winning Strategy
Democrat Mike Bloomberg is taking his 2020 campaign to the U.S. Virgin Islands — a move strategists say could help the former New York City mayor pull off a major upset in the presidential primary.
"What he's doing is running a race for Mike Bloomberg. What they're doing, the other Democrats, is running a race not for themselves but against other people," political consultant Hank Sheinkopf told Newsweek.
A Bloomberg spokesperson confirmed to Newsweek on Monday that the campaign will be opening a field office in the U.S. Virgin Islands in the next few weeks. So far, the former New York City mayor is the only 2020 Democrat to set up shop in the U.S. territory.
"Mike believes Americans in the territories are often overlooked and have an important voice and role to play in this election. We are competing everywhere and building the most robust organization and infrastructure to defeat Donald Trump," Dan Kanninen, Bloomberg's state director, said in a statement.
The U.S. Virgin Islands is scheduled to hold a caucus on June 6. Only 11 delegates will be up for grabs in the territory but strategists argue it's part of Bloomberg's unique campaign approach.
Unlike most of his Democratic rivals, Bloomberg has chosen not to compete in early voting states like Iowa and South Carolina. Instead, his plan is to run a more broad-based, national campaign in order to capture the delegates that vote on Super Tuesday and in other caucus states.
"They keep building because they have more resources and they end up going into the [Democratic National Convention] with more delegates than anybody. Why? Because they were in the Virgin Islands and no one else was," said Joe Trippi, a Democratic political strategist who ran Howard Dean's presidential campaign in 2004 and was a top advisor to John Edwards' White House bid in 2008.
Trippi also noted that Bloomberg appears to be taking a page from President Barack Obama's 2008 playbook. In his first presidential run, Obama upset Hillary Clinton by focusing on smaller caucus victories. While she won the popular vote in some of the biggest states, he wound up winning the delegate count 2,158 to 1,920.
"It was a massive mistake that cost them the nomination," Trippi said of Clinton's decision not to organize in smaller caucus states. "You'd be hard-pressed to have been in the Clinton campaign and not have learned that lesson."
In fact, one of Bloomberg's top advisers was an integral part of Clinton's 2008 primary run. Howard Wolfson, a senior aide for Bloomberg, served as the communications director for the former secretary of state's first, unsuccessful White House campaign.
Wolfson told the Associated Press in November that the Bloomberg campaign is "confident we can win in states voting on Super Tuesday and beyond, where we will start on an even footing." Other 2020 Democrats, he said, already had a big head start in the four early-voting states.
Sheinkopf, who worked on former President Bill Clinton's 1996 re-election campaign, agreed that this is likely Bloomberg's best approach to clinching the party's nomination.
"It's the best strategy he's got because it's just about mathematics. It's not about what gets written [in the news] every day. If you have enough delegates, you get the nomination," he said. "Mike Bloomberg is going to places, any place he can, to pick up delegates."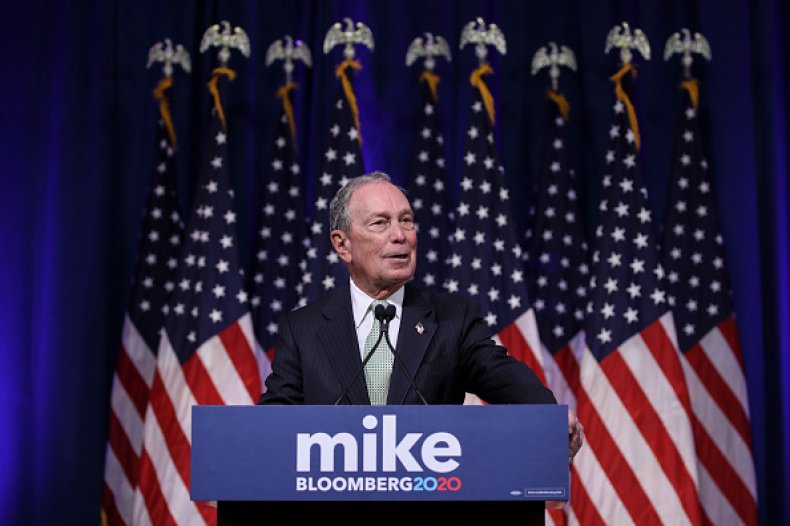 Sheinkopf added that this campaign strategy is the "smart thing" for a candidate who entered the race at such a late stage. It also gives the former New York City mayor the opportunity to flex the unlimited resources afforded by his personal wealth. The 77-year-old politician is estimated to be worth $56 billion.
Since launching his campaign in November, Bloomberg has created field offices in six states (Michigan, North Carolina, Ohio, Pennsylvania, Tennessee and Wisconsin) and plans to keep expanding.
The former mayor has also launched a record-breaking, $100 million advertising campaign aimed against Trump. His initial television ad buy of more than $30 million immediately after entering the race made history as the most money a presidential candidate has ever spent in a single week in a primary. In areas such as Wilmington, North Carolina, his television ads are running up to 36 times per day.
Still, Bloomberg faces an uphill battle in clinching the party's nomination. He is far behind his 2020 rivals in the polls, with two surveys conducted this month showing Bloomberg at 5 percent support compared with frontrunner Joe Biden's 26 percent.
A Monmouth University poll earlier this month also found about twice as many registered voters rated Bloomberg negatively as positively. Fifty-four percent viewed him as unfavorable, compared with 26 percent who rated him favorably. That margin was significantly worse than for five other Democratic candidates, as well as for Trump.