Mike Bloomberg Gets Same Failing Grade As Trump On Super Tuesday Immigration Policy Scorecard
Update: RAICES Action Fund changes Bloomberg's immigration score from 'F' to 'C', while Sanders claims top grade.
Former New York City Mayor Mike Bloomberg appears to have earned an 'F' on a new immigration policy report card published just in time for Super Tuesday.
The 2020 Democratic hopeful's failing grade puts him right on par with President Donald Trump, who also received an 'F' in the Refugee and Immigrant Center for Education and Legal Service's (RAICES) Action Fund's evaluation.
In a statement published with the score card, the action fund, the political arm of RAICES, said the organization wanted to release a candidate evaluation to help Super Tuesday voters "make informed decisions" as they head to the polls.
"Over the past four debates, the media has refused to ask questions about this important issue, and when they did, they ran out of time," the organization notes. "This is unacceptable given all the non-stop xenophic and racists attacks towards immigrants by the Trump administration. Because of that, we have decided to break down the policies to inform voters where candidates stand."
None of the candidates evaluated in the report card managed to receive an elusive 'A'.
The highest marks went to Vermont Sen. Bernie Sanders and Massachusetts Sen. Elizabeth Warren, who both received a B- for their immigration platforms.
Meanwhile, former Vice President Joe Biden received a C+.
The report card is divided into three parts, which evaluate the candidates' platforms on their "at-home" policy proposals, their plan for the U.S.-Mexico border and their approach to international immigration affairs.
When it came to policy at the U.S.-Mexico border, Bloomberg appeared to score low, with the former New York City mayor losing points for not expressing immediate support for de-militarization of the border, overturning Trump's travel ban and bringing construction of Trump's long-promised border wall to a halt.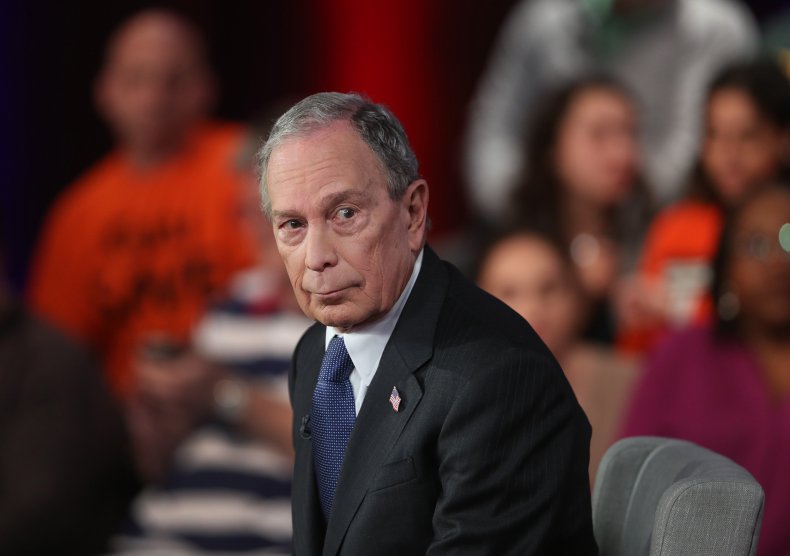 Of the more than 30 boxes on the 2020 candidate score card, Trump did not appear to tick a single one. Yet, he still received the same grade as Bloomberg.
Bloomberg's campaign team told Newsweek that the report card was far from accurate, asserting that there were a number of policies that Bloomberg has backed that appeared to have been missed.
The campaign team said they had reached out to RAICES to request corrections on the report card, asking that it reflect the fact that Bloomberg does support some of the efforts outlined, including demilitarization of the border, overturning the travel ban, welcoming asylum seekers, expanding visa access, ending construction of Trump's border wall and decoupling federal immigration enforcement from local law enforcement.
Bloomberg's immigration platform does make mention of plans to reform the U.S. Immigration and Customs Enforcement (ICE) and Customs and Border Protection agencies, as well as to end construction of Trump's "ineffective wall," diverting the funds, instead, to investing in "smart security measures" and upgrading ports of entry "to protect the border and increase efficiency."
It also vows to end several controversial immigration policies introduced by the Trump administration, including the travel ban.
While Bloomberg's campaign team said the former New York Mayor was misrepresented by the report card, Sanders and Warren, who share a relatively similar approach on immigration, appeared to tick most boxes on the list, with only the former vowing to commit to some of the more progressive policy proposals, including dismantling federal immigration enforcement bodies like the U.S. ICE agency.
While Warren has previously expressed support for the idea of abolishing ICE altogether, she has since made her stance clear that she would prefer to see the agency restructured, including seeing a redistribution of duties.
Despite his failing grade, Bloomberg did appear to fall in line with Sanders, Warren and Biden on several fronts, including sharing in the plan to reinstate the Deferred Action for Childhood Arrivals (DACA) program, ending family separation, and creating a pathway to citizenship for 11 million people.
Newsweek has contacted the campaign teams of all five candidates evaluated on the score card for comment.
In a statement shared with Newsweek, Ana Maria Rea, the associate vice president of advocacy at RAICES, said 2020 Democratic candidates must do more to make their immigration platforms clear to the public.
"Thousands of people have been denied asylum, thousands of families have been separated, and many are in deplorable detention conditions. DACA recipients like my siblings might lose DACA this year, and white supremacists are shaping immigration policy," Rea said. "What will they do to stop Trump? What will they do to stop the attacks on our community?"
The full report card can be seen below: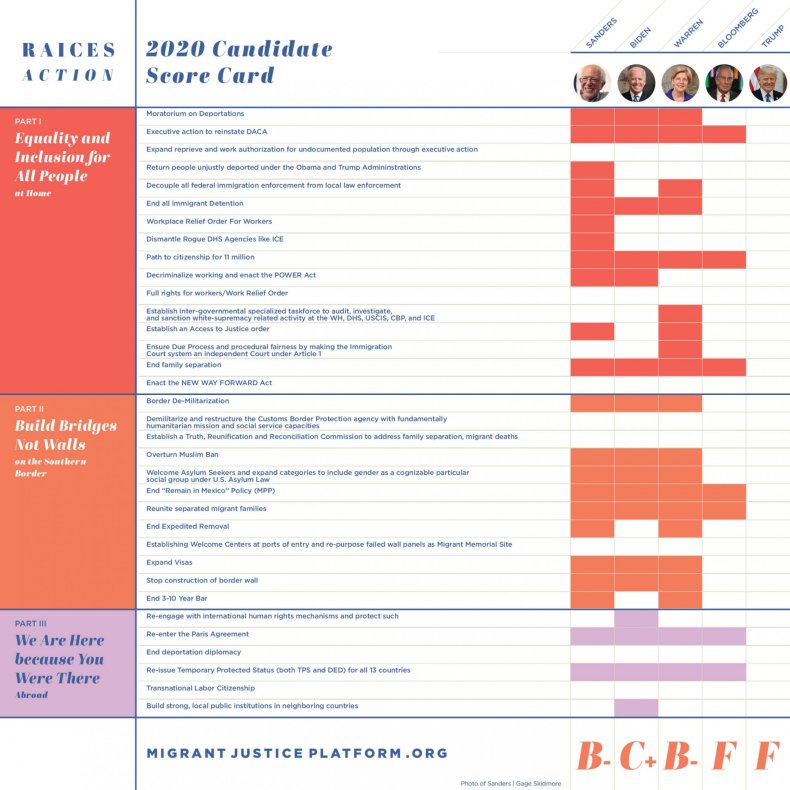 This article has been updated with comments from former New York Mayor Mike Bloomberg's campaign team.