Michael Bloomberg Then and Now: Where The Former Republican Mayor Stands on Key Issues in 2020 Democratic Race
Michael Bloomberg is quickly becoming one of the top competitors in the Democratic primary for president despite being elected mayor of New York City three times as anything but a Democrat.
The 78-year-old billionaire was a lifelong liberal until he switched to the Republican Party in 2001 in order to get elected. Six years later, he abandoned the GOP and registered as an independent—although the switch didn't seem to bother Republicans, as they supported his bid for a third mayoral term in 2009. Bloomberg remained an independent until 2018 when he became a Democrat in order to run for president.
"What I feel is consistent about Mike Bloomberg is that he doesn't care what people think in the sense of party politics," New York-based Republican strategist Susan Del Percio told Newsweek.
"He ran the city through a dollars-and-cents management style but when it came to public policy on other issues, he definitely was more to the left. He just wants to get the job done."
Much like with his party registration, Bloomberg has played both sides of the aisle when making campaign contributions. He spent $11 million helping GOP Senator Pat Toomey get re-elected in 2016, a major victory for Senator Mitch McConnell to keep control of the chamber. In the following election cycle, he poured tens of millions of dollars to help Democrats regain control of the House of Representatives.
Bloomberg appears to be bringing that same bipartisan appeal into his 2020 run for the White House. He's hailed himself for being the most acceptable option to moderate Republicans. Even his 2020 slogan—which is half blue and half red—represents a visual nod to efforts to reach across the aisle.
New York-based Democratic strategist Hank Sheinkopf, however, told Newsweek that Bloomberg has "absolutely" become more progressive since his tenure as mayor.
"To suggest he's adopted a Republican style is ridiculous," Sheinkopf said. "Bloomberg can get past that by talking about the other stuff he's done on guns, which is very un-Republican, on climate change, which is very un-Republican, and on and on."
Here's a look at where Bloomberg has stood, as a presidential candidate and as mayor of New York City, on the major issues in the race.
Policing/Public Safety
The mayoral policy that has given Bloomberg the most trouble on the campaign trail so far has been stop-and-frisk. The policing measure allowed officers to routinely stop and search people on the street. The vast majority of subjects were black or Hispanic and had not committed a crime. A federal judge ruled in 2013 that the policy had been carried out in an unconstitutional way—a decision he railed against.
Bloomberg stood by the policy up until his run for president. But since launching his campaign in November 2019 he's issued repeated apologies for the measure. He recently tweeted that he was sorry it took him "too long to understand the impact of stop and frisk."
But the former mayor has been one of the country's most prominent supporters for stricter gun laws. He is the co-founder and primary funder of Everytown for Gun Safety, an organization that advocates for gun control.
Economy
Where Bloomberg's conservative roots have been the most apparent in his 2020 run is in his economic platform.
During his time as mayor, he vetoed legislation aimed at improving conditions for low-wage workers. He's also made remarks linking the 2008 financial crisis to the end of discriminatory "redlining" practices.
Before running for president, he was critical of some of his competitors' economic philosophies. During a speech at Saint Anselm College last year, he told students that the U.S. "shouldn't be embarrassed about our system" and that "if you want to look at a system that's noncapitalistic, just take a look at what was perhaps the wealthiest country in the world, and today, people are starving to death. It's called Venezuela."
But this week, Bloomberg unveiled proposals that move him closer to the rest of the Democratic primary field yet will likely set the stage for a clash with Wall Street. The plan also contains ideas that are opposed by most financial firms, such as a 0.1 percent tax on all financial transactions and merging the housing finance giants Fannie Mae and Freddie Mac.
Health Care
As mayor, Bloomberg gained national attention for his efforts to restrict tobacco and soda for public health purposes. His administration also made an effort to sign more people up for health insurance. In the 11 years he was mayor, data from the U.S. Census Bureau shows the city's uninsured population dropped from 1.8 million to 1.05 million.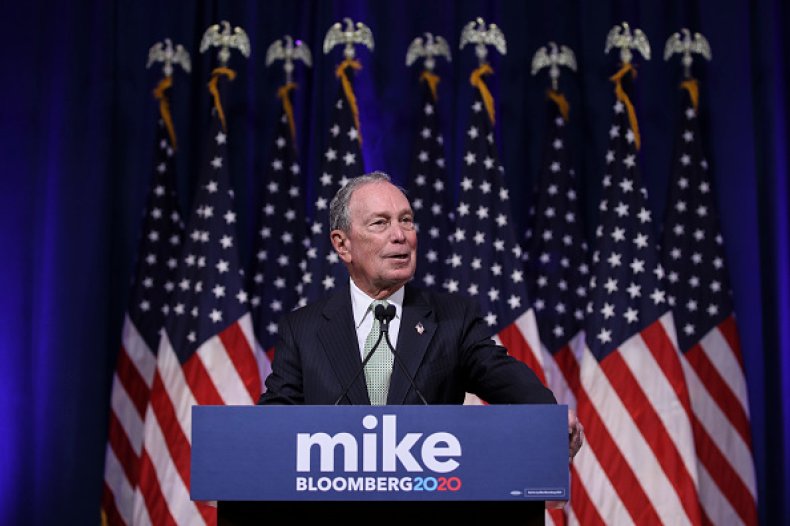 Candidate Bloomberg, however, is aligning himself with the more moderate wing of the Democratic presidential primary when it comes to health care. His support for a public option in health care goes as far back to his time as mayor, and in 2009, he urged Congress to adopt a similar policy.
For this campaign, Bloomberg proposed creating a government-run insurance plan but doesn't want to provide universal guaranteed coverage. It echoes the ideas of fellow candidates Joe Biden and Pete Buttigieg but doesn't go as far as the "Medicare for All" plans from Senators Bernie Sanders or Elizabeth Warren.
"I think you could never afford that," Bloomberg said about his opponents' plans during a campaign stop in New Hampshire last month. "You're talking about trillions of dollars."
Climate Change
Under his mayoral administration, New York City reduced its carbon footprint by banning residential heating oil. Bloomberg also took steps to improve air quality, introduced a citywide bike-sharing program and retrofitted apartment buildings to make them more energy efficient.
As a candidate, Bloomberg has released what he's deemed an "achievable" version of the Green New Deal—the highly ambitious environmental plan backed by progressives such as Alexandria Ocasio Cortez and Sanders. The proposal aims to eliminate coal-fired power plants by 2030 and to transition the U.S. to renewable energy sources. Unlike some other candidates, Bloomberg did not provide estimated overall costs for his plan.
On Wednesday, the environmental protection organization Center for Biological Diversity Action Fund ranked Bloomberg—along with Senator Amy Klobuchar—last in the Democratic primary field based on their climate plans.
"The stark differences between how the candidates would address the climate crisis shouldn't be glossed over," Kassie Siegel, the organization's climate director, said in a statement. "Bloomberg's climate plan contains almost no bold executive actions, firm targets to curb greenhouse pollution, or spending to confront the emergency. In contrast, both Sanders and Warren would use the full power of the presidency and commit trillions to fight this greatest threat to our planet."