Mike Bloomberg Gives $500,000 to Group That Aims to Get Latinos Out to Vote and 'Make Their Voices Heard'
Former presidential candidate Mike Bloomberg has donated $500,000 to an organization that aims to get more Latinos to the ballot box for November's election.
Bloomberg, who dropped out of the Democratic primaries following a poor showing on Super Tuesday, donated the sum to Voto Latino, a group founded in 2004 by the actor Rosario Dawson and activist Maria Teresa Kumar.
A record 32 million Latinos will be eligible to vote in the general election in November, exceeding the number of eligible black voters for the first time.
In 2018, Voto Latino registered over 202,000 voters, according to its website. Kumar said Bloomberg's donation would be used to help with its aim of registering half a million new voters by election day.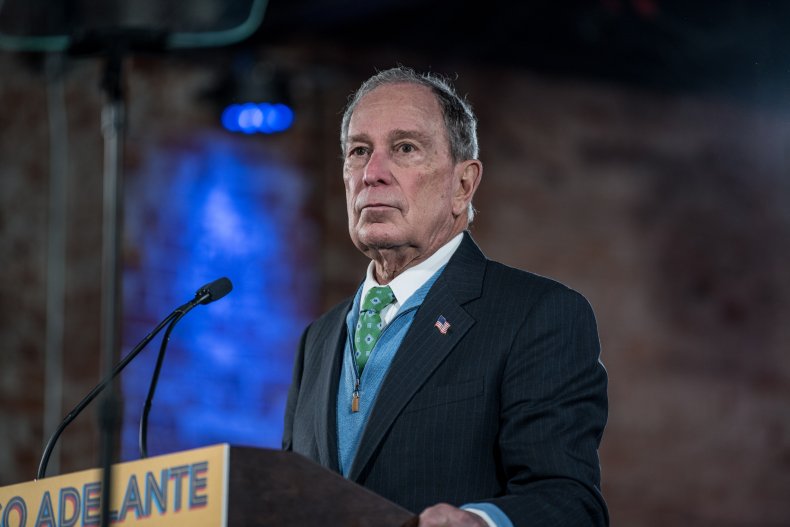 It also hopes to get one million Latino voters to the polls in Arizona, Florida, North Carolina, Pennsylvania, Texas, Wisconsin and other key states.
In a statement to Newsweek, Kumar said: "Four million young people who heard the president call their loved ones criminals and rapists have come of age since those terrible remarks and will be eligible to cast a vote for the very first time this November.
"Latinx voters will make up the second-largest voting bloc for the first time in U.S. history and they will cast their ballots in November to protect their community. Our democracy is only as strong as our participation within it. We welcome Bloomberg's partnership in this fight."
In a statement on the Voto Latino website, Bloomberg said that Trump had "spent four years attacking and slandering Latino communities, but in November, Latinos will have a chance to make their voices heard."
"We need to make sure that Latinos who are eligible to vote are registered and that we get them to the polls," he added. Newsweek has contacted both Bloomberg's campaign team and President Donald Trump's campaign for comment.
The donation is part of Bloomberg's plan to boost turnout in key voting demographics, The Hill reported, and it comes only days after he also donated $2 million to Collective Future, a group that works to register black voters.
Ahead of Super Tuesday, Bloomberg spent at least $30 million on direct mail targeting of Latino voters in Texas, California and North Carolina, NBC News reported last month, although Vermont Senator Bernie Sanders has managed to dominate the Latino vote in the early states in the Democratic presidential contests.
After he suspended his campaign, Bloomberg was quick to throw his support behind former Vice President Joe Biden for the Democratic race, saying: "I will work to make him the next President of the United States."