Mike Bloomberg's Campaign Contributed More Than Half of $33 Million Raised by the Democratic National Committee in March
Billionaire former New York City Mayor Mike Bloomberg was responsible for more than half of the nearly $33 million raised by the Democratic National Committee in March, meaning that the political party raised just under $15 million from all other donors last month.
Bloomberg, a former Republican who spent more than $1 billion on his failed Democratic presidential nomination bid, transferred $18 million from his campaign to the DNC in March, The Wall Street Journal reported. In total, the party brought in $32.7 million, making Bloomberg's single contribution more than 50 percent of the DNC's total haul.
A spokesperson for Bloomberg told Newsweek that the campaign had also transferred 13 office leases to state Democratic parties. They also listed a series of other personal contributions that the former presidential candidate had made to Democratic groups. These included March contributions of $1.4 million to the House Majority PAC, $500,000 to Voto Latino to help fund its efforts to register new voters this election cycle, $2 million to Collective Future to register black voters in key states and $2 million to the progressive political group Swing Left.
"We're looking at how to best support Democratic victories up and down the ballot in November, just as Mike Bloomberg has done in previous cycles. At the moment Mike has made tackling the COVID-19 crisis a priority by convening local leaders, and providing support for the WHO, Johns Hopkins University, and local relief efforts," the Bloomberg spokesperson said.
Meanwhile, the Republican National Committee (RNC) managed to bring in $24 million in March, after a record-breaking $26 million haul in February, Politico reported. Additionally, nearly three-quarters of the fundraising by the RNC came from small donors contributing $200 or less.
Former Vice President Joe Biden, the presumptive Democratic presidential nominee after Senator Bernie Sanders of Vermont suspended his campaign and endorsed his moderate former rival last week, was also significantly outpaced by President Donald Trump's fundraising, according to WSJ. While Biden brought in $46.7 million in March, Trump's re-election committee brought in $63 million over the month.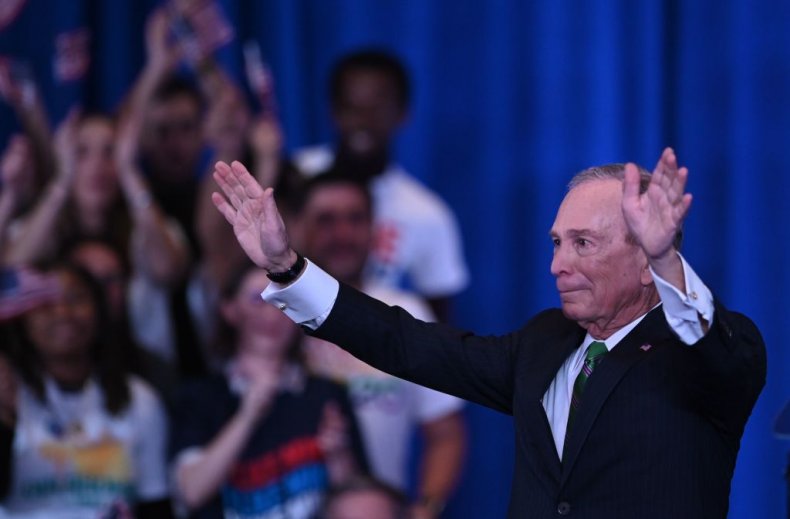 Bloomberg's large contribution to the DNC drew criticism and a formal complaint from Republicans. Under federal election law, an individual is not allowed to contribute such a sizable amount of money to any political party or group subject to campaign finance limits. But a DNC lawyer has argued that the transfer was legally sound because it came from Bloomberg's presidential campaign, which is permissible under campaign finance law, according to Politico. Bloomberg donated the money, which was later transferred, to his own campaign, which is allowed, while he was still seeking the Democratic nomination.
Fundraising alone doesn't correlate directly with victory in the general election, however. Former Democratic presidential candidate Hillary Clinton, who lost in 2016, raised nearly twice as much money as Trump. Clinton garnered about $1.2 billion in campaign contributions in the last presidential election, while Trump only raised about $647 million. While Clinton won almost 3 million more votes than Trump, the Republican candidate won a series of key battleground states, propelling him to victory in the Electoral College.
Recent national polling suggests that Biden remains the frontrunner over Trump in the general election. Most surveys released in April show the former vice president ahead of the incumbent president by a range of 4 to 11 points, according to an aggregate of national polls compiled by Real Clear Politics. However, a Fox News poll released earlier this month, which generally has shown the former vice president in the lead, had Biden and Trump tied, each with 42 percent support.
Polling in key battleground states, including Wisconsin, Michigan, Pennsylvania and Arizona, also suggests that Biden currently has the advantage. Averages of recent polls in the states show Biden ahead of Trump by a range of 2.7 to 4.4 points.
The DNC did not reply to Newsweek's request for comment by publication time.
This article has been update with additional information provided by a spokesperson for Bloomberg.