'Mike Bolton': Donald Trump's Relationship With His National Security Adviser Is So Distant That He Sometimes Can't Remember His Name
Names can be hard to remember, and everyone blanks now and again. Taking that to an extreme, President Donald Trump apparently had a tough time recalling the name of his national security adviser, John Bolton.
Trump reportedly called him "Mike" sometimes, which, of course, is incorrect.
In a New York Times piece detailing Bolton's time in office—and his struggle to find his way in the administration often defined by chaos—journalists Mark Landler and Helene Cooper revealed that the former Bush official had a somewhat distant relationship with the president.
"Despite being a contemporary of Mr. Trump's, however, Mr. Bolton is not a member of his inner circle," read the Times story. "He does not have the same relationship with Mr. Trump that he had with Mr. Bush. Sometimes, with aides, the president refers to him as 'Mike Bolton.'"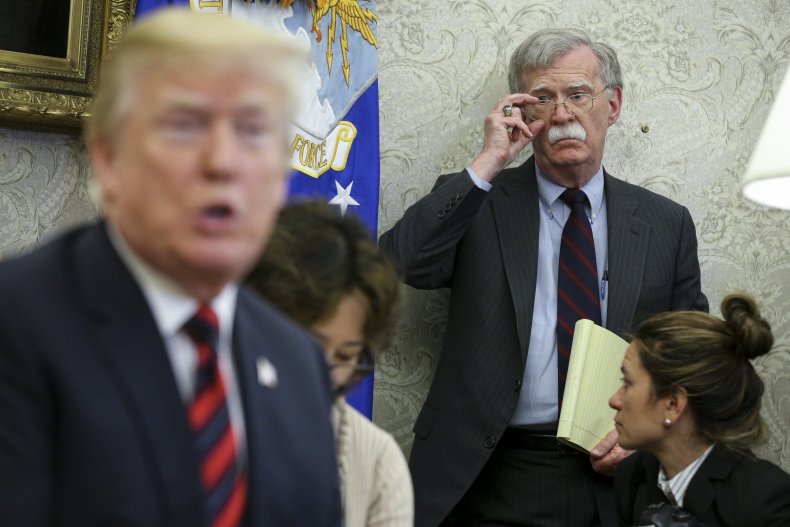 Trump can prove difficult to work with for just about anyone, but foreign policy has proven an especially tricky area for members of his administration—the Times story, for instance, goes into officials working backward to craft some kind of plan around the president's decision to withdraw troops from Syria. Bolton, known for his hawkish views, had reportedly struggled to find his place in that environment.
But while Trump had apparently gotten Bolton's name wrong, that's not necessarily an uncommon mistake for the president. He called Kansas City, Missouri, St. Louis while in Kansas City. Trump twice called wildfire-ravaged Paradise, California, Pleasure while touring Paradise, NBC4 in Los Angeles noted. He called Customs and Border Protection "CBC," reported Bustle, and he spelled his wife's name wrong in a tweet welcoming her home, according to CBS Los Angeles. Trump even once endorsed the wrong Republican in a tweet by accident, noted New York magazine.
Bolton was called out by name on Tuesday by Turkish President Recep Tayyip Erdoğan for his comments on Sunday that the U.S. would leave Syria only if Turkey vowed not to attack America's Kurdish allies.
"Bolton's remarks in Israel are not acceptable. It is not possible for me to swallow this," Erdoğan​ said, via CNN. "Bolton made a serious mistake. If he thinks that way, he is in a big mistake. We will not compromise."