Mike Brown Death Anniversary: How Many People Have Police Shot and Killed Since Ferguson?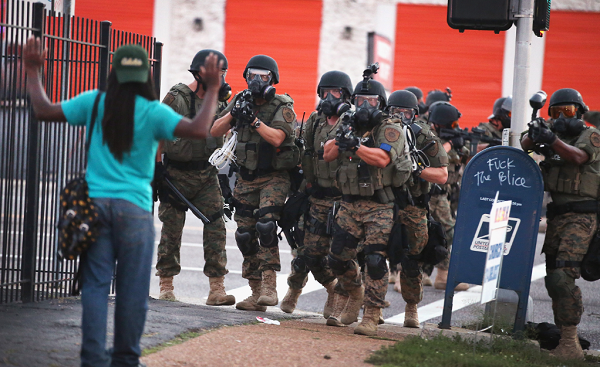 It's been three years since crowds of people took to the streets of Ferguson, Missouri, rioting after the death of an unarmed black teenager, Michael Brown, who had been shot and killed by a white police officer named Darren Wilson.
The officer was alone when he received a report regarding a theft at a convenience store and spotted Brown, matching a suspect description, not too far from the location. An altercation ensued, sparking a police chase that eventually led Wilson to fire his gun 12 times with about six bullets penetrating Brown. Some witnesses alleged that Brown had stopped running from Wilson and put his hands up in the air to indicate he was giving up when Wilson shot him repeatedly. And in the days following Brown's death, protesters flooded the city, mimicking the accounts by walking with their hands in the air and chanting, "Hands up! Don't Shoot!"
Since the 18-year-old's death on August 9, 2014, thousands more have been fatally shot by cops, and plenty of protests have followed, condemning authorities for their perceived excessive handling of black people.
According to Fatal Encounters, a nonprofit database that tracks deaths caused during police interaction, as many as 2,902 people in America have been shot and killed by officers since Brown's death. There is some possibility that there may be more or less deaths than Fatal Encounters has listed in their database. The organization tracks killings by compiling public law enforcement records of shooting deaths by cops and verifies them through news reports. And some of the data doesn't include information regarding a victim's age, race.
The organization does note that some of the killings reported in the tracker include those where officers were acting in self-defense as well as some in which victims baited an officer into shooting them. There could also be some deaths that were missed completely in the tracker.
The list isn't too far off the Washington Post's estimate of deaths caused by police shootings. According to the news organization's Fatal Force tracker, at least 2,506 people have been shot and killed since they started recording data in 2015, 600 of whom have been black. So far in 2017, 606 people have been shot and killed by officers, including 132 black people.
Another nonprofit organization, Mapping Police Violence, which compares police killing figures based on reports by the Bureau of Justice Statistics, Fatal Encounters and another death-by-police tracker KilledbyPolice.net, reported more than 2,300 people were killed at the hands of authorities between the start of 2015 and end of 2016.
While the Bureau of Justice Statistics and the FBI does collect information regarding deaths caused by police from local and state agencies, the data is extremely limited. Police agencies only have to report police-caused homicides voluntarily, so there is a chance that deaths in some cities and towns go undocumented. Not to mention, reports of deaths caused by police don't necessarily have to mention that an officer was involved.
In October 2016, the Justice Department announced it would start compiling nationwide data of police shootings and other aggressive and violent encounters sparked by officers' engagement with civilians. The agency said the new database would require local and state departments to report forceful encounters in greater detail. However, no reports of figures have been released since the announcement.
In October 2015, then-FBI Director James Comey told the House of Representatives that it was "embarrassing" and "unacceptable" that the agency didn't have better documentation of incidents.
"People have data about who went to a movie last weekend, or how many books were sold, or how many cases of the flu walked into an emergency room. And I cannot tell you how many people were shot by police in the United States last month, last year, or anything about the demographics. And that's a very bad place to be," he said.