Mike Carey Wins Ohio Election in Test of Trump's Power in GOP Primaries
Former President Donald Trump's pick to represent Ohio in the House of Representatives won in a Republican primary on Tuesday, signaling that the self-proclaimed leader of the GOP still has influence over voters.
Despite suffering his own election loss in November, Trump's remained the head of the Republican Party and has vowed to primary Republicans who aren't backers of his America First agenda. With a winning track record of endorsements, the former president has wielded considerable influence in past elections and Tuesday's election shows a recent loss in Texas may have been a fluke.
Carey, the vice president of government affairs at a coal mining company, sought to take a seat vacated by Representative Steve Stivers and had Trump's full support. In a crowded field of 11 Republicans, he successfully garnered enough support to represent Republicans in the special election on November 2.
"Tonight, Republicans across Ohio's 15th Congressional District sent a clear message to the nation that President Donald J. Trump is, without a doubt, the leader of our party," Carey said in a statement. "I could not be more grateful for his support, and I am proud to deliver this win to advance his America First agenda."
Trump won the 15th district, where Carey sought to represent, in the November election and he endorsed Carey on June 8. In the weeks after, he solidified his backing of Carey and said in a statement in July that he was the only candidate who had his endorsement.
"Mike loves our country, is smart, strong, tough on crime and borders, adores our military and our vets, and will totally protect our Second Amendment," Trump said in a statement. "I have known Mike for many years and he will not let you down!"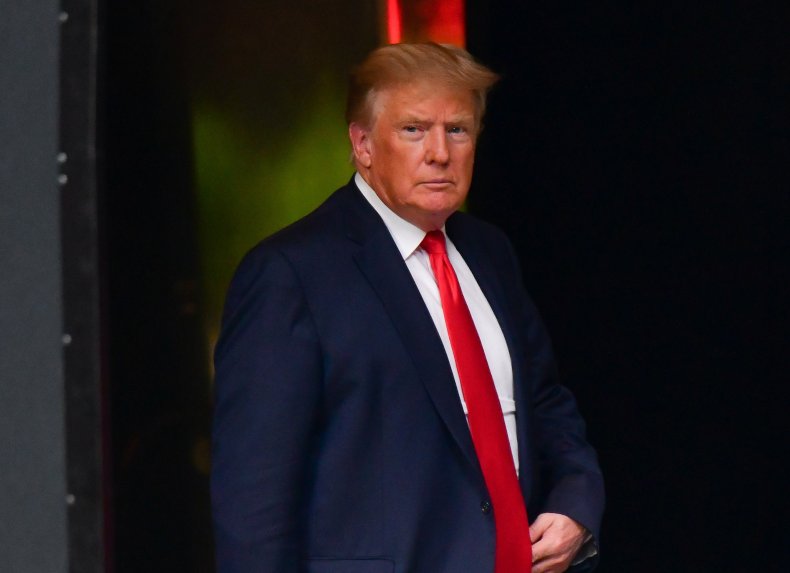 The former president also saw Carey as "doing really well" against the "gang" of RINOs, an acronym for "Republicans in Name Only," in Ohio. While it's still in Republicans' best interest to unify to work together to oust Representative Liz Cheney, who Trump has repeatedly criticized for being disloyal to the GOP, Carey's victory shows a Trump-backed candidate could potentially come out on top if multiple people challenge Cheney.
Cheney drew Trump's attention when she voted to impeach him and despite losing her leadership position in the GOP, the Wyoming representative hasn't backed down from her criticism of the former president. One of the leading voices urging the party to move away from Trump, she's accepted that she'll face a tough primary but has expressed confidence that she'll win.
To try to guarantee that doesn't happen, Trump is urging Republicans to put forth only one candidate so as not to split the vote in a primary. With her name recognition, multiple Republican challengers in the primary would likely give Cheney an edge.
That unity wasn't seen during Tuesday's election and prominent Republicans backed several different candidates. Stivers, who resigned in May, threw his support behind Representative Jeff LaRe and Senator Rand Paul, a staunch supporter of Trump's, endorsed former state Representative Ron Hood.
That same scenario, where some of Trump's allies backed candidates other than his favorite, played out during the recent special election in Texas. While Trump backed Susan Wright, the wife of late congressman Ronald Wright, former Governor Rick Perry, who served as Trump's energy secretary, and Representative Dan Crenshaw, a Trump ally, backed state Representative Jake Ellzey.
Ellzey defeated Wright, calling into question Trump's influence on voters. However, given the unique circumstances of the Texas election, it couldn't serve as a true indicator of Trump's hold on voters.
In the Texas election, there were two Republicans on a special election ballot, meaning Democrats likely cast ballots for someone outside their own party. Given that it's unlikely Democrats could vote for the Trump-backed candidate, it's possible they tipped the scale in Ellzey's favor.
Carey's victory on Tuesday nipped the pattern in the bud, giving Trump another victory to tout ahead of the 2022 midterms.