Who Is Mark Esper? Donald Trump Taps Army Veteran For Defense Secretary Nomination
The White House has announced that President Donald Trump will nominate Mark Esper to succeed former Acting Secretary of Defense Patrick Shanahan.
Shanahan, who took over for former Defense Secretary James Mattis in January, left the position on Friday. Shanahan was never confirmed for the job, despite being nominated, amid ethics inquiries and questions regarding his leadership ability.
Esper was named Shanahan's successor as Acting Defense Secretary on Tuesday.
Esper, a West Point graduate who attended the academy with current Secretary of State Mike Pompeo, is an Army veteran who fought in the Gulf War in 1991. He has also served as a lobbyist for Raytheon, a U.S. Defense contractor that produces weapons and commercial electronics.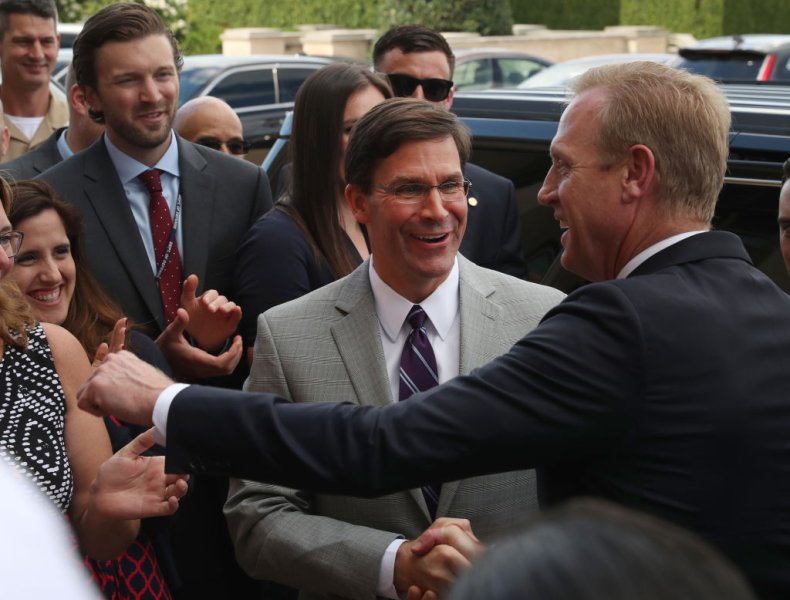 Esper has been secretary of the Army since 2017, where his duties include overseeing the Army's 1.4 million active duty members of the National Guard, Army Reserves, the Department of the Army Civilians and their families.
According to Esper's bio on the U.S. Army website, his additional Pentagon experience includes serving on the Army staff as a war planner and as deputy assistant secretary of defense for negotiations policy. He has also taught classes at the Missouri State University's Department of Defense and Strategic Studies in Virginia.
Esper's assignments while serving for over a decade in the Army include commanding an airborne rifle company in Europe and, following the conclusion of active duty, serving in the National Guard and Army Reserve.
Esper's confirmation could face legal problems as a federal law, known as the Federal Vacancies Reform Act of 1998 (FVRA), prevents someone nominated for a secretary position from serving in an acting secretary post. According to Task and Purpose, Shanahan was allowed to retain the post as he had served as first assistant under Mattis and could work around the law.
Esper is believed to have already begun the paperwork necessary for the nomination process, though no timeline for a confirmation hearing has been set. The last confirmation hearing Congress oversaw was for Attorney General William Barr in January. Barr was nominated to the post by Trump in early December 2018.
Along with the announcement of Esper's nomination, the White House said it will appoint Pentagon comptroller David Norquist to become deputy Defense secretary. Army Undersecretary Ryan McCarthy will replace Esper as Army Secretary.