The Russia Investigation Is Costing Mike Flynn His Home
President Donald Trump's former national security adviser Mike Flynn is selling his house in order to help pay for legal fees stemming from the Russia investigation.
Flynn's three-bedroom home in Alexandria, Virginia, was first listed for sale in December with an asking price of $895,000. Flynn bought the home three years ago for $774,000, according to the New York Post.
Flynn's brother told ABC News that the former three-star general and Director of the Defense Intelligence Agency was selling his house to in order help pay his mounting legal bills.
"I'm not going to sugarcoat it, this has been a trying experience," said Joe Flynn, the general's youngest brother. "It has been a crucible, and it's not over."
Mike Flynn pled guilty last year to lying to federal investigators about contacts he had with Russian officials during the presidential transition.
Flynn was ensnared in special counsel Robert Mueller's Russia investigation after serving for a short period in the White House as national security adviser. Mueller is investigating possible ties between Russia and the Trump campaign during the presidential election; Flynn pleaded guilty as part of a plea deal to cooperate with Mueller's investigation.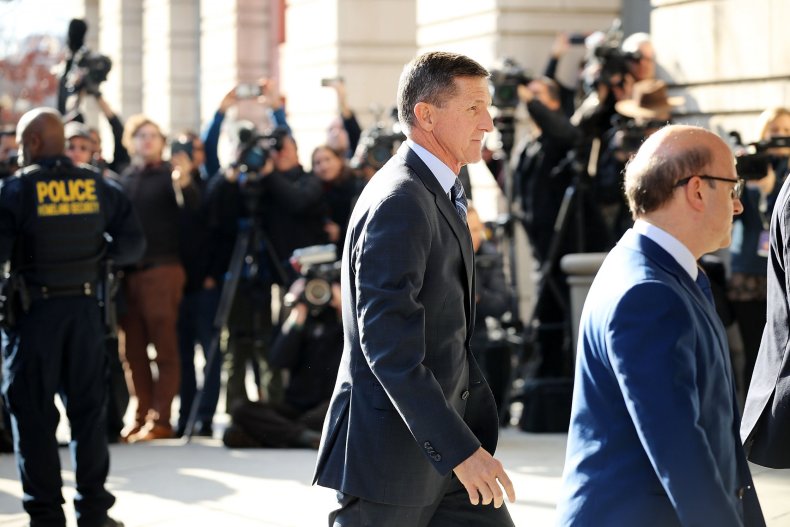 Flynn stepped down from his White House role after it was reported that he misled Vice President Mike Pence about his contact with Russian Ambassador Sergey Kislyak.
Joe Flynn and sister Barbara also set up a legal defense fund in September in order to help pay their brother's legal fees.
"The enormous expense of attorneys' fees and other related expenses far exceed their ability to pay," said the pair in a statement at the time. "To help ensure that he can defend himself, we have set up a legal defense fund, and we are asking Mike's supporters, veterans and all people of goodwill to contribute whatever amount they can to this fund."
Mike Flynn's criminal defense lawyer Robert Kelner did not immediately respond to Newsweek's request for comment.