Mike Franken's Chances of Beating Chuck Grassley, According to Polls
Retired Navy Admiral Mike Franken is hoping to flip an Iowa Senate seat blue in November and oust the longtime Republican incumbent, Chuck Grassley.
Grassley, first elected to the Senate in 1980, easily won the Republican primary Tuesday night with a landslide, gaining about 75 percent of the vote. Meanwhile, Franken defeated two other Democrats, winning with 58 percent against former Representative Abby Finkenauer and Minden City Council member Glenn Hurst, according to CNN projections around 9 p.m. CT on Tuesday.
But polls have found that Franken could face an uphill battle against the longest-serving Republican senator. Grassley, 88, who is seeking an eighth term, has easily overcome Democratic challengers in the past.
A March poll from the Des Moines Register and Mediacom found Franken was largely unknown to many Iowans. Two-thirds of the 813 Iowans polled were unfamiliar with the retired admiral. The same poll found Grassley had an approval rating of 47 percent.
Few polls have pitted Franken against Grassley but the Democratic candidate has released several of his own. A poll conducted by Change Research for Franken's campaign in April found him trailing Grassley by three points. In a hypothetical general election, the poll found Grassley had 45 percent support and Franken had 42 percent. Thirteen percent of the 1,070 likely voters surveyed were undecided.
"These numbers show us that Senator Grassley has outworn his welcome in Iowa and that Iowans are ready for a fresh voice and new representation," Franken's campaign manager Julie Stauch said in a statement.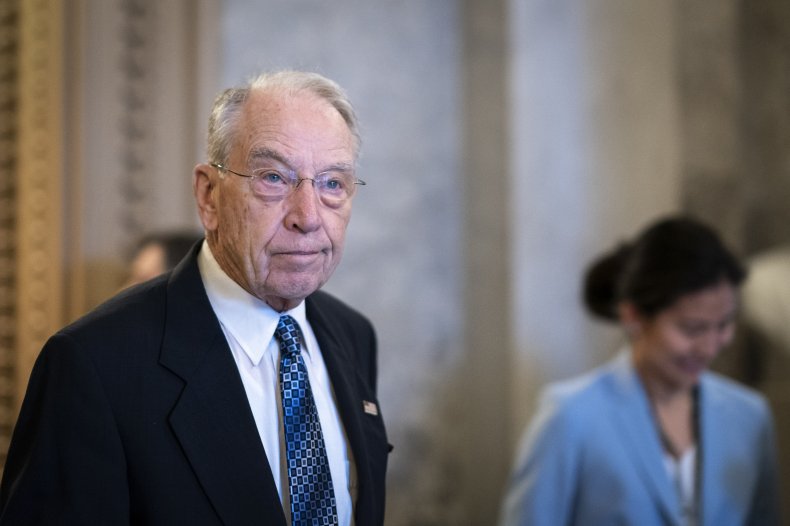 A subsequent Change Research poll conducted for the Franken campaign and released in May found he grew his support significantly from April. In April, Finkenauer led Franken 53 percent to 26 percent, but the May poll found a nearly even split, with Franken leading Finkenauer 42 percent to 40 percent.
Although Franken was able to increase his support, ousting Grassley will still be a significant challenge for the Democratic underdog. Former President Barack Obama took Iowa in both presidential races, but the state has been trending more red in recent years and voted for former President Donald Trump Twice.
Grassley's never won an election with less than 60 percent of the vote since his first bid for office in 1980. Politico is forecasting the long-term senator to win in November, calling it a "solid Republican" seat. The Cook Political Report also believes Grassley will easily keep his seat.
Franken, who served in the military for nearly 40 years, made an unsuccessful bid to represent Iowa in the Senate in 2020. He lost the primary to Theresa Greenfield, 48 percent to 25 percent. Franken told NPR he decided to run for office later in life because he's learned that the older he gets, the more things he does that are meaningful.
"I can't think of anything more meaningful than to provide my expertise to maintain democracy in this country, because I saw it under threat," he said.
Despite being a potential longshot, the race could still be important for Democrats, who hope to motivate Iowa voters to turn the state purple.