Friendship Group Made Almost Entirely of Mikes Hilariously Unites in Video
A friendship group has had the internet in stitches over their reunion at a wedding, but it's not just any friendship group—they're all called Mike.
Barstool Sports creator Adam Ferrone shared the clip (above) from a wedding on August 9, showing his friends greeting each other on the dance floor.
"Most of my friends are named Mike," said the text-to-voice generator. "So whenever there is a get together, all the Mikes take a Mike pic."
The video captured the group of men, all named Mike, crowding around one another. They can be seen embracing each other and cheering as they unite.
"Look how excited they are to see each other," he added, with audible "Yeahs" coming from the group of 11 Mikes present, though there's actually 20 of them in total.
Ferrone told Newsweek that, "all of the Mikes met through different stages in life. The first two met in elementary school. Then I met about eight in high school. Then a couple more in college. If you keep your eyes open, there are Mikes everywhere."
"This might be the largest gathering of Mikes yet," said the voice in the TikTok, as they lined up take a picture. The men hilariously all began chanting their identical name together, along with cheering and clapping.
After seeing the Mike bonding, the friends named John attempted their own version, but with only three of them it wasn't half as impressive. "The Johns tried to form an alliance," he narrated. "But it wasn't as powerful."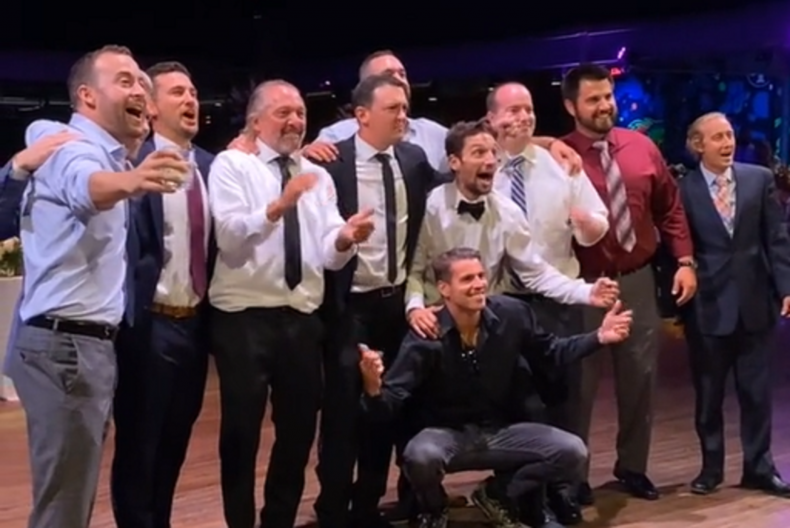 "The Mikes meet a couple times a year at weddings, parties, at the park. It's always a different combo of Mikes though. There are over 20 in total, with new ones coming and going all the time," said Ferrone.
"This video is from my friend Mike Wargo's wedding. His dad is in the picture because, obviously, he's a Mike too."
According to howmanyofme.com, which uses U.S. Census Bureau data, there are 4,416,459 people named Mike in the U.S., making it the fourth most popular first name.
The name Michael is one of the most popular in the U.S., but it's popularity has been gradually decreasing in recent years. It ranked as the 12th most popular baby boy name in 2020, which although is two up from the previous year, is still one of the lowest it's been since the 1940s.
A search down Ferrone's Instagram finds that of the 1,115 people he follows, 25 are called Mike or Michael—that's over one in every 50 people he knows.
"Any new Mike is welcomed with open arms. The Mikes are always trying to build power and fortify their ranks, so the more Mikes the better," he told Newsweek.
The hilarious video of the Mike gathering has gained over 500,000 views and the comments have been flooded with anecdotes of the name. "My uncle, who is also a Mike, stumbled on a convention of Mikes once in Colorado," wrote one TikTok user.
"You're telling me that a group of 14 friends has two whole unique first names between them?" wrote another.
"Testing, testing, Mike check," joked one viewer in a comment. "They should do a 'Mike drop' moment," added another.
"Michael Scott would have had the time of his life," commented another, referencing popular TV show The Office, and the awkward dad-joke making Michael.
Update 8/16/21, 3:36 a.m. ET: This article has been updated to include comments from Adam Ferrone.