Mike Huckabee Suggested Angela Merkel Was a Nazi Sympathizer and He's Still Getting Backlash
Former Arkansas Governor Mike Huckabee suggested on Twitter that German Chancellor Angela Merkel was a Nazi sympathizer and the Internet is still going after him for the intended joke.
Huckabee shared a photo from the commemoration of the 75th anniversary of the D-Day invasion, which led to the end of World War II. It shows the Royal Family along with 18 global leaders, including Merkel, paying their respects.
"The Queen today joins The Prince of Wales, @potus and @Flotus on Day 3 of #USstatevisit, as well as Heads of State, Heads of Government and Representatives of Leaders of the Allied Nations who have come together to honour veterans. #DDAY75," the Royal Family wrote.
Huckabee commented: "Must have been an 'awkward' moment for Angela Merkel to sit in ceremony as the Allies commemorated D-Day that broke the back of Nazi Germany."
Merkel, pictured in the right side of the photo with a slight smile, was born 10 years after D-Day and grew up in communist-controlled East Germany before she became chancellor in 2005. She has pursued reconciliation for Germany's past aggression, and Germany has been a long-standing ally of the U.S. since the end of the war.
Twitter users did not find Huckabee's "joke" funny.
BBC News diplomatic correspondent James Landale pointed out a tweet by the German Embassy in London stating that Merkel said that being part of the ceremony as German chancellor, with all sides united for peace and freedom, was a gift of history that should be maintained and protected.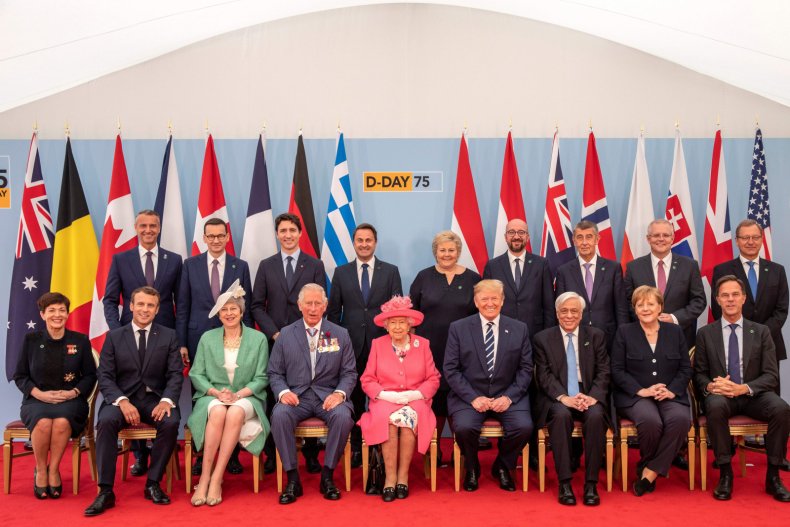 Wolfgang Ischinger, who was the German ambassador to the U.S. from 1998 to 2001, replied, "Germans were told by their President as long ago as 1985 that May, 1945 was a moment of liberation. We worked hard ever since to join and to be part of the West. No awkward moment, Sir!"
Other Twitter users were not as polite in their disapproval.
English novelist Michael Marshall Smith replied to Huckabee: "Yeah, and the Queen was sitting there still in a snit about the American War of Independence. God you're stupid. And so ignorant of Europe. And so, so unfunny."
Nearly 24 hours after his tweet, Huckabee had not addressed criticism on Twitter.
Early Thursday, Arkansas's former governor did tweet that he and his wife had the privilege of participating in a flag lowering ceremony in Normandy a few years prior.
"Sobering & emotional remembrance at Normandy on 75th anniversary of D-Day," Huckabee wrote. "The US crew who oversee that cemetery are some of the greatest ppl I've met."