Mike Huckabee Claims Bernie Sanders Wants to Pay Tuition for the Kind of Students Who 'Burn Our Flag,'
Former Republican Governor Mike Huckabee of Arkansas mocked and criticized Democratic 2020 presidential candidate Bernie Sanders' student loan forgiveness proposal on Monday, arguing that the independent senator from Vermont wanted to pay for college for people who "burn our flag."
"Why stop at student loans?" Huckabee asked Fox News co-anchor Sandra Smith sarcastically on America's Newsroom on Monday morning. "Let's go ahead and wipe out everyone's home loans. People are in trouble because they bought more home [sic] than they could afford... But wait, what about car loans? Let's pay those off, give everybody a free car," he continued in a mocking tone.
"What he's saying is: 'Let's just let people burn our flag, let's let them sit during the national anthem and we're still going to pay off their college loans,'" Huckabee argued. The former GOP politician said he supported paying for college for those who serve in the military or the country in other ways, but not for everyone.
Sanders unveiled a plan on Monday to forgive all $1.6 trillion of student debt currently impacting the lives of some 45 million Americans. The senator's proposal would also make two and four year public and tribal higher education institutions tuition-free and debt-free. The plan claims it would cost $2.2 trillion total over ten years, to be paid for by raising small taxes on buying and selling stocks, bonds, and derivatives.
"In the richest country in the history of the world, students shouldn't have to starve to get an education," Sanders wrote on Twitter on Monday after revealing his plan. The tweet also shared statistics that 45 percent of college students report struggling with hunger, 56 percent report struggling with housing costs and 17 percent say they experienced homelessness.
"Every young person, regardless of their family income, the color of their skin, disability, or immigration status should have the opportunity to attend college," Sanders added in a follow up tweet.
Fellow Democratic 2020 presidential candidate Senator Elizabeth Warren of Massachusetts has released a similar proposal, that would use taxes collected from the wealthiest Americans' assets. But her plan does not go as far as that of Sanders, whose debt forgiveness scheme would erase all student debt. Warren's would only provide significant student debt relief for families making under $250,000 per year.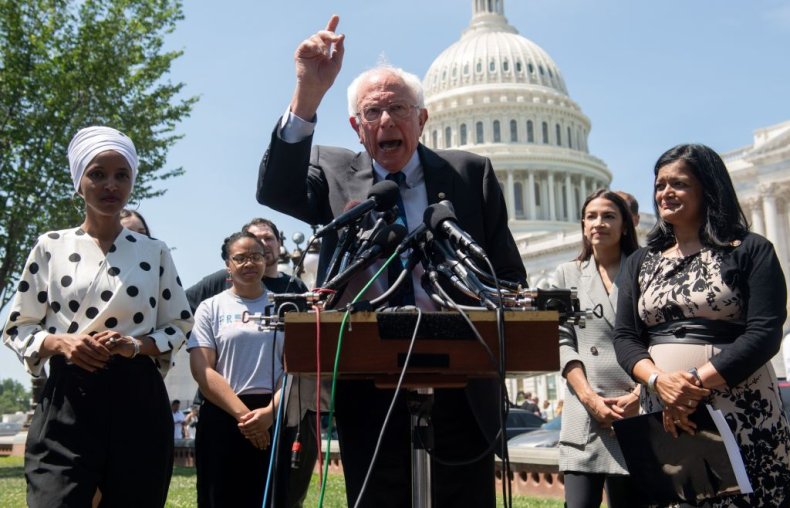 While many Republicans are highly critical of such proposals, an increasing number of Democrats–and particularly the party's more progressive wing–have become vocal about seriously pushing for student loan forgiveness.
"It was literally easier for me to become the youngest woman in American history elected to Congress than it is to pay off my student loan debt," progresive Democratic Representative Alexandria Ocasio-Cortez of New York said at a news conference on Monday, throwing her full support behind canceling student debt.
"Corporations have repeatedly gotten bailouts and tax breaks," Ilhan Omar, a progressive Democrat from Minnesota who introduced the bill with Sanders, tweeted. "We need a bailout for the people — that's why I just introduced a piece of legislation with Senator Bernie Sanders to cancel all student debt in our country."
Mike Huckabee Claims Bernie Sanders Wants to Pay Tuition for the Kind of Students Who 'Burn Our Flag,' | U.S.