Mike Huckabee Blasts CNN's Axelrod for Calling Daughter, Trump Press Secretary Sarah Sanders, 'Habitual Liar'
Former Arkansas Governor Mike Huckabee slammed CNN's David Axelrod on Friday for criticizing his daughter Sarah Huckabee Sanders' tenure as White House press secretary.
Huckabee told Fox News host Martha MacCallum that people like Axelrod "just don't like President Trump" and are conflating their feelings about the president with his advisors.
In an interview with Anderson Cooper, Axelrod, a top aide to President Barack Obama, called Sanders a "habitual liar."
"It's like being Fire Marshal for a pyromaniac, it's not going to end well for you," Axelrod said. "In this job, she was called upon to choose between her fidelity to Trump and her fidelity to the truth, and she chose Trump."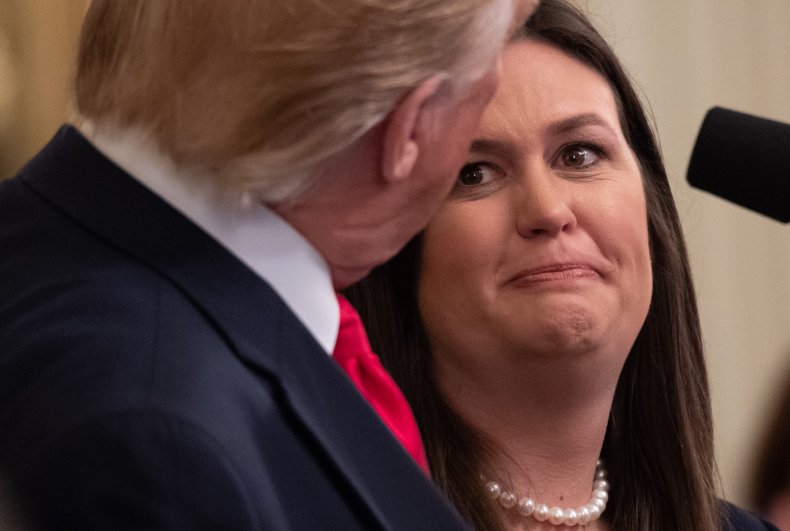 On Thursday, President Trump announced that his outspoken spokesperson would be departing from the White House at the end of June. Sanders, whose ongoing streak of nearly 100 days without an in-person press conference continues to set a new record, frequently clashed with members of the media and was known for her combative exchanges with White House reporters.
Huckabee confessed he was taken aback by Axelrod's frankness and said it was "unfortunate" that, in his mind, commentators were projecting their dislike of the president onto Sanders.
"I'm a little surprised that this came out of Axelrod," he said. "He's a better person than that. He knows better, and I'm really shocked and surprised that he would go there to that degree."
Despite Huckabee's status as a Fox News contributor, he blamed Axelrod's similar status (as a contributor for CNN) for the slant of his comments.
"He is a CNN contributor, what is he going to do?" Huckabee asked. "They pay people to hate President Trump."
Sanders' controversial term as press secretary has been marked by numerous scandals and accusations of dishonesty. After President Trump fired FBI Director James Comey, Sanders told the American public that she had heard from "countless members of the FBI" supporting the president's decision. But in Special Counsel Robert Mueller's voluminous report on the Russia probe, Sanders was revealed to have told investigators under oath that this claim "was not founded on anything."
Joe Lockhart, who was a White House press secretary under President Bill Clinton, wrote in an op-ed that Sanders "failed in almost every aspect of the job."
"Sarah Sanders said last December that when her role as White House press secretary ends, she hopes to be remembered as 'honest and transparent,'" he wrote. "I'm afraid she's going to be remembered quite differently because of the actions of her boss, President Donald Trump, and her own failures to live up to the obligations of the office."
Sanders will perhaps be remembered most for her decision to dismantle the White House press briefing, a once-daily opportunity for reporters to press the White House's chief spokesperson on matters of public importance.
By the end of her tenure, she will have been one of the longest-serving aides in the Trump administration, a notable milestone given the duration of some of her colleagues. Former White House Communications Director Anthony Scaramucci lasted about a week on the job.
While any future political plans have not be announced, President Trump in a tweet encouraged Sanders to run for governor of Arkansas.
"She is a very special person with extraordinary talents, who has done an incredible job," he wrote. "I hope she decides to run for Governor of Arkansas - she would be fantastic. Sarah, thank you for a job well done!"