CNN's Ana Navarro Should Be Fired for Trump 'Racist Pig' Comments, Mike Huckabee Says
Former Arkansas Governor Mike Huckabee called for CNN to fire contributor Ana Navarro, who branded President Donald Trump a "racist pig" while speaking with host Chris Cuomo on Sunday.
"It's CNN. The Civility News Network. I'm certain CNN will terminate her contract and the fair and objective media will call her out," Huckabee tweeted Monday morning.
Navarro was debating Steve Cortes, another CNN contributor, about the impact of Trump's rhetoric when she made her comments.
Navarro, a former strategist for Jeb Bush, mentioned that Trump called Florida gubernatorial candidate Andrew Gillum a "thief" and discussed the president's fearmongering about immigration. "I hope [the voters] reject the lies," she said.
Cuomo said that the president is "playing a game," and Cortes said that "you come from the presupposition that he's racist."
Cuomo and Navarro then pushed back. "I think he's racist. He called Mexicans criminals and rapists. He called El Salvador and Haiti s**tholes. Sign me up in the category of the people who think he's racist. He has said so many racist things," she said.
"When you don't want to talk policy, you call him a racist," Cortes said. "He is a racist pig!" Navarro responded.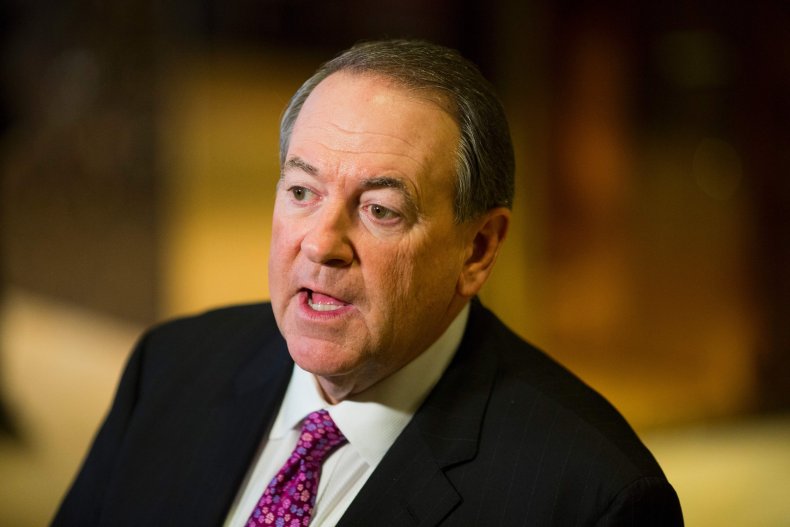 Huckabee, the father of White House press secretary Sarah Huckabee Sanders, has previously criticized CNN.
In August, he targeted CNN reporter Jim Acosta after the journalist pushed Huckabee Sanders to reject Trump's claims that the media are "the enemy of the people," according to The Hill. The press secretary declined, saying, "I'm here to speak on behalf of the president. He's made his comments clear."
Acosta then called Trump's spokesperson "un-American."
The former Arkansas governor countered on Twitter. "Breaking wind from CNN! Jim Acosta suffers severe nose bleed from the elevation of his high horse. Taken to safe space and provided with Play Dough, a popsicle, pictures of a pony to color and a puppy," he wrote.
Last November, Huckabee blasted the network, saying it was overreacting to the president's tweet about having a contest to determine which network offers the most "dishonest, corrupt and/or distorted" news coverage.
"CNN is in a froth of righteous indignation over President Trump's pretty funny tweet that they and other non-Fox news outlets should compete to see who can come up with the most ridiculous anti-Trump story to win a 'Fake News' trophy," he wrote.
In May 2017, he attempted to mock CNN but stumbled, getting the network's acronym wrong. "CNN now stands for Cardiac Care Network because their ppl are having heart attacks over Trump doing what Dems once demanded-fire Comey," he tweeted.