Mike Huckabee Abandons Country Music Association Post After One Day, Blaming Protester 'Bullies'
Mike Huckabee has resigned from the board of the Country Music Association (CMA) Foundation after just one day, blaming protester "bullies" who opposed his appointment, USA Today reported.
The former Arkansas governor and two-time Republican presidential hopeful said he had become an "unnecessary distraction and deterrent to the core mission of the foundation," which is the charity arm of the music organization.
In his resignation letter, Huckabee said "irrational vitriol" and "intolerant and vicious statements" forced him to leave his new position. He wrote, "I hope that the music and entertainment industry will become more tolerant and inclusive and recognise that a true love for kids having access to the arts is more important than a dislike for someone or a group of people because of who they are or what they believe."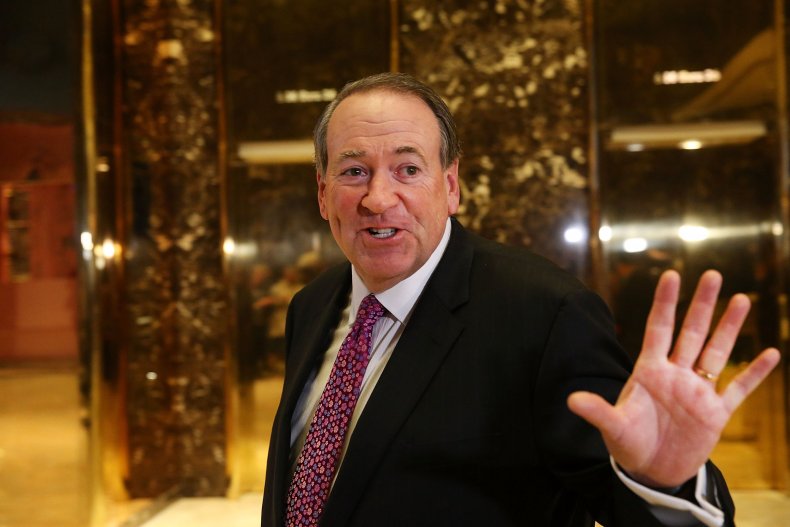 Huckabee's detractors criticized his appointment to the post after building a political career on ultraconservative views.
Huckabee, whose daughter, Sarah Huckabee Sanders, serves as White House press secretary, has called same-sex marriage a "Biblical disobedience" that is "outside of nature," and claimed it could "criminalize Christianity."
Country music manager Jason Owen, an influential figure in the industry, was one of the most vocal critics of the appointment. Owen, who is gay, said Huckabee's addition to the board was "shameful," and that his companies would no longer support the CMA Foundation.
Owen and his partner, Sam, are fathers to one boy and are currently expecting twins, USA Today said. Owen explained that Huckabee's political stance "made it clear my family is not welcome in his America.
"Huckabee speaks of the sort of things that would suggest my family is morally beneath his, and uses language that has a profoundly negative impact upon young people all across this country," Owen said. "Not to mention how harmful and damaging his deep involvement with the NRA is."
The former governor is a longtime proponent of the National Rifle Association and gun rights. He once controversially suggested while speaking at an NRA conference that the Holocaust could have been avoided if Europe's Jews had been armed. "They had no ability or capacity to resist—the result was the beginning of their captivity, the end of their freedom and the ultimate murder of 6 million innocent people," he said.
Country music became the target of gun violence in October 2017, when gunman Stephen Paddock opened fire on the Route 91 Harvest festival in Las Vegas. The shooting is the deadliest mass shooting in U.S. history, killing 58 and wounding 851.