Mike Huckabee: MS-13 Anti-Pelosi Tweet Was 'Satire'
Former Arkansas Governor Mike Huckabee dismissed criticism of a tweet Saturday in which he compared Nancy Pelosi's campaign committee to members of criminal gang MS13, claiming the message was "satire."
Huckabee was accused of racism Saturday after posting the tweet showing men making hand signs associated with the gang, with the caption: "Nancy Pelosi introduces her campaign committee for the take back of the House."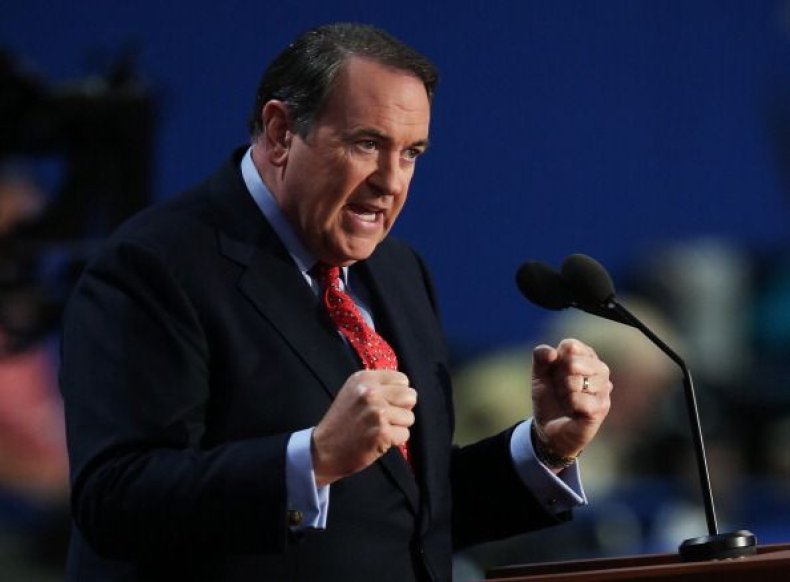 The Republican was echoing attacks made on Pelosi by President Donald Trump, who had accused the gang of exploiting U.S. immigration law and called Pelosi an MS13 "lover" after she criticized his comments on undocumented immigrants in May.
MSNBC host Joe Scarborough was among critics who have accused Huckabee, who is an ordained Southern Baptist minister, of racism over the tweet.
"Mike Huckabee sent out a tweet this week, it's so racist that you even had an awful lot of conservative Christian leaders coming out," said Scarborough on Monday's edition of Morning Joe. "Whatever you want to call it—you pick—if you don't want to pick, let's say, parallels to the 1930s in Germany, let's say David Duke, if that makes you feel more comfortable."
In an interview on Fox News Monday night, Huckabee doubled down on the attack.
"First of all, it was satire. I tell people all the time and I regularly post on my Twitter account. If you don't have a sense of humor, if you cannot handle satire, please don't follow me," Huckabee told host Shannon Bream.
"But a lot of people are trying to make this about race. What race was I talking about? I was talking about a criminal gang. A gang is not a race. People who murder, rape, who mutilate little children, that's not a race of people. That is a gang of criminals. There's nothing to defend.
"I'm amazed that there were people out there defending MS-13 and somehow saying that we weren't nice enough to them. I don't want to be nice to MS-13. I want them to be out of business. I appreciate the president for wanting to treat them as they are, as criminals and people who are predators to little children and need to be taken off of our streets."
In an interview with Fox Business earlier, Huckabee also addressed the controversy over the expulsion of his daughter, White House press secretary Sarah Huckabee Sanders, from Lexington restaurant the Red Hen on Friday because of her position in the Trump administration.
He alleged that after his daughter and her husband left the restaurant and went home, other members of the party went to another restaurant, and "the owner of the Red Hen then organized an effort to go and scream at them from the sidewalk at the other restaurant."
Trump had earlier criticized the restaurant in a tweet, describing it as "filthy."
The establishment has not responded to a request for comment.