Syracuse and Duke Was an Epic game Decades in the Making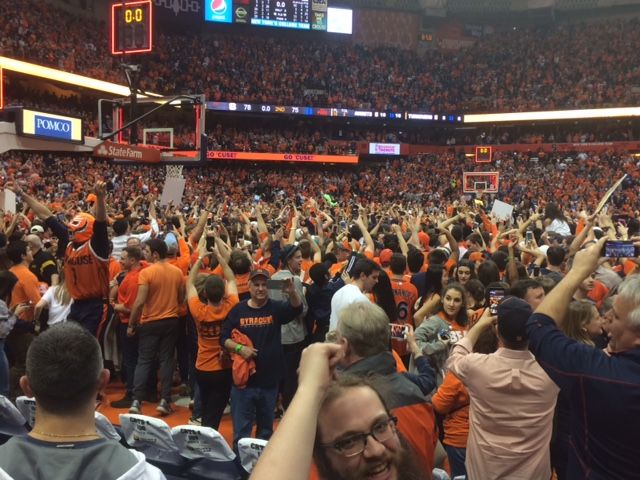 On an unseasonably warm midwinter, midweek afternoon in central New York, Syracuse University was rocking a rush week vibe. On the front porch of Phi Kappa Psi on the corner of University and Comstock Avenues, bros in traffic-cone colored tees played catch in the indigenous style, which is to say with lacrosse sticks. Further down Comstock, outside Sigma Alpha Nu, music blared out of a window as similarly orange-clad members basked in the the 60-degree temperature.
By far the most exclusive fraternity gathering on campus Wednesday night was not only about to take place, it also served as the inspiration for this premature surge of spring fever. Inside the Carrier Dome, the only two men to ever win 1,000 games in men's major college basketball history were about to meet. "I told Mike that this was one [game] we had to get," Syracuse coach Jim Boeheim would later recall of his pregame sideline encounter with Duke coach Mike Krzyzewski. "'I helped you win three [Olympic] gold medals. You could help me.'"
Related: Unalaska basketball reigns in The Last Frontier
Boeheim, 72, and Krzyzewski, 70, are both pioneers, dinosaurs, legends, Hall of Famers, institutions and champions. Boeheim has been the head coach at his alma mater since 1976. That's 41 years or eight presidents or 593 "Saturday Night Live is no longer funny" think pieces ago. Krzyzewski, who has won more games and more national championships than anyone since arriving in Durham in 1980, still has almost every strand of jet-black hair that he owned then as a 33-year-old: the portrait of Dorian K.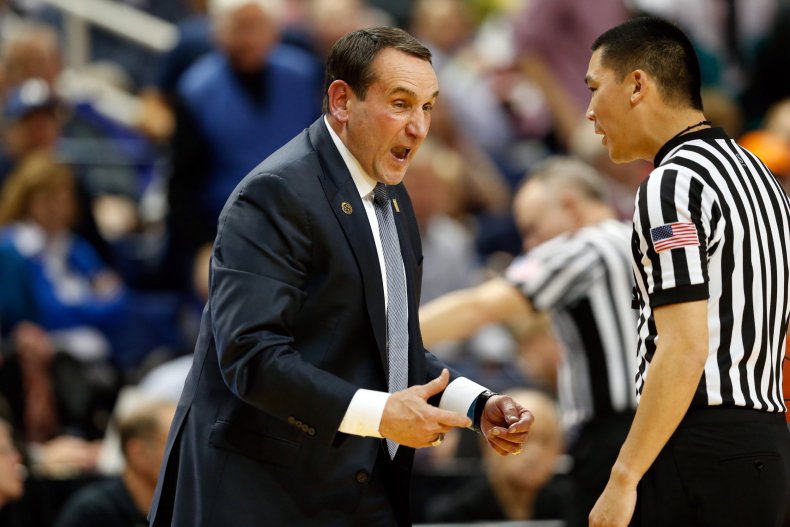 Coach K's 1,065 wins, 73 of which he compiled at his first job and alma mater, Army, are more than anyone in Division I men's basketball. Boeheim's 1,002 are second-most (technically, he has 901 because the NCAA vacated 101 of those due to violations; as ESPN's Jay Bilas, a Duke alum, recently noted after Boeheim won his 1,000th game, "All I know is that he's coached in 1,000 games where the other team lost"). Their curriculum vitae sounds like a promo for a classic rock station: each has taken his team to Final Fours in the '80s, '90s, early 2000s and teens. They are the only two coaches, Division I men's or women's hoops, to have done that.
Both Boeheim and Krzyzewski coach in arenas in which their names are inscribed on the hardwood. They have not updated their résumés in 41 and 37 years, respectively. Coach K has won five national championships, second only to the nearly sacrosanct John Wooden's 12. Boeheim has won once, in 2003. They are septuagenarians, yes, and Coach K is a grandfather, but here are two coaches in their prime. Boeheim took the Orange to the Final Four last April while Coach K and his Blue Devils cut down the nets two years ago.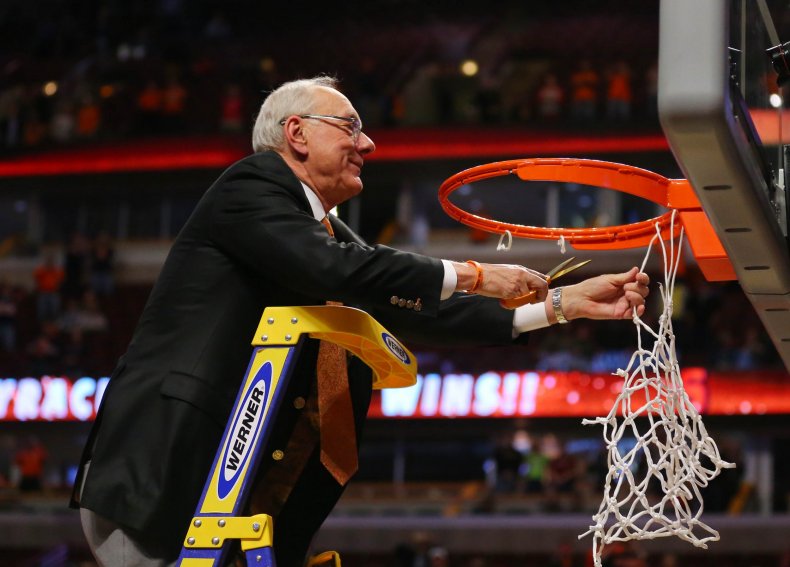 Wooden retired at age 65. Bob Knight, Krzyzewski's college coach and mentor who won three national championships at Indiana and is third all-time on the wins list, left at 67. Dean Smith, who haunted Duke students and teams for decades as the coach at North Carolina, walked away at 66 (he is fourth on the victories list). Only Kentucky's Adolph Rupp, who spent 42 years in Lexington and retired at age 71, is in league with these two as far as longevity. Rupp, however, was 64 when he last led the Wildcats to a Final Four in 1966.
And so in this land where The Last of the Mohicans was set, fans could appreciate that this was not just a game between two Atlantic Coast Conference (ACC) teams, it was a hoops summit, a roundball Woodstock. More than 30,000 people, including ESPN's 77-year-old Dick Vitale, convened to bear witness. In secular terms, it was a conference game between a white-hot likely two-seed (Duke, 22-5, winners of seven straight) in next month's NCAA tournament and squad that was teetering on the bubble (Syracuse, 16-12, had lost three in a row). In ecclesiastic terms, this was an audience with the game's active shamans.
It is not heresy to suggest that the game itself matched, if it did not exceed, the drama of the most suspenseful of Final Four contest. The Blue Devils, who may have as many as five future first-round picks on their roster (guards Grayson Allen and Luke Kennard, forward Jayson Tatum and centers Amile Jefferson and Harry Giles), took an eight-point lead into halftime, 33-25.
The latter half was breathless, featuring eight ties and a mesmerizing performance by the Orange's 5-foot-11 graduate transfer point guard, John Gillon. The shortest man on the floor, who played the previous three seasons at Colorado State, scored 19 of his game-high 26 points after the intermission. After Duke's Kennard missed a jumper with :08 remaining and the score knotted at 75-75, the ball found itself in Gillon's hands. He dribbled upcourt and, with no clear path to the hoop, pulled up from 22 feet out, in a direct line to the rim. Gillon's shot careened off the backboard and through the net. Thousands of giddy Syracuse students raced onto the court. It is rush week, after all.
"The first time I hit a game-winning shot?" Gillon recalled afterward. "Fourth grade with my AAU team, the Houston Superstars. I hit a shot from the corner and my friends mobbed me. Got a Capri-Sun afterwards."
Krzyzewski, who with Boeheim as an assistant led Team USA to gold medals in the past three Olympics, was bemused by the dramatic finish and his good friend's victory. When a Syracuse student journalist suggested that he may have had to change his game plan due to foul trouble in the second half, he playfully bantered, "That would assume you knew our game plan in the first half. How do you know we changed it?"
"Well, um, you know a lot more about basketball than I do," the student stammered.
Coach K grinned. "Well, this is amazing," he said, alluding to the decades of second-guessing to which he has been subject by the press row cognoscenti. "A first."
Someone asked another question, but Coach K halted it. "Wait," he said, taking a step back from the podium. "I want to bask in this for a moment."
It was everything a college hoops fan could hope for to escape the midwinter doldrums. With March Madness still far over the horizon (for those who, unlike former Duke guard Kyrie Irving, do not believe the earth is flat), Wednesday night's fraternity meeting of 1,000-game winners provided sustenance to endure the winter darkness. Call it February Fervor. Two legendary coaches, 30,000 raucous fans, and a buzzer-beater hoisted by the unlikeliest of heroes. "It was not unexpected at all," said Coach K who has witnessed far too much to be surprised. "We made too many mistakes and the basketball gods…this is what happens."
It takes a basketball god to know.