Mike Leach Hired As Mississippi State Football Coach, And Twitter Had Plenty of Thoughts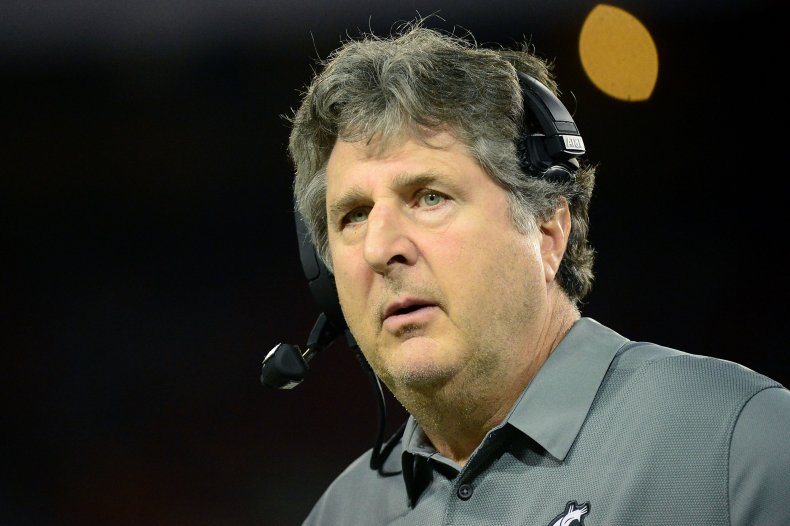 On Thursday, Mississippi State announced their decision to hire Mike Leach as head football coach, and people across Twitter had plenty to say.
Leach previously served as the head football coach for Washington State, but after Mississippi State fired former head coach Joe Moorhead on January 3, Leach decided to enter the Southeastern Conference (SEC).
"I can't tell you how excited I am to be the head football coach of the Mississippi State Bulldogs," Leach said in a statement.
Following the announcement, Twitter began to sound off, starting with the Mississippi State Athletic Director John Cohen.
To confirm the news of the hire, Cohen used a scene from Pirates of the Caribbean with a Mississippi State football flag replacing the traditional jolly roger flying at the top of the pirate ship's mast -- a reference to both Leach's nickname 'the pirate' and his love of them.
"Mike Leach in the SEC!!!! YES YES YES!" ESPN college football reporter Marty Smith wrote on his Twitter account
"SEC West is where legends go to coach, welcome @Coach_Leach," wrote Twitter user Dylan Ripley.
While many congratulated Leach on his new job, others discussed what the upcoming season will be like with the coach joining a conference filled with other big names such as Alabama's Nick Saban, LSU's Ed Orgeron and Ole Miss' Lane Kiffin.
"Mike Leach @HailStateFB and Lane Kiffin @OleMissFB????? The football Gods decided to give us all a treat. Things about to get really interesting in the state of Mississippi," ESPN's Kirk Herbstreit wrote.
"Mike Leach to the SEC! God media days are going to be phenomenal. Saban, Coach O, Kiffin, and now Leach. Wow!," Twitter user BarstoolAlabama wrote.
Some others talked about the upcoming Egg Bowl matchup between Leach and Kiffin. The most recent game between Ole Miss and Mississippi State made headlines on Thanksgiving 2018 when Ole Miss receiver Elijah Moore celebrated a touchdown by kneeling and pretending to pee like a male dog. The celebration resulted in a penalty, which led Ole Miss to lose the game via a missed field goal as the game clock expired.
The Rebels' loss to their in-state rivals and SEC foes led Ole Miss to fire then-head coach Matt Luke in December and hire Kiffin.
"Lane Kiffin vs. Mike Leach in Egg Bowls should be pay-per-view," Al.com Sports Producer Matt Scalici wrote on Twitter.
"What a butterfly effect: Some dude lifted his leg to pee like a dog on the would-be Egg Bowl winning touchdown and it got everyone fired and now Mike Leach and Lane Kiffin are arch rivals," CBS Sports' Will Brinson wrote on his Twitter account.
"BREAKING: Mike Leach is officially taking the Mississippi State job. Which means a Leach vs Kiffin #EggBowl is going to become a reality," wrote Twitter user Josh with a gif from popular sitcom The Office.
Leach is known for unusual interviews with the media, and with that in mind, some Twitter users compiled the coach's best and funniest moments as Washington State's head coach.
"Mike Leach's wedding advice never gets old," wrote ESPN's Field Yates, including a video of Leach.
"Cannot wait to hear coach Leach break down the battle between SEC mascots," CBS Sports wrote with a video of Leach discussing which PAC 12 mascot would win in a fight.
"Mike Leach is bringing his iconic interviews to the SEC," ESPN wrote on their Twitter account with a compilation of some of Leach's various off-the-cuff interviews.
Mike Leach Hired As Mississippi State Football Coach, And Twitter Had Plenty of Thoughts | Sports