Mike Lindell Backed by More Republicans Than McDaniel to Lead RNC: Poll
There are more GOP voters who want to see MyPillow CEO Mike Lindell lead the Republican National Committee (RNC) than those who want to see current chair Ronna McDaniel reelected, according to a new poll.
The poll released Thursday by Rasmussen Reports found that 30 percent of likely Republican voters want Lindell to be the next RNC chair, compared to the 15 percent who backed McDaniel and 20 percent who picked Harmeet Dhillon, an attorney for former President Donald Trump. Another 15 percent said they didn't support any of the three and 21 percent were undecided.
The RNC head is not elected by everyday Republican voters, but rather by committee members of the national party's governing body. A candidate needs a simple majority, or 85 of 168 votes, to win. Members will convene on Friday for the secret-ballot election.
Although Lindell is among the three candidates, McDaniel and Dhillon have emerged as the key candidates. McDaniel has already received an endorsement from more than 100 RNC members, but Dhillon told Politico that she still think she has an "excellent chance" of pulling an upset, and the outlet estimated that she could wrangle about 60 votes from McDaniel.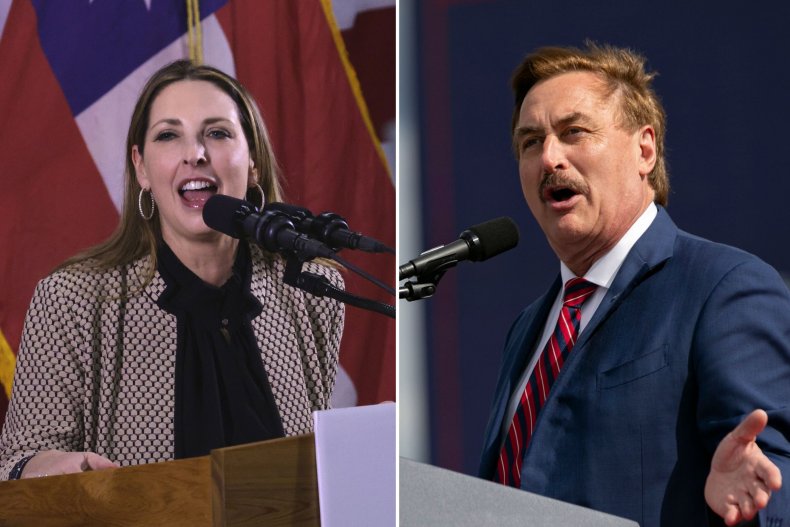 "There's just gotta be a change," RNC member Bill Palatucci, who is endorsing Dhillon, told the Associated Press last month.
McDaniel has faced fierce criticism in the wake of the 2022 midterm elections in which GOP candidates failed to ride into Congress on what was expected to be a "red wave." Instead, the lackluster election left Republicans with a Democrat-controlled Senate and only a slim majority in the House.
A number of top Republicans have publicly pointed the finger at McDaniel for the midterm results and called for her to be ousted from her leadership position.
Days after the November 8 election, GOP Representative Matt Gaetz tweeted: "McCarthy, McConnell, McDaniel, McFailure," in reference to McDaniel, then-House Minority Leader Kevin McCarthy and Senate Minority Leader Mitch McConnell.
Asked about McDaniel's reelection bid, South Dakota Governor Kristi Noem replied: "We need to win. That's just the fact. Our kids' future depends on it....I don't know if a party can continue to lose like we have and keep their jobs."
Republican pundit John Cardillo tweeted in November that it's "absolutely clear" McDaniel "has to go, while Arizona GOP Chair Kelli Ward told AP that, "NOT ONE regular person not affiliated with the current RNC apparatus has urged me to retain Ronna Romney McDaniel as Chair."
Trump has remained silent as to whom he thinks should head the RNC, although he was the one who tapped McDaniel shortly after he won the presidency in 2016. Whoever wins Friday's election will lead national party through the 2024 presidential race, for which Trump has already announced his candidacy.
Newsweek reached out to McDaniel for comment.