Mike Lindell Claims 'No Statute of Limitation' on 2020 Election 'Crime,' SCOTUS to Weigh In
MyPillow CEO Mike Lindell insisted during a Saturday afternoon rally in Michigan that there's "no statute of limitation" on a "crime" like the one he and former President Donald Trump claim was carried out during the 2020 presidential election.
Like a number of other prominent supporters of the former president, Lindell continues to promote baseless conspiracy theories about the 2020 election. The conservative businessman claims that China hacked voting machines and rigged the election in favor of President Joe Biden. He has claimed for months that he is preparing "evidence" that he plans to submit to the Supreme Court.
"Everybody knows it's the biggest farce—the biggest crime in history," Lindell said during the Freedom Festival held by the Antrim County Conservative Union at the Friske Farm Market in Ellsworth. The businessman relayed a conversation he had with Trump's former Secretary of Housing and Urban Development Ben Carson, in which they discussed their concerns about the 2020 election.
Lindell said that Carson had told him God is in charge and that the situation will be resolved according to God's plan. "There's no statute of limitation [for this crime]," Lindell told the crowd.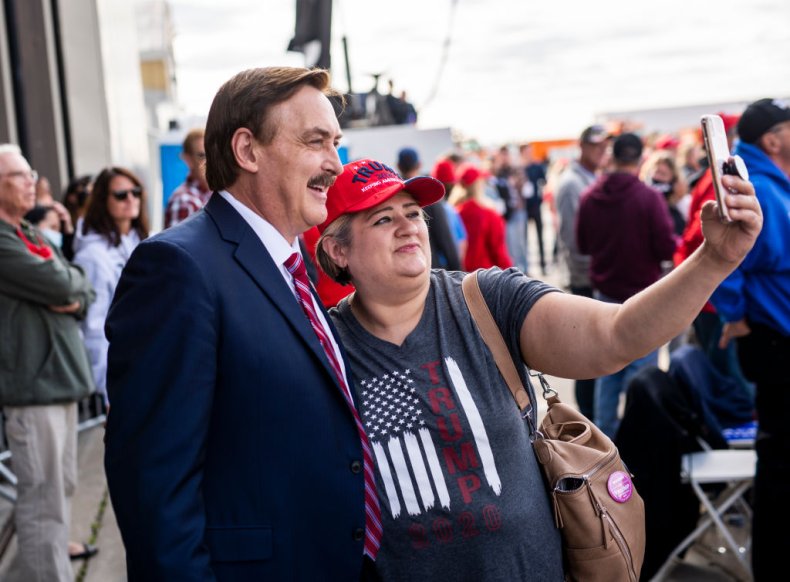 "We're bringing this before the Supreme Court," the businessman vowed. He suggested this would happen sometime in July. "We all have a royal flush [of evidence]," Lindell said. He went on to say that the Supreme Court vote would have to be "9-0 because you can't argue these. It's not subjective."
"We have the evidence, so we have that. We all know it happened," the MyPillow CEO said. Lindell argued that it was actually "a miracle that everybody ignored" his and Trump's "evidence." He said that "they [the alleged hackers] would have done it a lot better next time" and that the country would have been "wiped out."
"This country would have been done," Lindell asserted.
Trump's and Lindell's false allegations have been thoroughly litigated and fully debunked. Dozens of election challenges filed by Trump and his allies have failed in state and federal courts. Even judges appointed by Trump and other Republicans have dismissed the often bizarre allegations.
Audits and recounts in key battleground states—including in places where the election was overseen by pro-Trump Republicans—have reaffirmed Biden's victory. This included hand recounts in multiple states, which would have easily revealed any discrepancies if voting machines had somehow been manipulated or hacked.
Former Attorney General William Barr, who was widely viewed as one of Trump's most loyal Cabinet members, said in December that there was "no evidence" of widespread fraud that would change the election's outcome. The Cybersecurity and Infrastructure Security Agency at the Department of Homeland Security said after the election that it was the "most secure in American history." The agency, which was led by a Trump appointee at the time, asserted that there was "no evidence that any voting system deleted or lost votes, changed votes, or was in any way compromised."
Nonetheless, Lindell continues to tour the country and appear regularly on right-wing podcasts and other programs to peddle his baseless allegations. He and pro-Trump attorney Sidney Powell have said that they believe Trump will be "reinstated" as president. According to The New York Times, Trump has told associates that he believes he will be reinstated in August.
A majority of Republican voters also appear to believe the lies about the 2020 election. A May poll conducted by Reuters/Ipsos found that more than half (53 percent) of GOP voters think Trump is still the legitimate president. A separate poll carried out by Quinnipiac last month found that two-thirds (66 percent) of Republicans do not believe Biden really won the election.
Newsweek reached out to Trump's press office for comment.