Mike Lindell Endorses Lin Wood for SC GOP Chair at Rally: He's 'Like President Trump'
MyPillow CEO Mike Lindell promoted Lin Wood's candidacy for South Carolina GOP chair at a Biker for Trump rally on Sunday.
Last month, Wood, an avid supporter of former President Donald Trump, told South Carolina's Richland County GOP that Lindell, Michael Flynn—who served for 22 days as national security adviser under Trump—and lawyer Sidney Powell have endorsed his campaign.
Trump endorsed Drew McKissick, South Carolina's incumbent Republican chair, in November.
Speaking to the crowd on Sunday in South Carolina, Lindell compared Wood to Trump and promised Republican voters that the candidate would make decisions "for the people."
"Everything is affected by politics," Lindell said. "That's why it's so important that we get people like Lin Wood put in. He's going to be chairman of the GOP party of South Carolina. We need to get back to where it's for the people."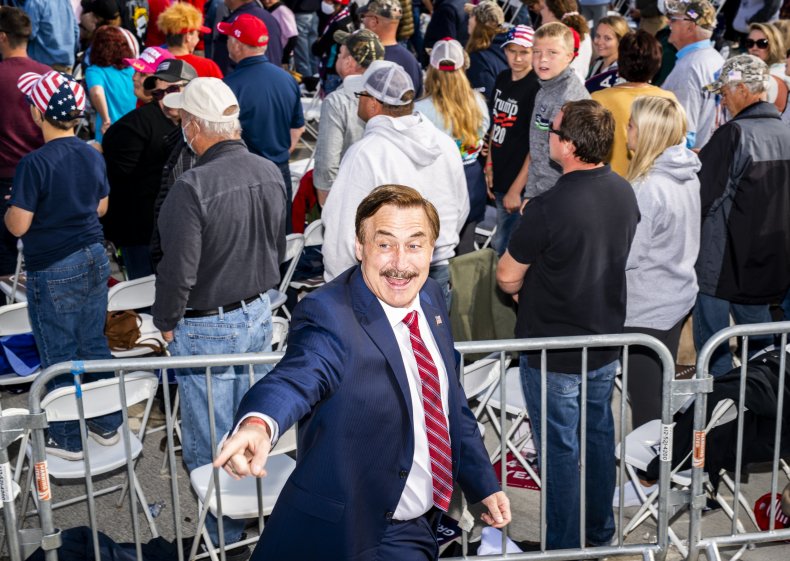 "I've met hundreds of politicians now, both Democrats and Republicans, and I can tell you that there is probably maybe 15, maybe three hands that I can count them on, that are like President Trump, where it's for the people, making decisions for the people," he continued.
The pillow businessman added: "Otherwise they all have a political agenda or they have a personal agenda and that's what's been killing us."
Newsweek reached out to Lindell via MyPillow for further comment. This story will be updated with any response.
The Department of Homeland Security's Cybersecurity and Infrastructure Security Agency called the 2020 presidential election the "most secure in American history," and even former U.S. Attorney General William Barr has said there's "no evidence" that fraud changed the election outcome.
But Wood, Lindell and Powell have repeatedly pushed the conspiracy theory that widespread voter fraud caused Trump's election loss to President Joe Biden.
In a recent video shared to Telegram, Wood pushed the QAnon conspiracy theory and said that he believes Trump is still president.
"We've got to find out what they're doing with our children, I think I know what they're doing with our children, I think you do too and I think Donald J. Trump knows," he said. "I believe that Donald J. Trump is still our president."
On March 29, Wood announced that he was running to unseat McKissick for the South Carolina Republican chairman position, just weeks after he moved to the state from Georgia. Wood became a legal resident of the state in February.
The South Carolina Republican Party convention, where the chair will be elected, is expected to be held later this month.