Mike Lindell Invites Chinese Communist Party to 'Gladiator' Event Proving It Stole Election
MyPillow CEO Mike Lindell said on Monday that he was planning to invite the Chinese Communist Party to his "gladiator"-style event to prove that they stole the 2020 presidential election.
During a recent appearance on Real America's Voice, Lindell told Steve Bannon that he's planning on holding a "cyber forensic election symposium," to provide evidence that the recent presidential election was stolen from former President Donald Trump.
"I want to have congressmen there, I want to have senators there," Lindell said. "Everybody can get there. Then once we show all the cyber guys and they can ask their questions and they're all going, 'Wow!' It's going to be like showing them a spaceship. You haven't seen anything like this. This is a miracle."
As Lindell continued to discuss his event, Bannon said that the event will be like a "gladiator event."
"This is like Gladiator 2. This is the sequel we always wanted. Mike Lindell and his cyber gladiators," Bannon said.
Bannon, a former strategist to Trump, then asked Lindell if he plans to invite the Chinese Communist Party to the event, as Lindell has claimed that they hacked voting machines during the presidential election.
"Yes, absolutely," Lindell said in response. "They can sit right next to [Georgia Governor] Brian Kemp and [Arizona Governor] Doug Ducey in the front row."
Lindell continued, "This is the miracle, Steve...This is what God has done for our country when we get out there and be one nation under God again. This can be the biggest uniting of our country ever, whether you're a Democrat or a Republican or what you are, boom, against a common enemy, the CCP that used the Democratic Party to steal our election and invade our country."
Since Congress certified President Joe Biden as the winner of the 2020 presidential election, Lindell has continued to claim that it was stolen from Trump and has made similar comments suggesting that China played a part in the alleged steal.
"On January 9th, I received evidence of a cyberattack orchestrated by China on the 2020 election," Lindell claimed in a video released earlier this month. "I took that one piece of evidence and I just went all in. This was something different, nobody had seen. This was something that came through the machines—the Dominion machines, the Smartmatic machines. This was a cyberattack."
"What I'm going to show you tonight, you're all gonna know now why I've been 100 percent sure that when this gets before the Supreme Court it's gonna be 9-0," Lindell said in the video. "9-0 to pull this election down and that this was 100 percent an attack by China on our country through these machines."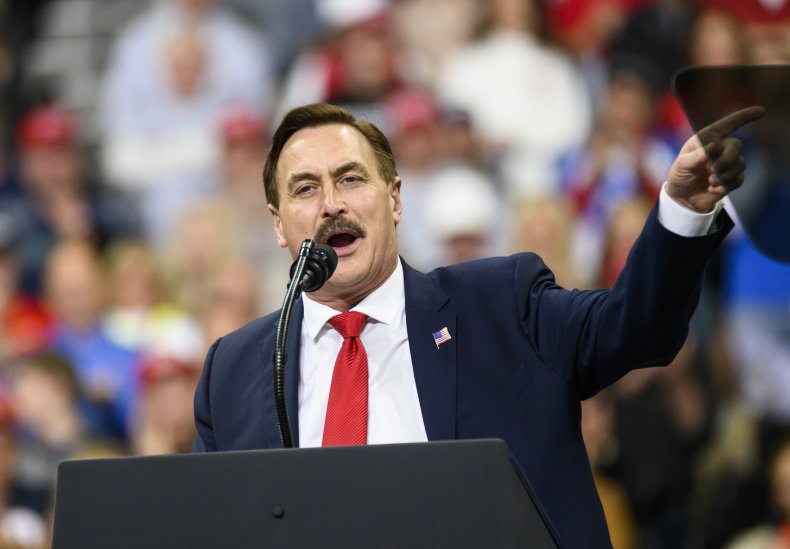 Despite Lindell's claims, numerous elected officials and state election boards have said that there was no evidence of voter fraud in the 2020 election.
Newsweek reached out to Lindell for further comment but did not receive a response in time for publication.