MyPillow CEO Mike Lindell said he retrofitted 75 percent of the pillow company's manufacturing line to produce cloth face masks during the pandemic, but lost about $7 million in the failed venture after the market became saturated.
"I can't give them away," Lindell said in a recent interview with the Daily Beast. "I tried to. No one wants the things anymore."
"All of a sudden, there was masks everywhere, almost as if the industry knew it was coming and waited for prices to go up," he added. "Now I probably got $7 million out of my pocket that we're just stuck with."
Lindell first announced the venture last March, during a press conference at the White House Rose Garden alongside former President Donald Trump and a group of CEOs. In televised remarks given amid the early stages of the pandemic, Trump urged American businesses to help the federal government manufacture COVID-19 personal protective equipment for health care workers and other citizens.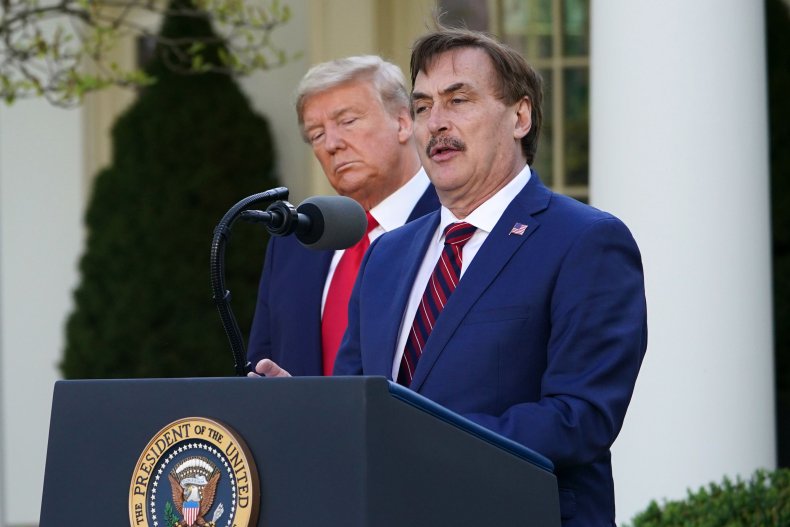 At the time, Trump campaign spokesperson Tim Murtaugh called the businessman's decision to convert MyPillow's manufacturing capabilities patriotic.
"If this is a reference to Mike Lindell—his company will be making 50,000 masks a day by the end of the week. Because he loves this country and wants to help," Murtaugh tweeted on March 30, 2020.
Lindell initially intended to donate the masks to frontline workers, but the businessman began to sell them on the MyPillow website, according to the Beast. "We were only gonna donate to VA hospitals, nursing homes, but the [Food and Drug Administration] and [Centers for Disease Control and Prevention] made it that you could only use certain masks from certain factories," he said.
Lindell claimed that he wasn't chasing profit and sold the masks at an affordable cost. Currently, the MyPillow website is selling a pack of 10 masks for a discounted $19.99, about half its original price of $39.98.
During his interview with the outlet, Lindell asked an assistant: "How many of those do we have, that we ought to just burn?" The assistant reportedly told Lindell that they had about two million masks.
The outlet described the venture as a "failed charity effort that Lindell then turned into a failed business venture, which he turned back into a charity." Lindell said he wasn't concerned about losing millions "because it helped so many people back then."
Newsweek reached out to Trump representatives and Mike Lindell via MyPillow for comment. This story will be updated with any response.