Mike Lindell Mocked Amid Report His Phone Was Seized by the FBI
Mike Lindell's opponents are ridiculing the MyPillow CEO after he disclosed that the FBI had confiscated his phone as former President Donald Trump and his allies continue being targeted by federal law enforcement.
Lindell said in videos posted online Tuesday that FBI agents surrounded him at a Hardee's restaurant and demanded he turn over his phone. The circumstances over Lindell's reportedly seized phone are not yet fully clear. Lindell has been among the most vocal backers of Trump's extensively debunked claim that the 2020 presidential election was marred by fraud. His revelation drew swift reactions from critics and defenders alike.
"Mike Lindell ordered a lawyer at the Hardee's drive thru because the FBI seized his phone," law professor Daniel Uhlfelder said in a tweet.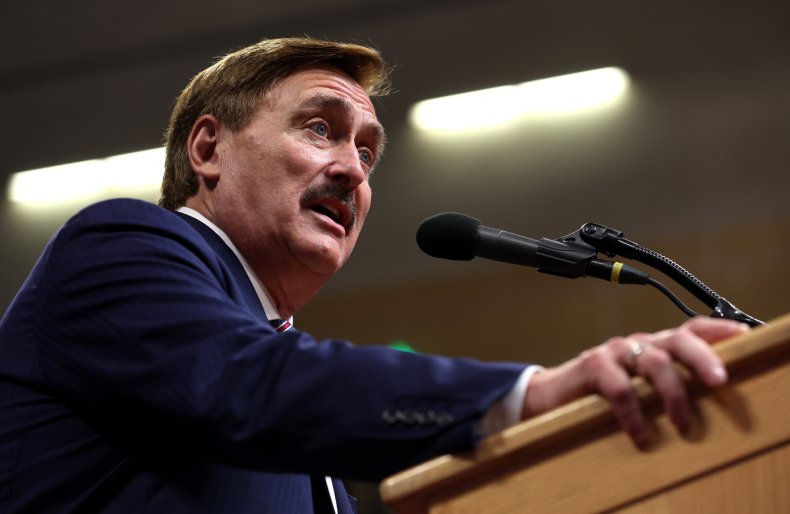 The FBI's Denver Field Office said the agency rarely comments on specific investigations.
"Without commenting on this specific matter, I can confirm that the FBI was at that location executing a search warrant authorized by a federal judge," Public Affairs Officer Vikki Migoya said in a statement to Newsweek.
"Generally speaking, allegations of criminal conduct are reviewed by the FBI for their merit with consideration of any applicable federal laws, but such a review does not necessarily result in the opening of a full investigation. When warranted, we take any actions appropriate to the matter, such as seeking further information, referring the matter to a partner agency or referring our findings to the appropriate U.S. Attorney's Office."
The FBI in August carried out a court-approved search of Trump's Mar-a-Lago estate in Florida as part of the Justice Department's investigation into the former president's alleged mishandling of sensitive government documents.
The DOJ recently issued subpoenas to more than 30 former associates of Trump, CNN reported earlier Tuesday. Steve Bannon, a former Trump political adviser, said on September 9 that the same day he was arraigned on fraud charges the FBI had executed raids on 35 supporters of the former president.
Allies of Trump say federal law enforcement is being used for political purposes.
"What is it about Mike Lindell the left hates so much?" author and Trump ally Nick Adams tweeted. "Do they hate that he's a strong Christian and one of the wealthiest men in the world? Do they hate that he manufactures the best pillows on earth in the USA and employs thousands of Americans? Help me understand..."
Ryan Fournier, founder of Students for Trump, said in a tweet that "Lindell did nothing wrong!"
"They've been going after Donald Trump for 7 years and they've found nothing," he said. "Now, the FBI is searching for a crime by going after anyone who stood by Donald Trump after the 2020 election."
During a two-hour broadcast of The Lindell Report, the pillow magnate said the FBI stopped him in Mankato, Minnesota, while returning from a hunting trip in Iowa. Lindell said that he and a friend stopped at a Hardee's restaurant when they were suddenly surrounded by vehicles that turned out to be the FBI.
Lindell said he protested after an agent told him the FBI had a warrant for his cell phone.
"I run five companies off that," Lindell said he told the agent. "I don't have a computer. My hearing aids run off this. Everything runs off my phone. And then I said, 'If I don't give it to you will you arrest me then?' And I was just going, 'Are you kidding me? You're not getting my phone.'"
After the agent showed the warrant, Lindell said he called his lawyer who advised him to hand over the phone.
Lindell showed a document during the broadcast he said agents gave to him that appears to be from the U.S. Attorney's Office for the District of Colorado. He added that the agents mentioned Tina Peters, a local elections official in western Colorado who faces charges for breaching a voting security system. Peters, along with Lindell, has vocally claimed the 2020 election was stolen.
Lindell, speaking in another video, said he is disregarding an order by the FBI to be quiet about his seized phone.
"The FBI tells Mike Lindell to keep this quiet and the idiot ignores what the FBI has instructed him to do, it's amazing that anyone took Lindell seriously," political commentator David Weissman tweeted.
Comedian Brian Guest tweeted, "Now that his phone is seized, Mike Lindell can't pillow talk."
Tony Posnanski, a writer and artist, mocked another Trump ally in a tweet, saying "Scott Baio wasn't able to call a ride to pick him up after his shift" at the fast-food restaurant.
Ben Collins, a reporter for NBC, tweeted it was "truly elucidating" that Lindell said he doesn't own a computer after claiming to know how voting machines were hacked.
Update 09/13/22, 11:10 p.m. ET: This article was updated with additional information and background.
Update 09/14/22, 9:00 a.m. ET: This article was updated with comment from the FBI