Mike Lindell Ready to Be 'Humiliated' by Jimmy Kimmel in Plot to Save U.S.
MyPillow CEO Mike Lindell says that allowing himself to be "humiliated" by talk show host Jimmy Kimmel could help "save our country."
In a video shared to social media on Tuesday, Lindell said he would be appearing that night from the inside of an arcade-style claw machine on Jimmy Kimmel Live. He said he would be shown in the machine because he is not vaccinated against COVID-19 and is otherwise banned from being inside El Capitan Entertainment Centre, where the show is staged in Los Angeles.
"I am going on Jimmy Kimmel tonight!" Lindell tweeted alongside a video about his appearance. "I know I will be attacked but we have to get rid of the voting machines and I am willing to be humiliated to help get the word out and save our country!"
In a slightly longer version of the video posted to Facebook, Lindell said that "a lot of" his followers had reached out and urged him not to appear on Kimmel's show due to the likelihood that he would be "attacked."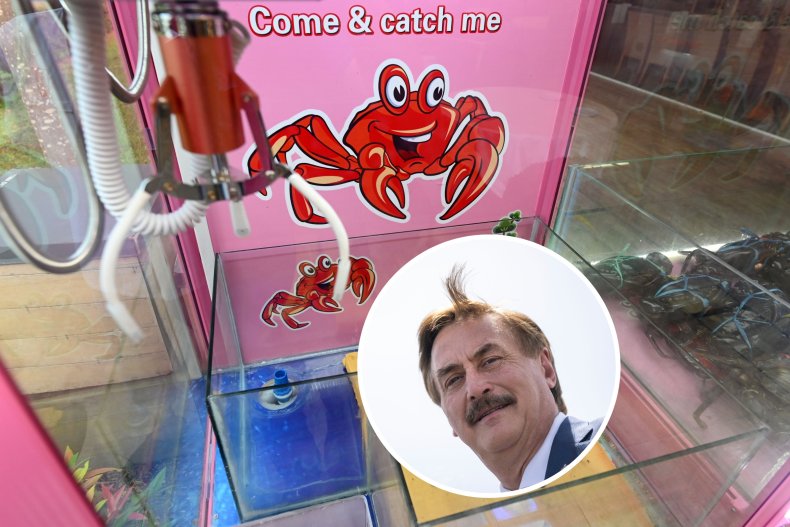 He also jokingly said that he anticipated the claw machine would be "rigged," a reference to election fraud conspiracy theories involving "rigged" voting equipment.
"[They say] Mike, don't do it! He's going to attack you," Lindell said. "Why did you agree to go inside of a claw game? ... I did because you can't go into the studio if you're not vaccinated, and of course I'm not vaccinated."
"They said you can do it from the claw game," he continued. "Well, maybe I'll find out that that claw game was rigged ... But in all seriousness, I'll do whatever it takes to help save our country."
Lindell, who appeared to be somewhat out of breath during the video, went on to say that he was "all for" being humiliated if it would help him achieve his goals of eliminating "the electronic voting machines," securing "our election platforms" and mandating "same day voting [on] handcounted paper ballots."
During a recent segment of The Lindell Report, the pillow magnate expressed concerns that Kimmel or his staff might place "evil things" inside the claw machine. A clip from the segment was aired on Monday night by Kimmel, who promised Lindell that he would not "put evil things in the claw machine."
Just after 5 p.m. local time on Tuesday, when Jimmy Kimmel Live is typically taping, Lindell said in a text message to Newsweek that he would be in the machine alongside "stuffed animals like [in] a normal claw game."
Lindell last appeared on Kimmel's show in April 2021, when he was also unvaccinated. He said in a text that his previous appearance came "before they made [vaccination] mandatory."
Lindell also said that his claw machine interview was arranged after he "surprised" the host by agreeing to appear under the unusual conditions.
"Jimmy made a joke last year about not having me on his show unless I did it from the claw game ..." Lindell told Newsweek. "I surprised him and put him on the spot by agreeing!"
Last week, Lindell fell short in a bid to become the new chair of the Republican National Committee (RNC), although a poll indicated that he was the top choice among Republican voters. He has indicated that he may be tapped to lead a new RNC election committee despite his loss.
Although he said he felt "really good" about his chances days before the vote, Lindell ultimately received only four out of 168 possible RNC member votes, with RNC Chair Ronna McDaniel easily beating Lindell and fellow challenger Harmeet Dhillon.