Mike Lindell Says Supreme Court Will Have to Take Up Foreign Interference Election Fraud Case
MyPillow CEO Mike Lindell said that while the Supreme Court rejected former President Donald Trump's domestic election fraud lawsuits, the nine justices will have to take up a foreign interference election fraud case.
In an appearance on The Eric Metaxas Radio Show, Lindell said, "What we're gonna bring before them is evidence that's never even been in any lawsuit. This is the attack from another country.
"If they don't take it, they're going to be under—you know I'm a marketer, I'm doing everything we can to take away a reason why they would not look at it. Why would they not look at it?" he told Metaxas on Monday. "Well you know what, let's say that they're compromised. But you know what, there's gonna be so much pressure that if you don't look at it, people are gonna know you're compromised."
Lindell, a staunch Trump ally, was one of the most vocal backers of conservative groups working to unsuccessfully overturn the results of the 2020 presidential election.
The CEO is fighting a $1.3 billion defamation lawsuit from Dominion Voting Systems. The voting machines company is suing Lindell after he continued to tie Dominion to the election conspiracy theory—a move that also led to his permanent ban from social media platforms like Twitter.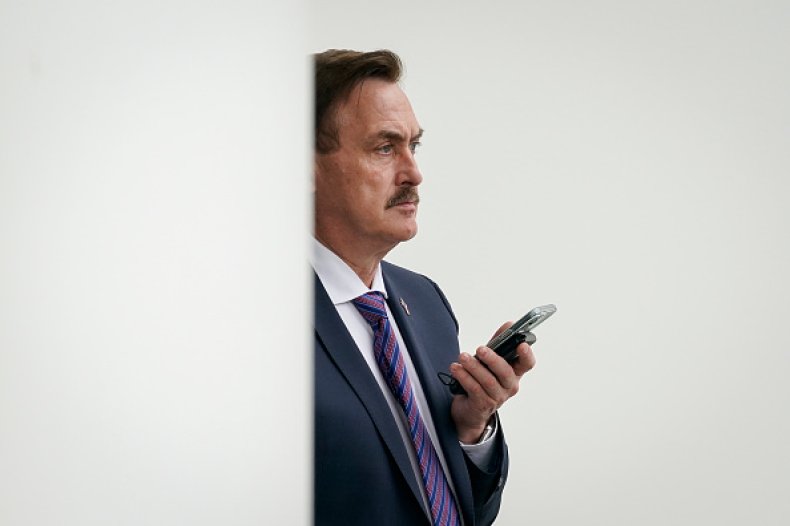 The Supreme Court has rejected a handful of cases related to the 2020 election last month involving election challenges filed in Arizona, Georgia, Michigan, Pennsylvania and Wisconsin—all states won by President Joe Biden.
Lindell argued on Monday that unlike the previous cases, which faced "procedural" issues, this case would involve foreign actors.
"Any lawsuit [that] went before them, it's all procedure. You shouldn't have had mail-in voting here, you shouldn't have counted this here, the legislators should have done their job. Instead it was the Secretary of States and the governors making decisions," he told Metaxas.
"This is evidence of foreign interference that's never been brought before any judge, any court in history," he added. "This is all new. It was new to me on January 9. It's the whole reason we're talking."
Lindell did not provide any of that evidence during his appearance on the show.
This month, the Department of Justice and the Department of Homeland Security issued a joint report stating that the federal agencies found no evidence of foreign interference in the election.
"We—the Department of Justice, including the FBI, and Department of Homeland Security, including CISA—have no evidence that any foreign government-affiliated actor prevented voting, changed votes, or disrupted the ability to tally votes or to transmit election results in a timely manner; altered any technical aspect of the voting process; or otherwise compromised the integrity of voter registration information of any ballots cast during 2020 federal elections," the report reads.
Newsweek reached out to the Supreme Court for comment but did not hear back before publication.